Are you using a small screen smartphone and your smartphone's keyboard is too small that you can hardly type on it. Keys of your smartphone is too little for your finger that you always try as hard you can for only typing on it. Although there is many option like Swiftkey's Flow, Swipe keyboards and many more, but you still miss need of a physical keyboard, so you can easily type your office documents and more. So today Amkette today announced the launched of Amkette  All in One Smart keyboard for ios and Android devices. This keyboard is compatible with Apple iOS 4.0 and above, Android 3.0 and above, Windows XP/Vista/7/8, MAC OS X and above. Android OS v2.3 GingerBread can also support it if your device has Bluetooth keyboard profile (HID), not every device can support it. The weight of this keyboard is less than 300gm.  It also comes with premium Carry case and Tablet stand.
If you want to buy this keyboard than you need to visit retail stores like Jumbo, Croma, Reliance Digital, E-zone etc. This keyboard is also available in 22 Amkette stores located in different cities.
Amkette says that this All in One keyboard has hotkeys for Music control, volume, home, menu and other shortcuts for Apple's ios and Google's Android. They also says that this keyboard is resulting of months of research, and they have developed this keyboard after keeping in mind user opinions.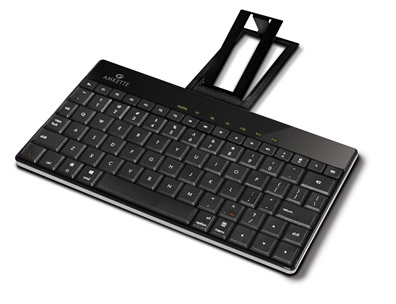 You can connect this keyboard via Bluetooth with your Tablet or Smartphone. With this wireless "on-the-go" device you will not struggle with tiny keys of you smartphone. This keyboard is available at around INR 2500 in market.
Mr. Rajiv Bapna, Director, Amkette, said "As more and more type of screens are coming in touch form, users look forward to an easy to use qwerty keyboard that they connect their gadgets to and rest on. The Amkette All in One Smart keyboard is an answer to the consumers need of affordable, durable, portable device with an inbuilt stand for ease of use."
For More Stay tuned with   Intellect Digest India   and like us on   Facebook   or follow us on   Twitter  .
More related stories below: