The nationwide lockdown has pushed everyone to try working from home. Let us help you stay fit and sharp during this period. Read more to find 5 Apps To Maintain Health While Working From Home During Lockdown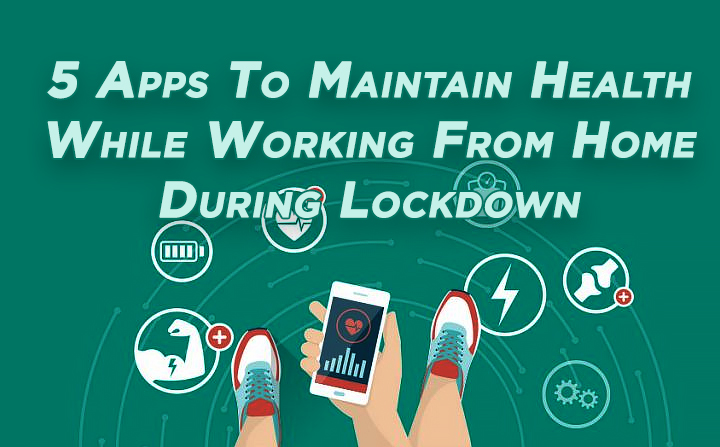 Remote work is not easy for everyone. reduction of special interactions can have an adverse effect on your mental wellbeing. It is also hard to stay focused amid many potential distractions at home.
While working from home, you are not traveling to the office, running to meeting rooms, or gong to grab lunch. This lack of physical activity can negatively affect your health.
There are many tools that can help you stay fit as a digital nomad. Let us you find some apps to maintain health while working from home during lockdown:
Mindfulness
This app brings you the benefits of meditation. It offers you with tones and guided meditations.
Using Mindfulness only a few minutes a day is enough to refresh your brain, energize, and be able to focus again.
Tide
The mediation app is a good alternative to Mindfulness. To help with mediation, it offers you relaxing melodies, peaceful backgrounds, and motivating quotes.
Also read: 10 Apps To Maintain Communications While Working From Home During Lockdown
Take a Break Please
Taking a break is necessary to maintain the physical and mental well being. This can be pretty hard while working from home.
This app allows forces you to take breaks throughout the day. It saves you from having painful hunchback, dry eyes and a stiff neck.
Seven
The exercise app challenges you to do a quick exercise routine, essentially an intense 7-minute workout.
You can easily take a quick break from work and recharge your body. The app allows you to shift between cardio and strength.
Also read: 10 Free Video Conference Tools To Work From Home During Lockdown
Noisli
While most people hate busy environments, sitting in a quiet room can also be uncomfortable for many people.
Noisli offers artificial background sounds like the wind in the trees or a busy coffee shop. You can also choose from a wide range of white noise.
We hope the new article was helpful. Please share your views with us in the comment sections below.
More related stories below: