The nationwide lockdown has pushed everyone to try working from home. However, remote work is not always easy. Read more to find 10 Apps To Maintain Communications While Working From Home During Lockdown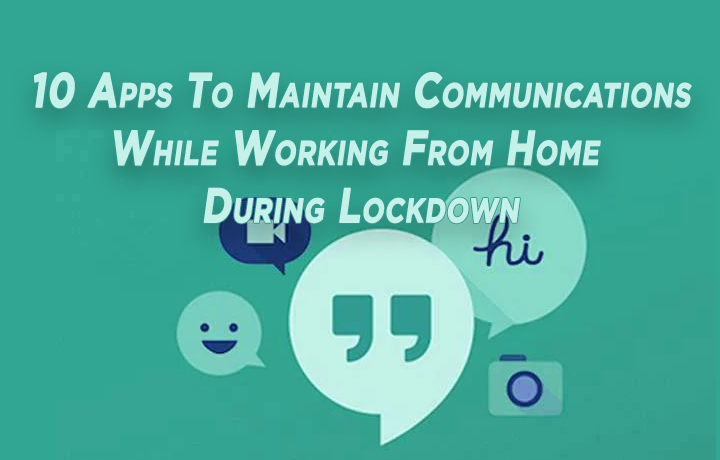 Maintaining communication between team members and their clients is the key to maintaining productivity. Remote work can add additional problems.
Many people have difficulties with communication. Not being in the same office as your team members or clients can be an issue for exchanging effective feedback.
Also read: 10 Free Video Conference Tools To Work From Home During Lockdown
Fortunately, there are many remote work apps that can help you to keep track of your tasks.
Let us help you find some tools that can improve your communications while working from home. Here's a list of 10 Apps To Maintain Communications During Lockdown:
Skype
Up to 10 people on video calls
HD video calling
Screen sharing
Video call recording
Interactive video chats
Location sharing
This is a good tool to video chat from your computer/ phone/ tablet with a small group or a 1-1 conversation.
The free version of Skype works for small teams with less than 10 members. There is also a special tool called Skype in the Classroom for online education.
Google Hangouts
Up to 25 video participants
Video, audio, and messenger conversations
Video meeting recordings
Screen sharing
Join calls using Google Calendar
Apart from Skype, Google Hangouts is a great option for audio and video meetings. It can also be integrated with apps like Slack.
This tool is ideal for individual conversations, team meetings, recorded demos, etc. It can be used for personal or business reasons.
Also read: Samsung Galaxy A31 With 20MP Selfie Cam, 5000mAh Battery Announced
Zoom
Unlimited meetings
1-1 and group meetings
Host up to 100 participants
HD video and audio
Screen sharing
Private and group chat
Scheduled meetings
Host controls
Zoom allows for simple, easy setup meetings or regular meetings in your personal meeting room. It is ideal for anyone who works remotely or has remote team members.
Zoom is also a great option for working in very large teams. You can also record and broadcast your meetings for future reference.
Quickly create and share a private meeting link with an individual or team and connect remote team members through video.
Slack
Group calls of up to 15 people
Individual calls
Messenger
Slack is one of the most popular remote work apps out there. A real-time chat allows you to stay in touch with your team members.
This is a great way to ask a teammate a quick question. You can simply use the command/ call or clicking the phone icon at the top of the conversation with another Slack user.
Users can also Slack with up to 15 people if you start a call from a channel, enabling the rest of the channel's members to join.
Also read: Huawei P40 5G, P40 Pro 5G, P40 Pro+ 5G Launched With Up to Five Rear Cameras
OfficeVibe
Maintain team morale
Anonymous
OfficeVibe is a great way to monitor your team members and their moral.
The team members get regular direct messages with questions to answer about their overall mood. The answers are then sent anonymously to the team leader.
HipChat
One-on-one chat
Group/topic chat
Cloud-based file storage
Video calling
Searchable message-history
Inline-image viewing
Works with Jira/ Atlassian products
The popular chatting tool is especially handy when you used it with Jira or any other Atlassian products.
Alongside one-on-one and group/topic chat, the HipChat also featured cloud-based file storage, video calling, searchable message-history, and inline-image viewing
Also read: Redmi K30 Pro, Redmi K30 Pro Zoom Edition Launched – All You Need To Know
Jing
Lightweight
Screencasts up to 5 min
Easy upload
The lightweight solution allows you to easily explain a task to a coworker who is not right next to you.
You can easily create screencasts of up to five minutes. These can be then uploaded and you get a shareable link.
Overall, Jing is less time consuming and confusing than emails or screenshots.
Join.me
Audio calls
Video calls
Screen share
Join.me allows you to easily make audio and video calls with your team. Additionally, it also lets you share your screen with others.
Also read: Samsung Galaxy Tab A (2020) LTE Launched With 8.4-Inch Display, 5000mAh Battery
Chimp or Champ
Weekly happiness meter
Maintain morale
Anonymous suggestions
The weekly anonymous employee happiness meter allows you to check your team pulse and improve employee well-being.
Chimp or Champ is essentially an online suggestion box. It allows your team to provide helpful feedback.
Doodle
Doodle is a perfect tool to send out short polls of any kind and get a quick response. It is very useful for planning the time for the next team meeting or make a new decision.
Also read: Redmi Smart Display 8 Launched With HD Camera, 3rd-Gen Xiao AI Assistant
We hope the new article was helpful. Please share your views with us in the comment sections below.
More related stories below: