Updated on 27th February 2013
Asus has formally launched the Memo Pad ME172V in India at a price of Rs.9999 only. When it comes to features and specifications, the Memo Pad 7 inch has many similarities to the popular Google Nexus 7 tablet especially in the display size, form factor and build, but these two have major differences when it comes to the processor, memory and hence the performance of these two tablets is quite different. As Memo Google Nexus 7 is already on sale in India at a much premium pricing, Asus has kept the Memo pad at a much affordable price for the price conscious buyers who don't need top notch processors because of their usage profile on the device. Those who need high performance and quality, can anyway spend more and get the Nexus 7 which has got a faster processor, high resolution display, NFC and Corning glass to name a few extra features over the Memo Pad.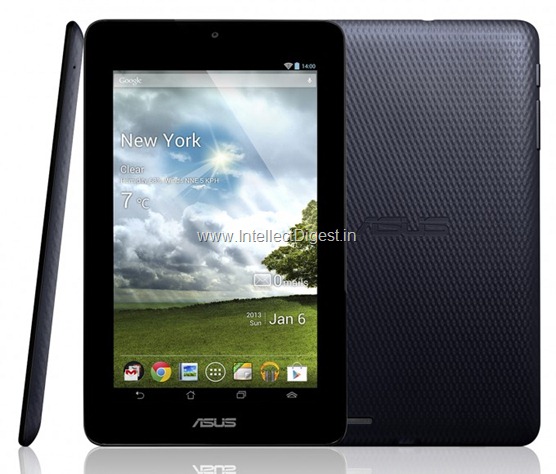 Asus Memo Pad Video Review
Updated on 20th January 2013
The computing giants seem to be hopping on the train of making budget tablets to compete with various home grown electronics manufacturers in various countries. The latest entrant is the PC maker Asus who has also been the reason for providing the Nexus 7 at a killer price tag to compete with the tablets from other electronics manufacturers. Asus realizes that budget tablet market is gaining popularity at the speed of lightning and it did not wish to be left behind.
Asus has just announced the MeMo Pad ME172V which is a 7 inch tablet and runs on the latest Android version, Android 4.1 Jelly Bean and the price is Rs.8,195 but that's just what we believe will be the price for us as internationally it will be sold for $149. The MeMo Pad ME172V has a similar design to the Nexus 7 and is targeted at people who are looking for a budget tablet to read eBooks, play games once in a while and do a bit of web browsing.
The MeMo Pad ME172V's 7 inch screen has a resolution of 1024 x 600 pixels. The capacitive display will detect a 10 point multi touch and the viewing angles will go up to 140 degrees. 350-nit brightness is on offer for that crystal clear imagery on your screen. Powering the device will be a 1 GHz VIA WM8950 mobile processor with a Mali-400 graphics chip and 1 GB RAM to take care of your heavy gaming and multi tasking needs
On offer will be 5 GB of cloud storage and will be offered in 8 GB and 16 GB models and a microSD card will help you expand your device's memory. A 4270 mAh battery will be giving it the juice. Why buy Micromax when you can get a similarly specced Asus for the same price?
Check out new gadget launches here.
More related stories below: