BenQ, a leading market player in technology innovation and design proficiency announced the launch of XL-Z series of first-person shooter (FPS) purpose-built gaming monitors: The 27-inch XL2720Z and 24-inch XL2420Z and  XL2411Z  widescreen full-HD displays.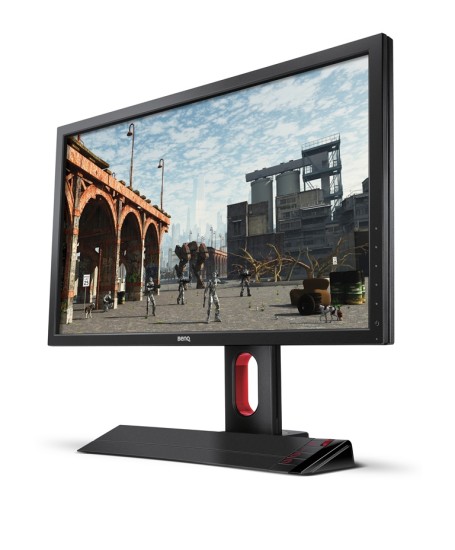 Featuring BenQ's exclusive Revolution Eyes technology for exceptional monitor performance, the displays are packed with enhancements such as Motion Blur Reduction, Low Blue Light, Zero Flicker, gaming refresh rate optimization management (GROM), and 1-ms GTG response times. In addition, the new models offer BenQ's latest firmware, which enables third-party utility support for further optimization options. The end result is striking visual clarity, seamless motion fluidity, and added viewing comfort for hours of action-packed game play.
Featuring Low Blue Light technology, the XL-Z monitors successfully manage the exposure of blue spectrum light emitted, resulting in more comfortable viewing. To help gamers protect their eyes during extended periods, the monitors provide several adjustable low blue light levels that automatically adjust emission without affecting quality. With the GROM management system, gamers also gain the freedom to custom-build their personal gaming experience according to viewing preferences such as refresh rates (100/120/144Hz), display resolutions, and screen sizes.
XL- Z series features are
Fast 1ms GtG Response Time enhances gaming experience with smoothly rendered Fast-moving action and dramatic transitions without the annoying effects of smearing or ghosting.
144Hz Refresh Rate Ensures Seamless Graphics: With a refresh rate of 144Hz, there's never a lag and every in-game detail will be smoothly rendered giving gamers captivating realism on screen.
Display Mode & Smart Scaling allows gamers to interchange between monitor screen sizes from17″ (4:3), 19″ (4:3), 19″W (16:10), 21.5″W (16:9), 22″W (16:10), 23″W (16:9) to 24″W (16:9), as the Smart Scaling feature gives them the freedom to manually scale the screen to any custom size.
Motion Blur Reduction BenQ's new Motion Blur Reduction technology further enhances an ultra-smooth, free-of-blur gaming experience, particularly for action-packed FPS games where every millisecond count. With Motion Blur Reduction, gamers no longer suffer from time and gaming comfort lost to poor vision quality created by motion blur and lagging.
Black eQualizer color engine technology is designed to offer an unprecedented level of control and visibility brightening the dark scenes without over-exposing the bright areas enabling the gamers to spot vital details.
A true testament to the belief of "Gaming Is in the Details",It is certified as NVIDIA® 3D Vision™ 2-ready with light boost technology to provide gamers Full-HD 3D gaming indulgence

"With the latest release of our XL-Z series, we've pushed the limits of performance once again by becoming the first major brand to provide Motion Blur Reduction technology for smoother game play. The XL-Z series is a revolutionary product that will change the experience of FPS mode gaming for Pro gamers" said Mr. Rajeev Singh, Country Head BenQ India.
The all new BenQ XL2720Z gaming monitor is available across India at an MRP of Rs. 37500, while the XL2420Z & XL2411Z are available at retail price of INR 32500 & INR 30000 respectively.
For More Stay tuned with Intellect Digest India and like us on Facebook or follow us on Twitter.
More related stories below: