Some of the latest report suggest that the most talked about Research in Motion's Blackberry Z10 will bear an under-Rs.20000 price tag. This smartphone that is to reach markets soon is being called the biggest revelation on account of Research In Motion (RIM). This assumed pricing (under Rs.20000) if true will be one of the biggest USP of the Canadian Phone maker.
Based on 10 operating system this Blackberry handset would possess several defining features that would be a lavish treat for all techno freaks. Along with a 4.2 inches long display it will comprise a combination of a dual core Qualcomm Snapdragon S4 mobile processor clocked at 1.5GHz and a RAM of 2GB that will enhance the performance of Blackberry 10 OS. The defining features of the phone include an internal memory of 16GB, a micro SD card slot, an 8 megapixels camera with LED flash support and autofocus, a secondary camera for video conferencing, and lastly a lithium ion battery of 1,800 mAh. Along with these, the phone will also feature a Near Field Communication (NFC) capability that will allow information sharing with other NFC enabled phones through waving gestures.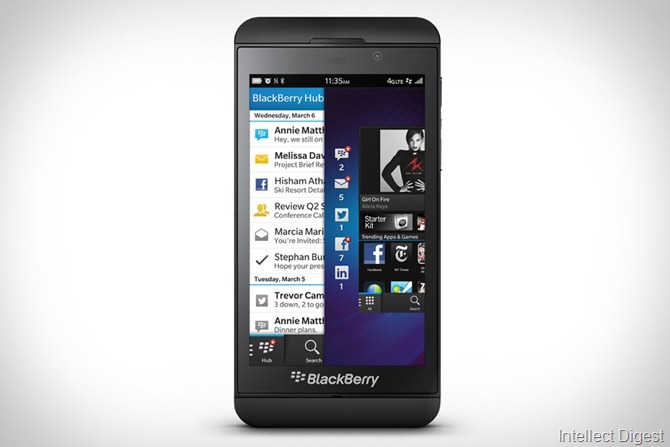 It will be an amazing experience to see a smartphone with such stunning features at such a low price. It is puzzling to understand as to how a smartphone that will be first of its kind (being based on 10 OS) from a premium brand like Blackberry will bear such a low price tag. Blackberry Z10 is has been revealed along with the Blackberry 10 OS on 30th January, 2013 in New York City. Blackberry has already sent invitations to media representatives throughout the world for the event.
This Canadian brand enjoys a fan-following of devoted and loyal users and is a preferred name among the executive class of India. Android based phones have given a tough fight to Blackberry and it seems that this 10 OS concept has mainly been designed to overcome this challenge only. Blackberry handsets previously were known to be devoid of apps that were a key feature of all Android based smartphones. And this drawback did costed Research In Motion a considerable loss of revenues and reputation as well. The upcoming 10 OS is being supposed to be a solution for this problem and is expected to revive the declining sales of Blackberry handsets.
More related stories below: