When it comes to affordable and value for money smartphones and tablets you can rely on two brands that have surfaced recently– Karbonn and Micromax. Both the brands excel in offering cheaper phones and tablets with all regular features and specifications and both have been quite successful in giving a tough fight to superior brands like Sony, Apple, Samsung for market share. And lately, both have released their new Android phones. Micromax came up with the Canvas 2 A110 while Karbonn unveiled A21. Both handsets are being offered around Rs.10000 and bear similar set of features. This comparison is mainly dedicated to a feature wise comparison between the two phones.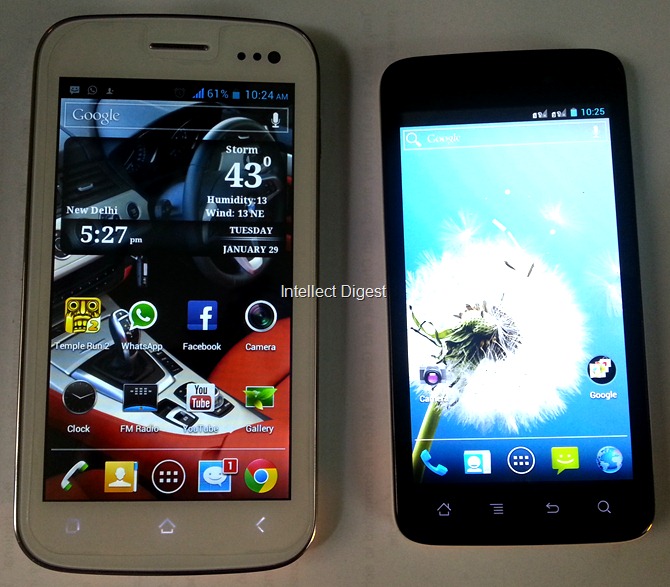 Video Comparison Between Micromax A110 Canvas 2 VS Karbonn A21
Screen
Karbonn A21 sports a 4.5 inches long large screen with a resolution of 480 x 800 pixels while Canvas 2 A110 bears a 5 inch LCD capacitive display with touchscreen feature. The A110 screen comes with a higher resolution of 854 x 480 pixels. The colour reproduction of the Karbonn are slightly better and the PPI density is slightly higher. I would call it a tie in this respect.
Processor
Canvas 2 A110 comprises of a 1 GHz dual core processor while A 21 sports sports a Qualcomm Scorpion dual core processor that has been clocked at 1.2 GHz. Both has 512 MB RAM. As per the benchmark scores using Antutu tool, the score is better on A21 at around 6700 while the A110 stands around 6200.
Camera
Both handsets have cameras at both at front and rear end. The only difference that lies is in the resolution. Karbonn A21 has a 5 MP rear camera and a 1.3 MP front camera along with a LED flash. The Micromax Canvas 2 A110, on the contrary, bears an 8 MP rear camera and a 0.3 MP front camera with a pair of LED flash. As an add-on both smartphones bear the ability of auto focus.
Battery
The Micromax handset comprises a 2000 mAh battery that claims a talktime of 5 hours and standby of 180 hours on 2G network. On the other hand, Karbonn A21 comes with a bit smaller battery of 1800 mAh. It promises 8 hours talktime on 2G network and 5Hours of same on 3G network. Also, it claims a standby of 290 hours on 2G network. More or less both stand shoulder to shoulder in this aspect.
Connectivity
Both the handsets feature regular connectivity functions like micro USB port, Wi-Fi, Bluetooth, GPS that is supported by A-GPS, along with a 3.5 mm jack. Although Karbonn A21 has 2.1 version of Bluetooth while Micromax A110 sports 3.0 Bluetooth version. The 3.0 version of Bluetooth supports a theoretical data transmission speed of 24Mbps that is much better as compared to 3 Mbps speed offered by 2.0 Bluetooth version. So clearly, in this aspect Micromax leads the two.
Memory
Both handsets offer a memory storage of 4GB that can be expanded to 32 GB through micro SD card slot. This much memory is enough to store video clips, music files, and plenty of pictures in phone memory.
Dual SIM
Both the brands stand neck to neck in this aspect and the winner knot seems tied on this factor. On both the handsets, the moment 1 SIM gets active the others slides into passive mode automatically.
Price
Micromax Canvas 2 A110 bears a price tag of Rs.10, 500 while Karbonn A21 has been priced somewhat around Rs.10, 500. Again, both smartphones stand close enough.
Final Verdict
Considering all the features it can be clearly made out that Micromax A110 seems slightly better choice than Karbonn A21. In respect of quantitative features Micromax leads the race while in terms of qualitative Karbonn A21 gets an edge. If you are fond of playing games, watching videos on mobile phone than Micromax A110 is right choice for you and if you wish to go for something more solid and handy then Karbonn may suits you better. The final decision depends mainly on the user preferences. We recommend to physically see and use the phones before you buy one of these. You can buy Micromax A110 here and Karbonn A21 here.
More related stories below: