Are you a small or medium business, which uses a shared printer in office? Do you find a lot of headaches related to various typical problems related to using a shared printer? All this is going to change! Let me first talk about some common pain-points before we move further. There are 5 Key concerns related to a shared printer usage in most offices in small to medium businesses. These are Productivity, Printing Cost, and Security of Information, Monitoring and Lack of Personalization. Let us talk about each of these briefly.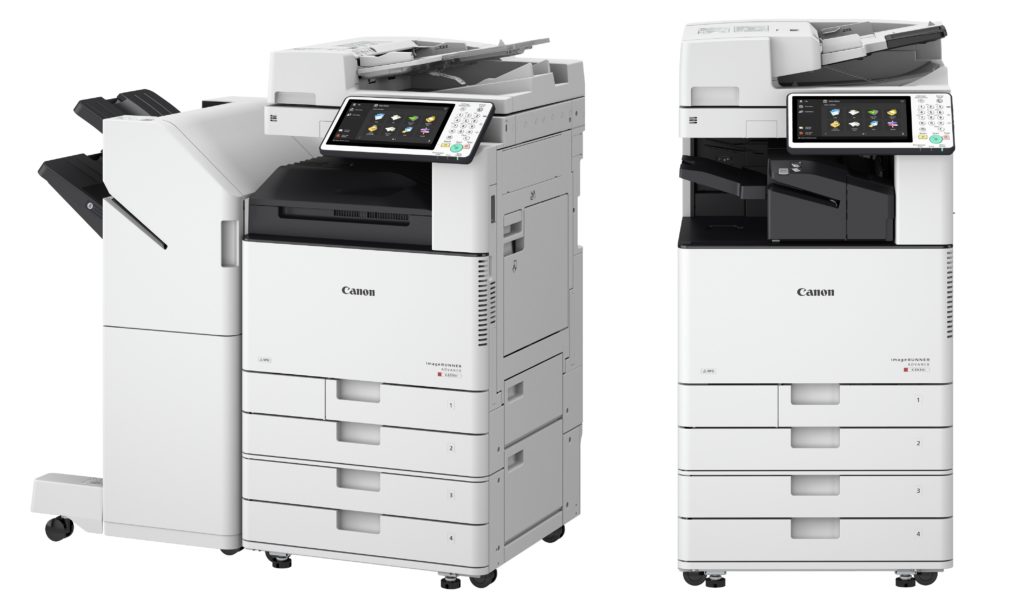 Productivity- A shared printer can cause productivity loss if a user has given a print command, reaches the printer to realize he/she needs to make a change in print. He/ she has to go back to the computer and make necessary changes from there. Also if multiple users are printing at the same time, there are chances of more than one print jobs getting mixed, segregating which results in a waste of time.
Printing Cost- If there are mistakes in a print and redundant printing done by users, it results in wastage. Also when there is no user-level monitoring on the printing quantities, users tend to print more, which results in increased expenses.
Security of Information- Imagine a high-level executive prints sensitive business information for some official use and some other user reaches the printer before him/ her and mistakenly picks up the print. Such incidents may lead to leaking of critical business data and information. Also if someone forgets to pick up an original document from scanner bed after scanning/ copying job, it may lead to loss/ leak of the original document.
Monitoring- Most shared printers offer macro level monitoring where one can monitor the usage and cost per printer or maybe per department, but they do not offer usage data per user. It becomes difficult to identify which user is making how much use of the printer so that any wasteful or non-work related usage can be restricted.
Lack of personalization- Different users uses the printer in a different way. Some users perform a certain task like copying and some use it mainly for scanning and printing. If one of the users try to personalize the settings as per their needs, it may causes problems to other users who may not find such changed settings convenient.
Now that we have discussed most common pain points of shared printers in an office environment, is there a solution for these problems? Is there any printer, which takes care of problems and solves them? The short and sweet answer is yes! Canon has launched a series of shared printers for enterprise use under the imageRUNNER ADVANCE series. There are 5 different models launched which offer slightly different features. All these printers offer a solution of the 5 main problems we discussed. How? Let us find out below.
Canon imageRUNNER ADVANCE Key Features
Here are the key features of the imageRUNNER ADVANCE series-
Wireless Connectivity
Any device on the same wireless connection (WiFi connection) on which the printer is connected can easily connect to the printer which saving setup time. It becomes very convenient to print from any device be it a laptop, desktop, tablet or a mobile device.
Large Touch Screen Display Interface
Large touch screen interface makes it very intuitive and convenient for users to operate the functions of the printer. It also helps to facilitate prints directly via USB stick from the printer hence saving time and effort required to transfer those files to a computer first. The QR code pairing mechanism supported by the touch screen reduces the efforts and time required to print using a smartphone.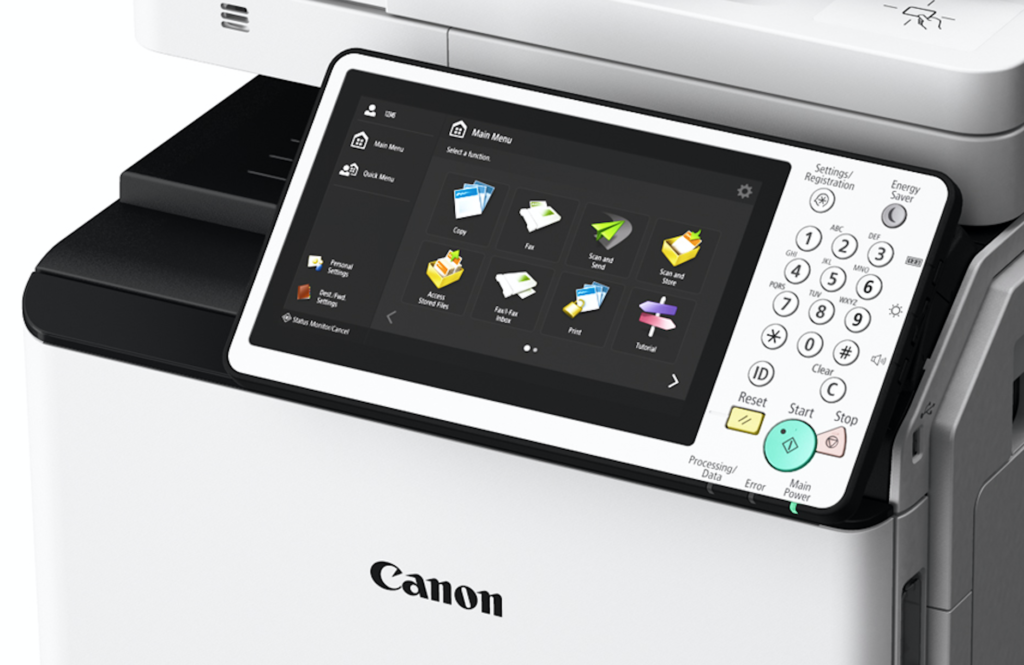 My Advance- User Level Personalization
Users can change the printer settings as per their convenience using the My Advance feature. These customizations are stored at the user level, so when another user uses the printer, it will not affect their settings. This way, each user can keep settings which suit their usage and makes experience personalizes, efficient, familiar and more productive without affecting other users experience.
The My Advance Sync allows these settings to be synced across multiple printers in the same office, so even if a user customizes the setting on one printer in the office, the same settings will be applied for that user when he/ she uses another printer in the same office.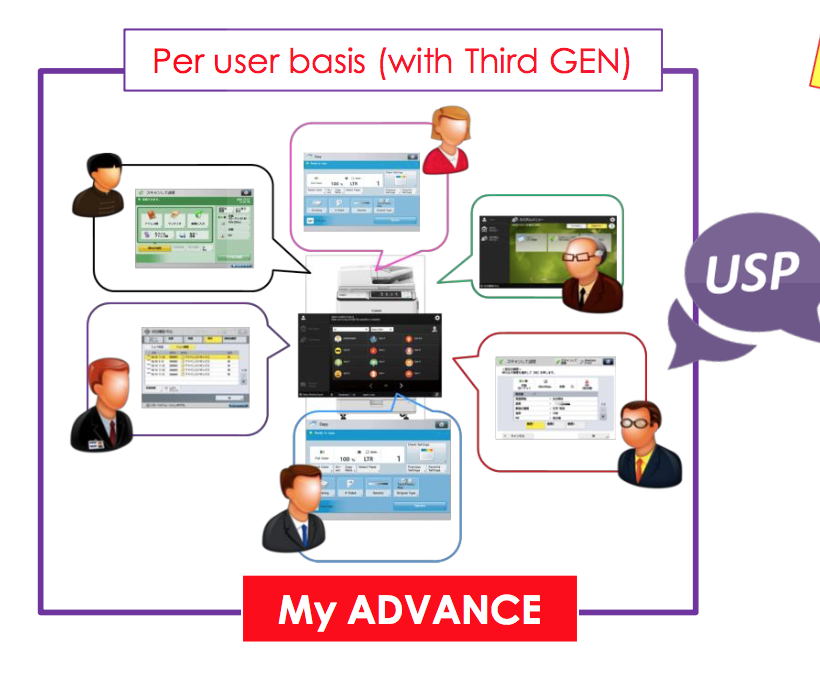 Force Hold Printing
The administrator can configure to enforce the device to hold any job before printing. This ensures document security by preventing unattended prints. Also, it reduces wastage as users can first preview and then prints the job at the printer itself using the touch screen. It reduces cost, improved efficiency and also saves time as a person at the printer can get his job printed as soon as he reaches the printer, as he/she does not have to be in a print queue. This also ensures that any settings mistakes can be corrected even at the last minute at the printer (like a duplex, finishing or quantity) without going back to the computer, hence saving precious time and resources.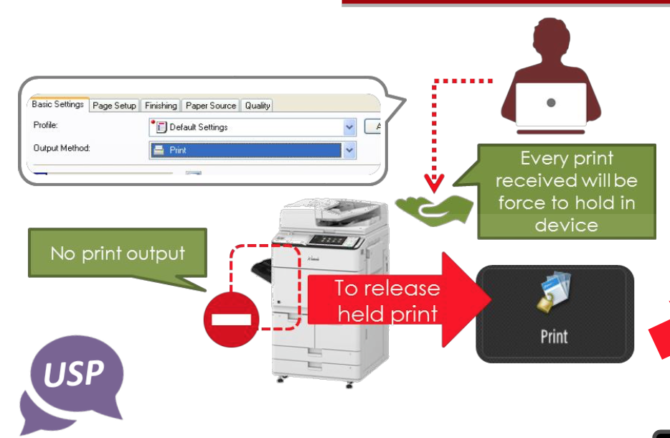 Reminder To Pick Up Documents After Scanning
These printers have a feature to remind users to pick up the original documents after scanning/ copying.  It uses status LEDs to remind users that the scan is complete and the original should be retrieved. If the user still does not pick up the document, there is an audio reminder, which is played to remind the user to pick up the document from the platen.
Multi-Sheet Feed Detection
In an operation where user feeds the document for scanning/ copying using the document feeder, if there are multiple pages pulled in by mistake, the printer prompts and informs the user that a sheet has been missed. This ensures that there are no mistakes in scanning/ copying which can prove to be crucial if you miss an important page in the final document. It also saves precious time which may be wasted to re-scan and manually identify the mistakes if any.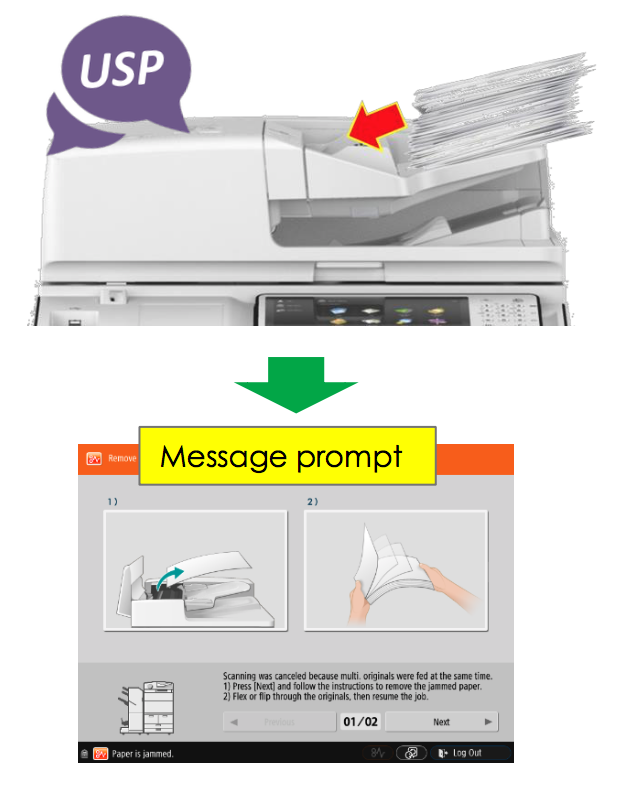 Skip Blank Pages In Previews
When scanning multiple pages, especially in 2-sided scans, the printer automatically detects blank pages, hence saving time and reducing the final output file size of the scanned document.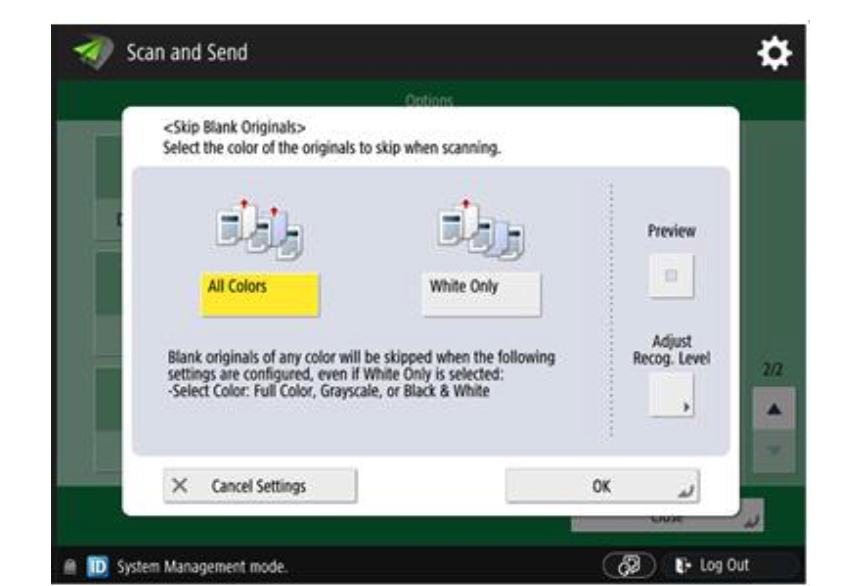 Divide Into Set Of Pages
If you are creating a set of certain documents, like in case of fliers or brochures, the printer intelligently creates a set of these pages saving a lot of time and effort which goes into sorting and managing the prints manually after printing.
Help Videos
If something goes wrong and you face any trouble, there are troubleshooting videos guiding the user on how to handle a problem. This means that most of the trivial problems can be addressed by the user himself/ herself without waiting for the support or maintenance staff to provide help. It reduces downtime and ensures higher productivity and output.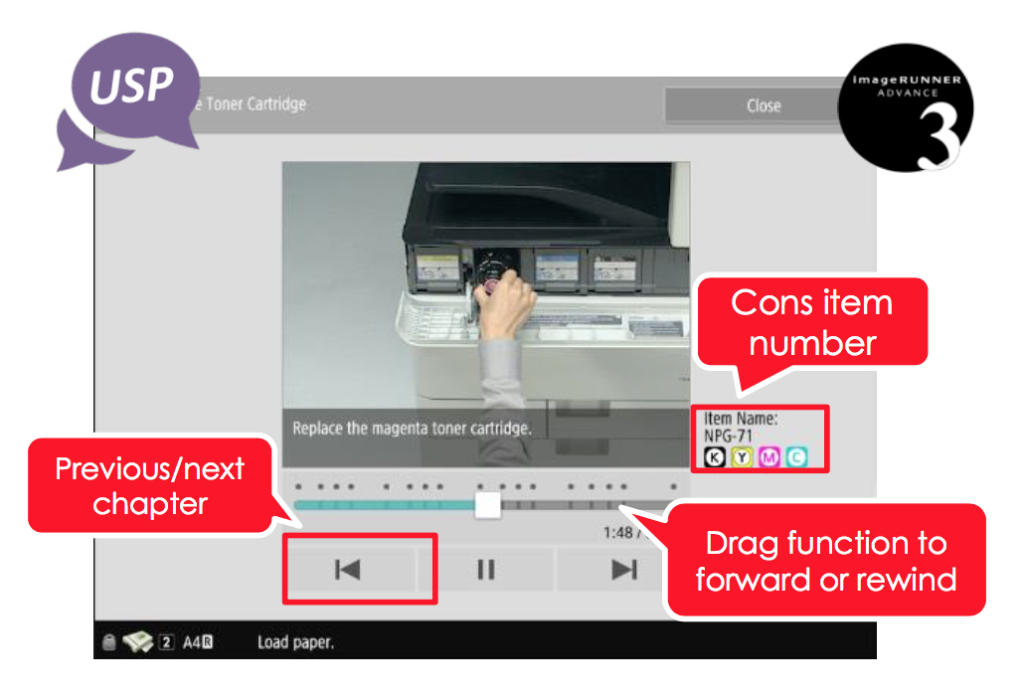 Multiple Language Support
The printers can be set to use a number of non-English Language for the convenience of the users.
Eco-Staple and Staple On Demand
There are multiple paper finishing options including automatic stapling, eco stapling and stapling on demand, which makes the end-to-end document operations more streamlined and efficient. Remember, time is money!
Direct Access Point Support
It supports printing and scanning from multiple devices like mobile phone and tablets. Using this feature, users need not connect to the office network and directly use the device with the printer, which saves time.
Standard HDD Encryption
All the printing jobs which are stored on the printer HDD are encrypted which means that even if the security of the HDD is compromised, the documents would not be revealed or leaked, which ensures enhanced security.
High Capacity Feeder Options
There are options to add high capacity paper feeders. This is especially useful for businesses where the printing volumes are very high. Having large capacity feeder means less-frequent paper refilling and hence less downtime.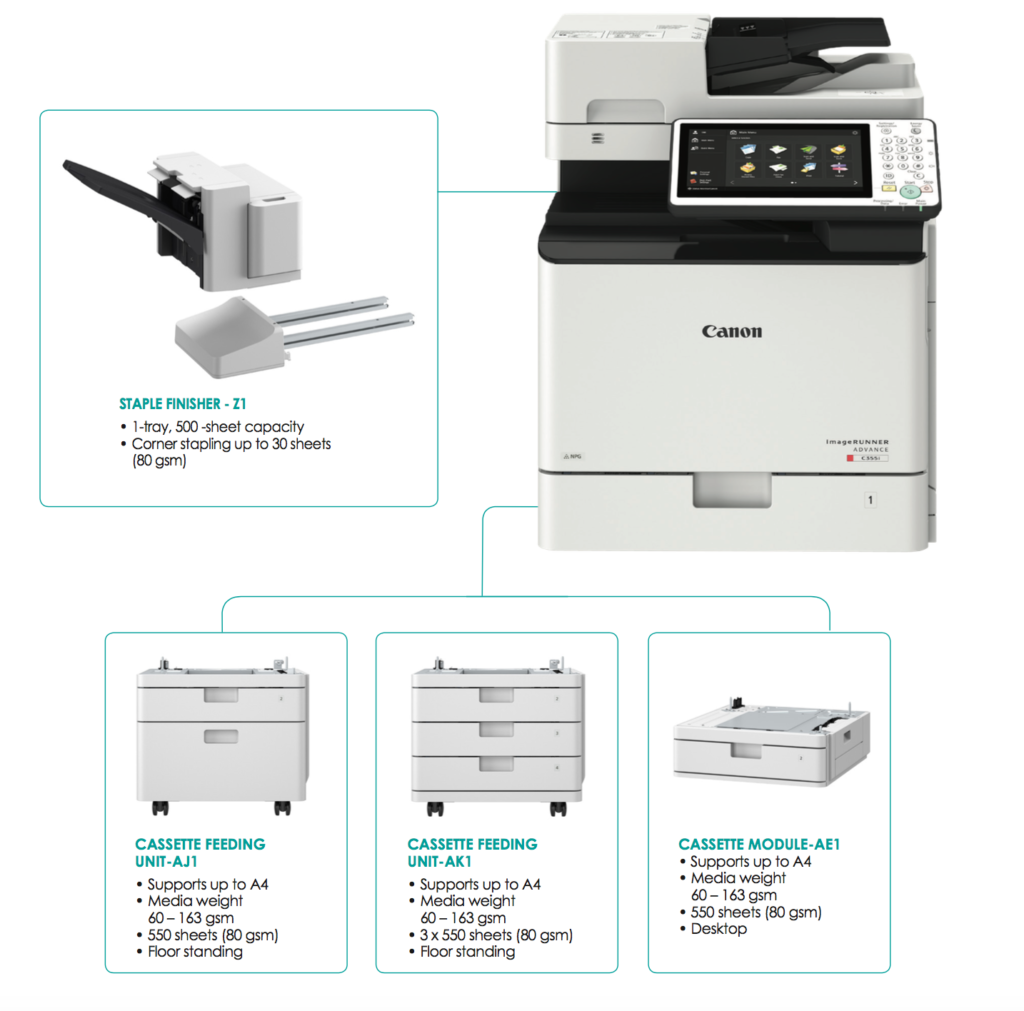 Intelligent Motion Sensor Wake-Up Technology
To save on power consumption, there is intelligent power saving feature. When the printer is not in use for some time, it automatically goes to the sleep mode wherein it consumes negligible power. To wake itself from sleep, it uses a motion sensor, which senses a user coming towards the printer. This wakes up the printer and makes it ready for use by the time using it as the printer. This way, the user does not have to wake it up manually and wait for it to come up and the power is also saved as the printer need not remain awake when it is not in use.
Detailed Monitoring and Cost Analysis
With per user data access and analytics, it is possible to determine the cost incurred by the usage per user.  This way, it becomes easy to identify who is using the printer resources to what level and steps can be taken to optimize the usage or prevent any misuse of the official resources using tracking, reporting and cost analysis support.
Data Security And Authorized Access
Using picture scanning for authentication, it ensures that sensitive information does not fall into wrong hands. Also, it prevents unauthorized use of the printer. There are built in security mechanism and use of SSL technology for secure communication to and fro from the printers to the users to prevent any data sniffing.
Conclusion
With the latest generation of the Canon imageRUNNER ADVANCE series printers, you can let go of your printer related worries and focus more on increasing your business.
The newly launched models under the next generation printers include the iR-ADV C355i – A4 Color, iR-ADV C3500 series- A3 Color (3 variants), iR- ADV 4500 series (4 variants) – A3 Mono, iR-ADV C5500i Series- A3 Color (4 variant) and iR-ADV 6500 Series A3 Mono (3Variants). For detailed features and specifications of these printers, please visit https://edge.canon.co.in/mfd/
Note: Not all models have all the features as standard; some of these are optional features. Please see the official website for complete products specifications and features.
More related stories below: