Demonetization has significantly increased our reliance on smartphones for cashless transactions. By entering some crucial data such as our account numbers and credit/debit card details, our smartphones let us transfer money, do online shopping and a lot more. Ever wondered what will happen if this crucial information is hacked? If you often use your smartphone for cashless payments, then this post is meant for you. Read on to find out 5 tips for safe and secure mobile transactions.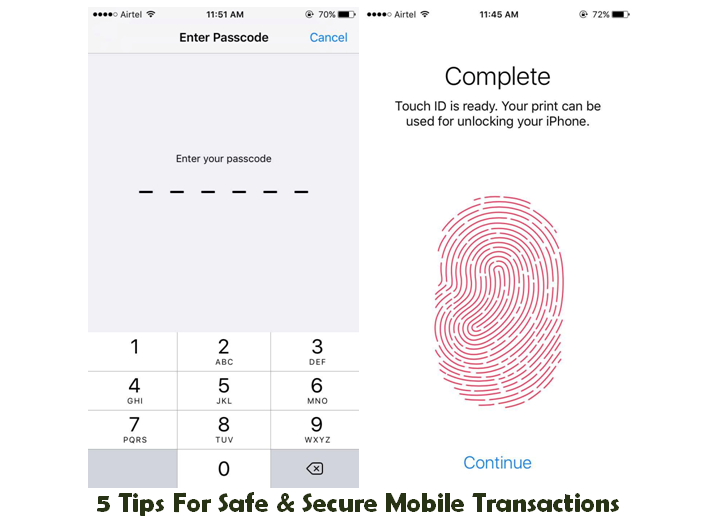 1. Put a screen lock using PIN or pattern
If you use your smartphone to perform cashless transactions and it is not protected with a pass-code, then it is high time that you add a lock code right away. While putting pass-code, make sure that it is easy for you remember but difficult for others to ascertain. There are a lot of smartphones available in the market that feature fingerprint sensor. If you own a smartphone with fingerprint sensor then you can set up fingerprint lock for strict security. If you don't own one yet, then check out some smartphones with fingerprint sensor here.
2. Log out of websites after making payments
We often visit various websites for making online payments using our smartphones. What we forget after making transactions is signing out from the websites, which can be risky if someone else gets hold of your smartphone. It is thus advisable to log out of the websites as soon as you are done with online transactions. Also, avoid saving passwords on your device for various websites to ensure secure mobile transactions.
3. Use smartphone antivirus software
There are plethora of anti-virus apps that are available for free download on app stores. Make sure that you download the anti-virus app from good source and it has good ratings as a fake app may infect your device with malware instead of protecting it.
4. Update your apps regularly
New app updates often come with security updates and improved privacy controls for protection against malware attacks. Make sure you update your banking apps and other payments apps regularly. You can update the apps manually or you can also enable automatic updates.
5. Avoid public Wi-Fi networks
Many people use public Wi-Fi connections for making online transactions. Needless to say, this is not a safe option for online transactions. If you enter your crucial data such as bank account details and credit/debit card numbers, then there are chances of information getting hacked by others on the same network.
Also Read: How To Speed Up Your Android Phone: 6 Essential Tips
More related stories below: