Sony India announced XSP-N1BT, a Smartphone Cradle Receiver giving an easy access to drivers to turn their smartphones' useful apps for driving, such as Music, Phone and Navigation.The XSP-N1BT Smartphone Cradle Receiver comes equipped with a one touch NFC connection feature which allows you to connect your smartphone and have a complete control on music, navigation, phone calls, and text messages along with Car Tuner. XPS-N1BT has a smart docking mechanism to accommodate various sizes of smartphones from various brands.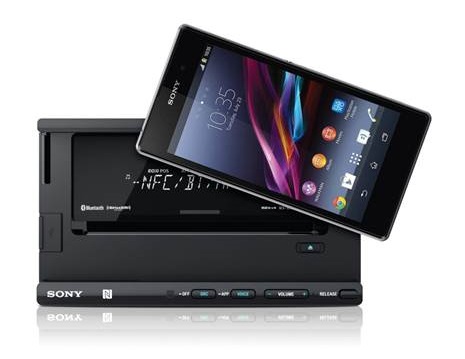 Sony "App Remote" unifies car audio music and Smartphone apps which can be easily controlled by touch panel operation. Aside from controlling the device by hand, users can also utilize the voice control function that lets drivers voice out commands while they are on the road. All they have to do is to touch the 'VOICE' key on the head unit and issue commands that will enable functions such launching the phone's navigation app, setting a travel destination, responding to SMS, etc. Your incoming mail, SMS, SNS post can be automatically read out from car speakers you can set this function on and off due to privacy. You can of course enjoy hands-free phone talk through the supplied high quality microphone, with your hands on the steering wheel."App Remote" is available at Apple App Store and Google Play Store.
The XSP-N1BT also works as standalone car radio with CD, USB and tuner functions, even without a smartphone. In terms of music quality, XSP-N1BT has Advanced Sound Engine that enables users to freely make adjustments to the sound environment for a great in-car listening experience.
Furthermore, XSP-N1BT offers a 1.5A high current charging capability with an optimally designed compact USB cable for any type of smartphones. If you have Sony XperiaTM smartphones with Magnetic Connector, you do not need any extra cable. Just place it and get it charged. XSP-N1BT is priced at INR 12,990.
The new XSP-N1BT Smartphone Cradle Receiver from Sony is available across all car accessories shops and major car showrooms in India.
More related stories below: