Easyfone has launched a new mobile phone for kids with a host of safety features. The Easyfone Star is being touted as India's first ever feature for kids. It is designed to keep kids safe and connected with their parents. It restricts calls to only pre-configured numbers. Read more to find about Easyfone Star Price in India, Specifications, and Features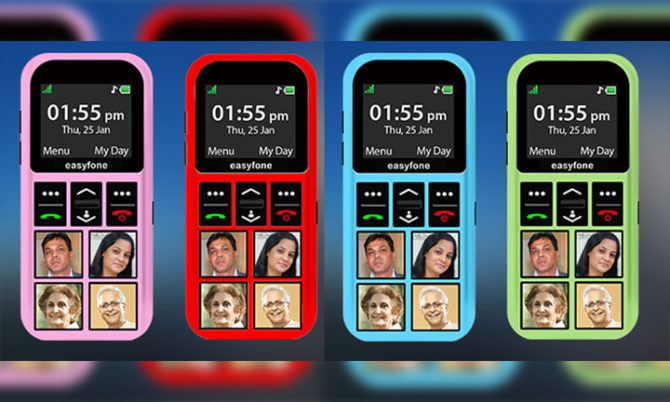 Price and Availability
The Easyfone Star is priced in India at Rs 3490. It is now available on the company's website and leading e-commerce platforms (such as Flipkart and Amazon India).
Also read: Infinix Note 5 Android One Phone Launched With Native Google Lens Support
Specifications and Features
Restricts phone calls
GPS tracker
Dedicated SOS key
Personalized keys
Five color options
The Easyfone Star restricts phone calls (incoming & outgoing) to only pre-configured numbers. This allows children to connect with only known people. However, it has no internet browsing capability. Additionally, the feature phone comes with a GPS tracker which allows parents to track their child if required. There is also a dedicated SOS key for children.
For additional security, all important settings can only be configured via the company's website. A service called 'CareTouch' allows parents to remotely change these settings on the site. The settings cannot be changed on the phone by anyone. Additional features include a 'do not disturb' time. Parents can also set up reminders/ schedules for study time, activities, birthdays, etc.
The Easyfone Star comes in five color options including blue, green, pink and red. The phone's keypad can be personalized with pictures of contacts. This makes it easier for kids to call their family.
Also read: Oppo R17 Pro Launched With Triple Rear Cameras, In-display Fingerprint Scanner
Conclusion
"We are extremely pleased to launch Easyfone Star – India's first phone for kids. The Easyfone Star addresses the needs of parents who want a phone that helps their kids be safer & connected – but without the downsides that existing products offer. The Easyfone Star has been designed especially for children – essentially as a safety device, and we have filed patents for the same. We will soon be launching more such products for children as well as others who have unique needs that existing products do not address," said Rahul Gupta, the CEO & Co-Founder, Easyfone.
What do you think of the new Easyfone Star? Will you pick up the new phone for kids around you? Let us know in the comments section below.
Also read: Google Pixel 3 XL Leaks Hint At Wireless Charging, Display Notch
More related stories below: