A hard reset is a great option to get rid of bugs or unnecessary data. Let us share simple steps for this process on a Windows 11 PC. Read more to find out about How To Factory Reset Windows 11 PC From Recovery Settings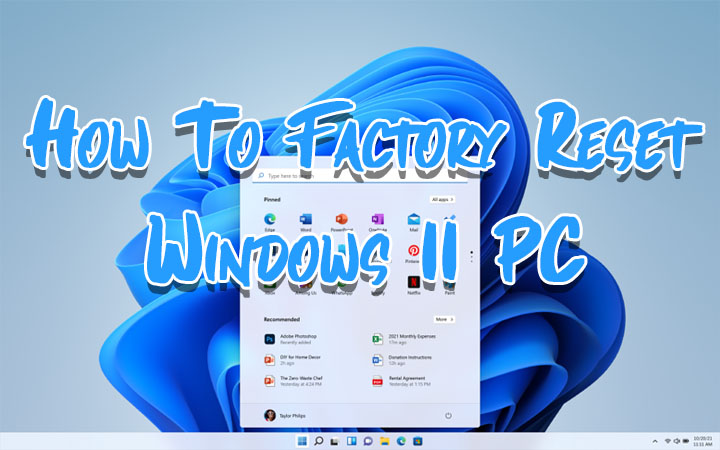 After a long usage duration, a PC or laptop is bound to slow down. This can also happen due to damaged software or a malware problem. A reset is a great option for solving this problem.
It is to be noted that the "factory reset" implies restoring a device to the original state the manufacturer sold it. It will remove your installed programs, settings, and personal files.
Since this process wipes your data, please take a backup. You can use this feature before you hand over your laptop/ PC to someone else.
There are multiple ways to use this option. Essentially head over to the Recovery Section of System Settings. Additionally, please make sure you have administrator-level access.
Also read: How To Update Aadhaar Card Details Online
How To Factory Reset Windows 11 PC From Recovery Settings
Open Start > Settings > System > Recovery.
Next, go to Recovery options > Reset this PC > Reset PC button.
Now, Windows 11 will give you two reset options – Keep my files and Remove everything. You can also restore/ remove all preinstalled apps by selecting Keep my files > Change settings > Preinstalled apps > On/ Off. Choosing either option.
Then, select Cloud download or Local reinstall.
Now, the Additional settings will summarize the reinstallation settings chosen. You can select Change Settings for the option to delete all your files and clean the drive, too.
Next, you can choose between reinstalling both Windows and its stock apps. The Download and Reinstall Windows option is a clean install.
Now, select Confirm to go back to the Additional settings screen.
Then, press Next > Reset to begin the process.
A progress indicator will indicate that the process has begun.
That's it! The Windows will start again.
NOTE: Cleaning the drive and reintall process can take hours.
Also read: How To Check If Your PAN And Aadhar Are Linked? If Not Linked, How To Link It?
We hope the above-mentioned article was helpful. Let us know in the comments section below.
More related stories below: