SD cards are an important tool for most smartphones. Fortunately, you don't need a computer to fix certain errors. Read more to find out How To Fix Corrupted SD Card On Android Phone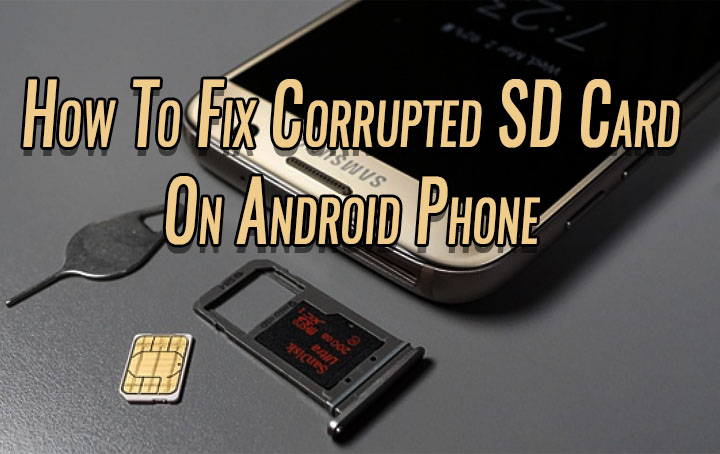 SD cards are pretty useful for expanding your smartphone's storage and transferring data. Unfortunately, they can often end up being corrupted.
In case of any damage or corruption on SD cards, you will see error messages or a request to reinsert the card. Your device might also say that the card isn't recognizable.
Usually, such issues can be corrected with a PC. However, you can also use your Android phone to correct some errors. Here's how:
Also read: How to Turn Off Sensors On Android Smartphones
How To Fix Corrupted SD Card On Android Phone
Update Android: A system update can fix a number of problems including those associated with accessing files stored locally and on SD cards.
Clean the SD card: Remove the SD card from your Android phone and remove any grime or dust that may be on it with a clean cloth. You can also use an air gun for removing dirt. Once done, reinsert the SD card and try again.
Unlock the SD card: As SD cards have a physical switch that can be turned or moved to lock, remove the card and slide the switch to the off position.
Check the USB drive location: If you're using an external SD card drive that's connected via the USB port, its files will not be in the usual SD card location. Look for the USB drive folder location.
Make sure you are using an SD card in the correct SD card slot and not a SIM card slot.
Format the SD card on your Android device: Finally, you need to format your SD card. It is the most effective way to get rid of error messages and SD card corruption problems.
Also read: How To Factory Reset Android Smartphone Quickly
Note
While you cannot repair many SD Cards without formatting them, it is to be noted that formatting an SD card will delete all of its contents. Usually, as SD card requires to be formatted if it's previously been used on another device.
Also read: How To Set Expiry Date To An Email Via Gmail Confidential Mode
We hope the above-mentioned article was helpful. Let us know in the comments section below,
More related stories below: