Now, you can remix YouTube Shorts in more than one way. Read more to find out How To Use Green Screen To Remix YouTube Shorts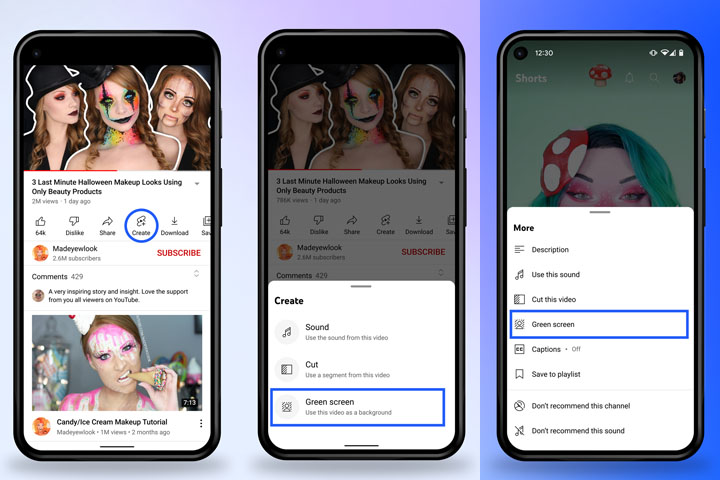 YouTube Shorts is essentially a TikTok version of YouTube. The video-sharing platform is being regularly upgraded with new features. Now, creators can remix existing videos in multiple ways. The latest addition is the option to use a green screen.
With the new Green Screen tool, you can add clips from other videos as the background of your new original Shorts video. This includes up to a 60-second video segment from any eligible YouTube video or YouTube Shorts.
Also read: How to Turn Off Sensors On Android Smartphones
How To Use Green Screen To Remix YouTube Shorts
Tap the Create button under the video you are watching.
From a Short, click the three-dot menu.
Now, select Green Screen to choose the desired video portion.
That's it!
Note: Videos with visual claims are not eligible for Green Screen. Each new Short created with Green Screen will be attributed back to the original video with a link in the Shorts player. Creators who don't want their content to be remixed on Shorts can opt-out as well.
The maximum length of videos you can create is 60 seconds. You use both the audio and video or video-only if you choose to mute the audio. Additionally, you can use Green Screen with any photo or video from your own gallery.
Also read: How To Factory Reset Android Smartphone Quickly
Conclusion
YouTube Shorts was initially introduced in September 2020. Every day, it gets over 30 billion views. With this feature, Google hoped to compete with the widely popular TikTok. Since then, the company has been adding new features to attract users. Last month, it added the Cut feature for remixing videos with short-duration clips. Google has even launched special fun to promote the use of YouTube Shorts.
Also read: How To Set Expiry Date To An Email Via Gmail Confidential Mode
We hope the above-mentioned article was helpful. Let us know in the comments section below,
More related stories below: