If you are planning to buy a phone between Rs. 30,000 to Rs. 40,000 price bracket, there are two very strong contenders in the market viz. Honor 8 Pro and OnePlus 5. Both are recently launched smartphones and have many similarities. The biggest similarity between these two is the presence of a dual camera system on the rear while the others being a large screen, large battery, high performance etc. In this post, we compare the two phones in terms of design, specifications, features and value for money. So let us get started with our comparison of the Honor 8 Pro VS OnePlus 5 by gettings the specifications out of the way!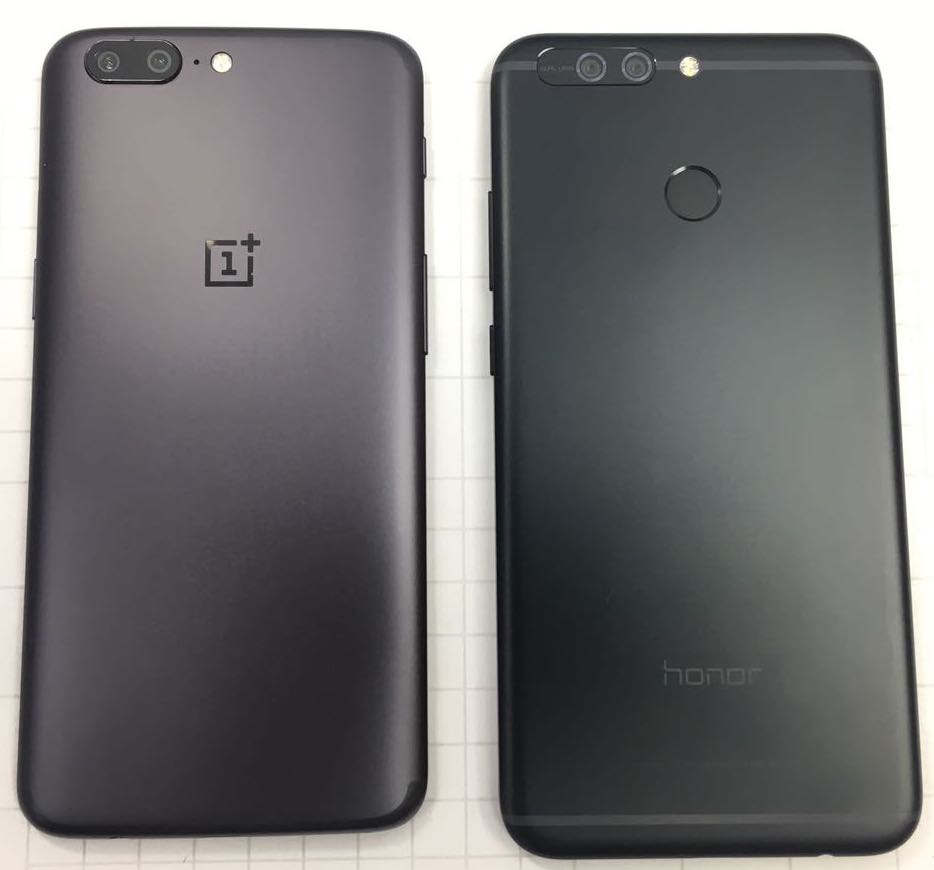 Specifications
| | | |
| --- | --- | --- |
| Feature / Device | Honor 8 Pro | OnePlus 5 |
| Display | 5.7 inch LTPS IPS LCD display with 1440×2560 resolution and 515 ppi pixel density | 5.5 inch Optic AMOLED Display with 1080×1920 resolution with 401 ppi pixel density |
| Chipset | HiSilicon Kirin 960 octacore processor (2.4 GHz x 4 cores and 1.8 GHz x 4 cores) | Qualcomm Snapdragon 835 octacore processor (2.45 GHz x 4 cores and 1.9 GHz x 4 cores) |
| GPU | Mali G71 MP8 | Adreno 540 |
| RAM & Storage | 6 GB RAM, 128 GB ROM | 6 GB RAM with 64 GB ROM and 8 GB RAM with 128 GB ROM |
| Rear Camera | Dual 12 MP RGB + Monochrome camera sensors | Dual 16 MP + 20 MP camera sensors |
| Front Camera | 8 MP | 16 MP |
| Operating System | EMUI 5.1 on Android 7.0 | Oxygen OS on Android 7.1 |
| IR Sensor | Yes | No |
| Battery | 4000 mAh with fast charging | 3300 mAh with Dash Charging |
| Fingerprint Sensor | Yes, at rear | Yes, at front |
Design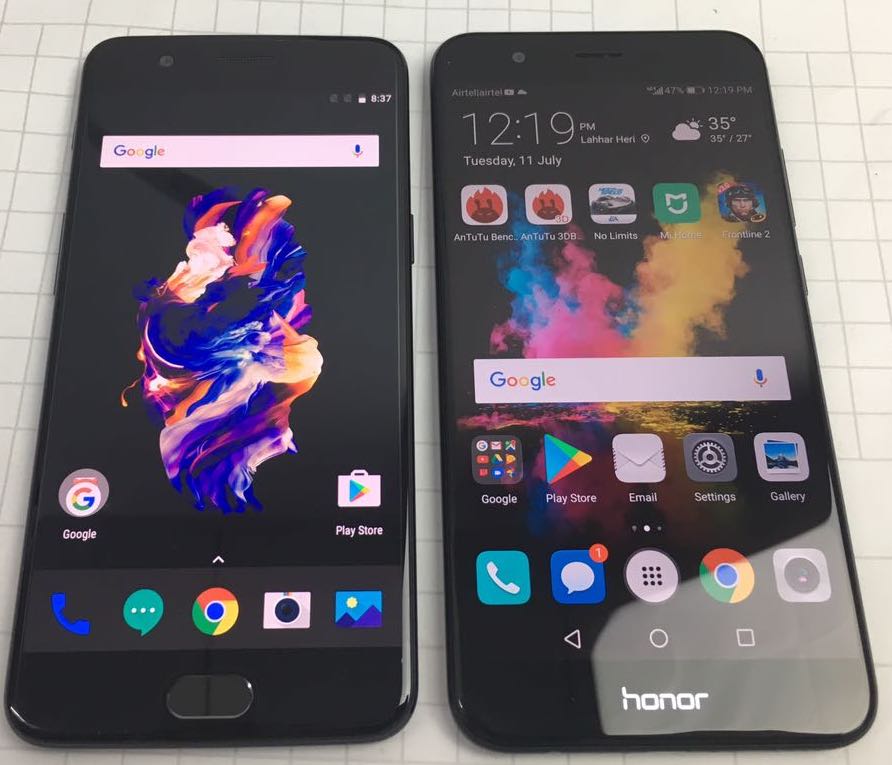 Comparing the design of the Honor 8 Pro VS OnePlus 5 there are many major differences here. To start with, the Honor 8 Pro is larger in size in terms of length and width, but it surely is slimmer of the two. The OnePlus 5 feels smaller and lighter, but Honor 8 Pro, on the other hand, offers a larger display and does feel good in the hand. They are quite comparable in size. Another major difference is the placement of fingerprint scanner. While on the OnePlus it is placed under the display, on the Honor 8 Pro, the placement is more like the Google Pixel with a fingerprint scanner at the back where your index finger usually rests.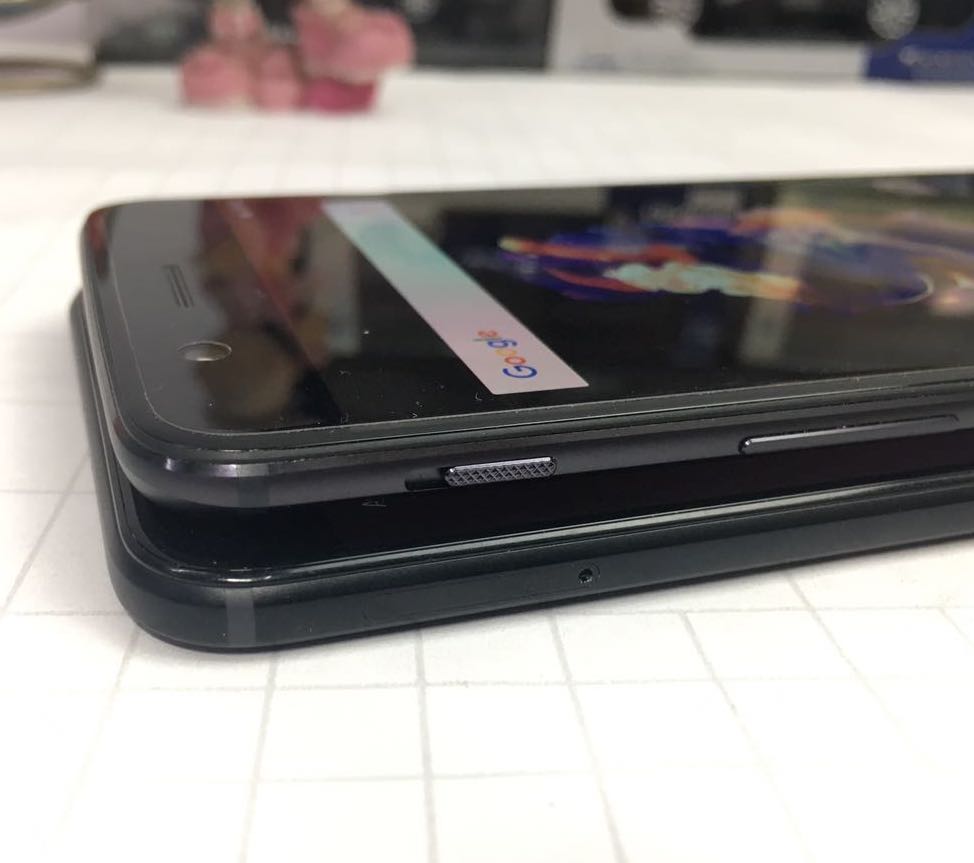 Some more noticeable differences are the alert slider on the left side of the OnePlus which is unique to this phone, while on the Honor 8, you get an infrared blaster on top to control your TVs, ACs and other appliances around you, this feature is unique to the Honor 8 Pro. One aspect where Honor 8 Pro takes a clear lead is that the rear cameras of this phone are flush with the rear of the phone while on the OnePlus they are slightly protruding out of the surface. So in terms of design, both phones are quite attractive, use good quality materials and feel premium in hand. Honor 8 Pro has slightly larger dimensions, but it is slimmer and the camera does not protrude, so it does score some extra points over OnePlus 5.
Display
Honor 8 Pro offers a large 5.7 inch LCD display with Quad HD- 1440p display resolution with a pixel density of 515 ppi. On the other hand, the OnePlus 5 has an Optic AMOLED display of 5.5 inches with 1080p resolution and 401 ppi pixel density. While with the naked eye, you can't judge the resolution difference much as both are very high-quality displays, but when you use VR applications where display resolution makes a difference, you can immediately notice that the Honor 8 Pro has got more pixels on the display. In terms of quality, contrast, colour reproduction and saturation, both the displays are pleasing to the eyes. Although AMOLED displays are inherently superiors to LCDs in terms of contrast and saturation, Honor's 2K display here more than makes up for it with its high quality and display resolution, so both have their own pros. It is up to your personal preference to pick up one of these two. If I had to pcik one, I would pick the Honor 8 Pro.
Cameras
Both the phones use dual camera setup at the rear. The implementation though is quite different. While on the OnePlus, one lens is a normal wide lens and the other one is a telephoto with a different field of view, on the Honor 8 Pro, one is a coloured RGB sensor while other is monochrome. The OnePlus 5 uses 16 MP + 20 MP sensor at the rear and decides to use either of these based on the zoom levels selected by the user. On Honor 8 Pro, both the sensors are 12 MP, but one of them is a colour sensor while the other is monochrome and at any given time, both work in conjunction to create a picture.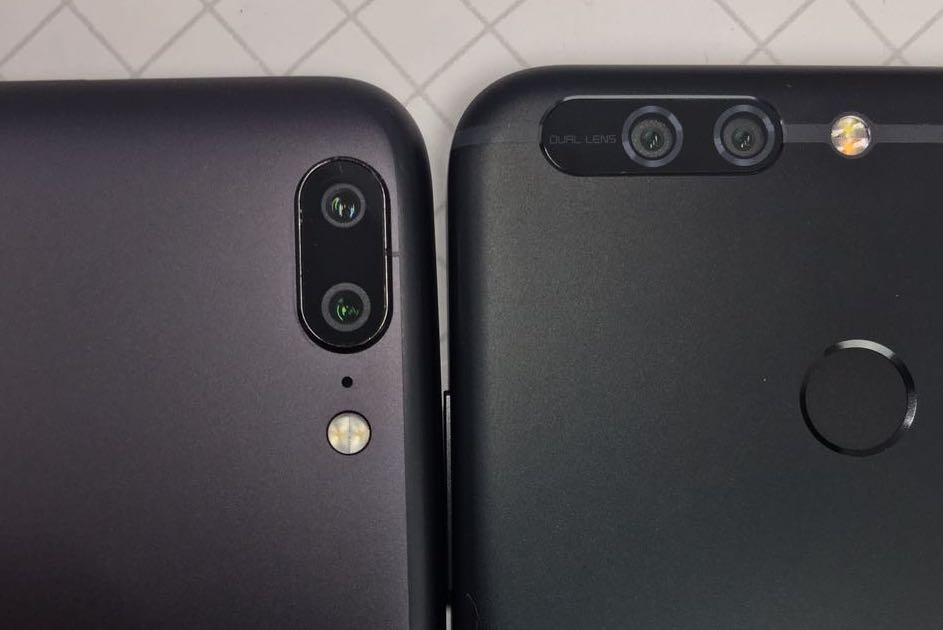 In our tests, we found out that the quality, clarity and tones of the images clicked with these two phones are quite comparable. The Honor 8 Pro usually tends to provide better results when it comes to the depth of field effect and clarity. On the other hand, the shots taken with OnePlus 5 are also impressive with more resolution. But if you have to pick between higher resolution and better clarity, which one will you pick?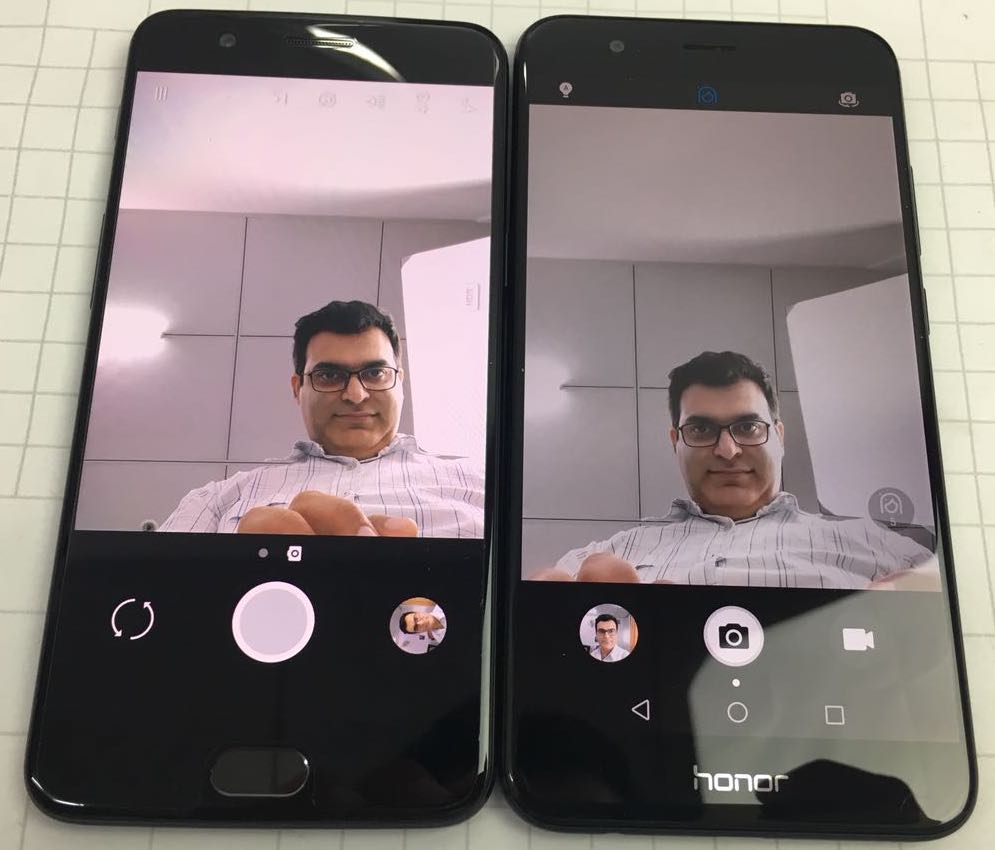 On the front, the Honor 8 Pro has an 8 MP Camera while OnePlus has a 16 MP camera. The width of the frame is more or less the same, but the beauty mode of the Honor is more aggressive and effective. Here again, you get more megapixels and hence more details on the OnePlus 5 front camera, but you get better beauty effects and similar clarity on the Honor 8 Pro. It is a very subjective pick here as here again it is a competition of Megapixels VS Clarity.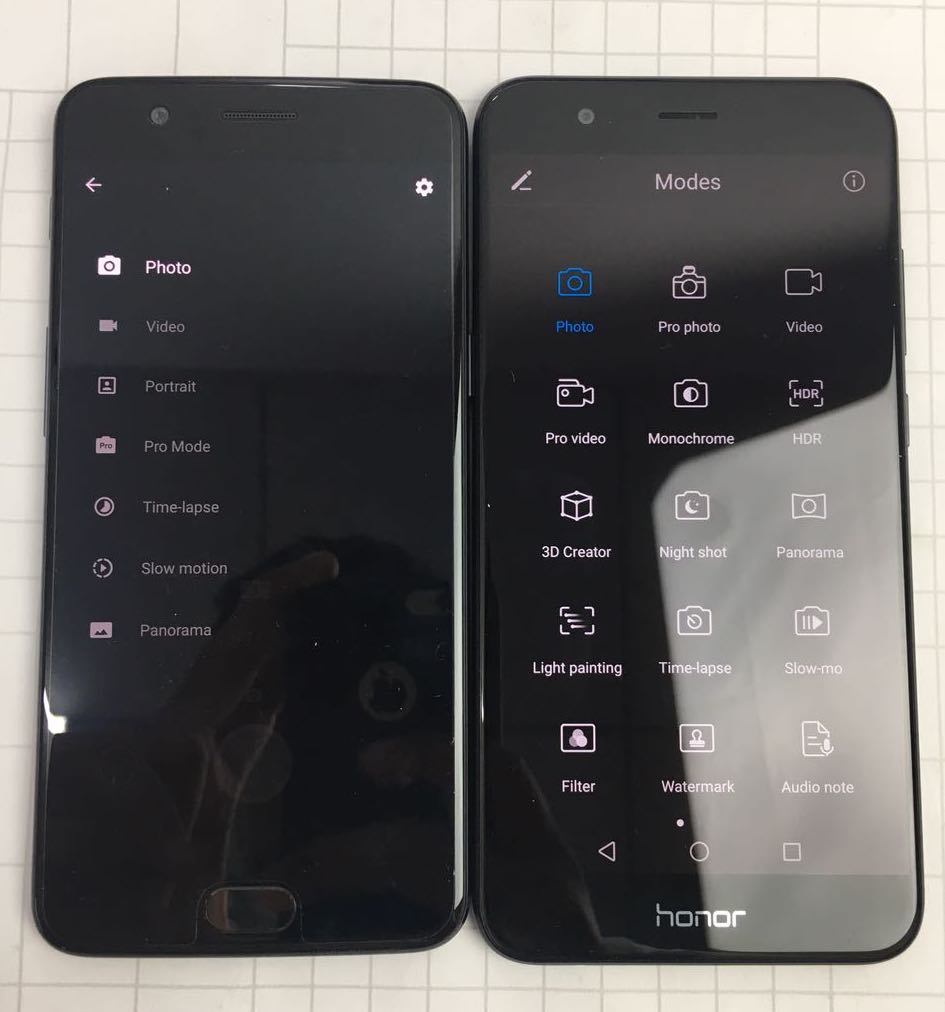 In the camera app, you find the OnePlus 5 has very simple and easy menu without many advanced options. On Honor 8 Pro, there are plenty of option and modes to choose from.
In totality, both the phones perform way better than other phones in this price segment. They are quite close in camera performance. While the OnePlus offers more megapixels on all the cameras, Honor 8 Pro offers more clarity. They are quite close in terms of performance, but if I have pick one, I would pick the Honor 8 Pro, but it surely is a close call.
Performance
Both phones offer top notch chipsets, the Snapdragon 835 chip powering the OnePlus 5 and the HiSilicon Kirin 960 powering the Honor 8 Pro. Both are high-performance octa-core chips and can handle anything you throw at them. We found that both the phones perform smooth and fluid in terms of app switching, opening new apps and playing games. I am not able to put my finger on which is faster than the other because both are insanely smooth.
While the Honor 8 Pro comes with a Dual Hybrid SIM card wherein you can expand the memory by adding a micro SD card in second SIM slot, there is no such option to expand the memory in OnePlus 5. The default RAM and Memory configurations of these phones are-
Honor 8 Pro- 6 GB RAM and 128 GB ROM
OnePlus 5- 6 GB RAM With 64 GB ROM or 8 GB RAM with 128 GB ROM
Software
Honor 8 Pro runs EMUI 5.1 on top of Android 7.0 and OnePlus runs Oxygen OS on top of Android 7.1.1. If you are an Android purist and want stockish experience, Oxygen OS is more likely to be your choice. On this other hand, if you love to customise your phone and adapt it as per your style, Honor's EMUI is more flexible and has themes and options you would like.
Battery
Honor 8 Pro gets a 4000 mAh battery with fast charging support (up to 18 watts at 9V and 2 Amps) while the OnePlus 5 offers a 3300 mAh battery with dash charging support (up to 20 watts at 5V and 4 Ams). Both have very power efficient chipsets and hence they are quite frugal on the way they consume battery. In our test, we found that the battery on the Honor 8 Pro lasted longer compared to the battery on the OnePlus 5. Both phones, however, can easily give you more than 1 day of moderate usage.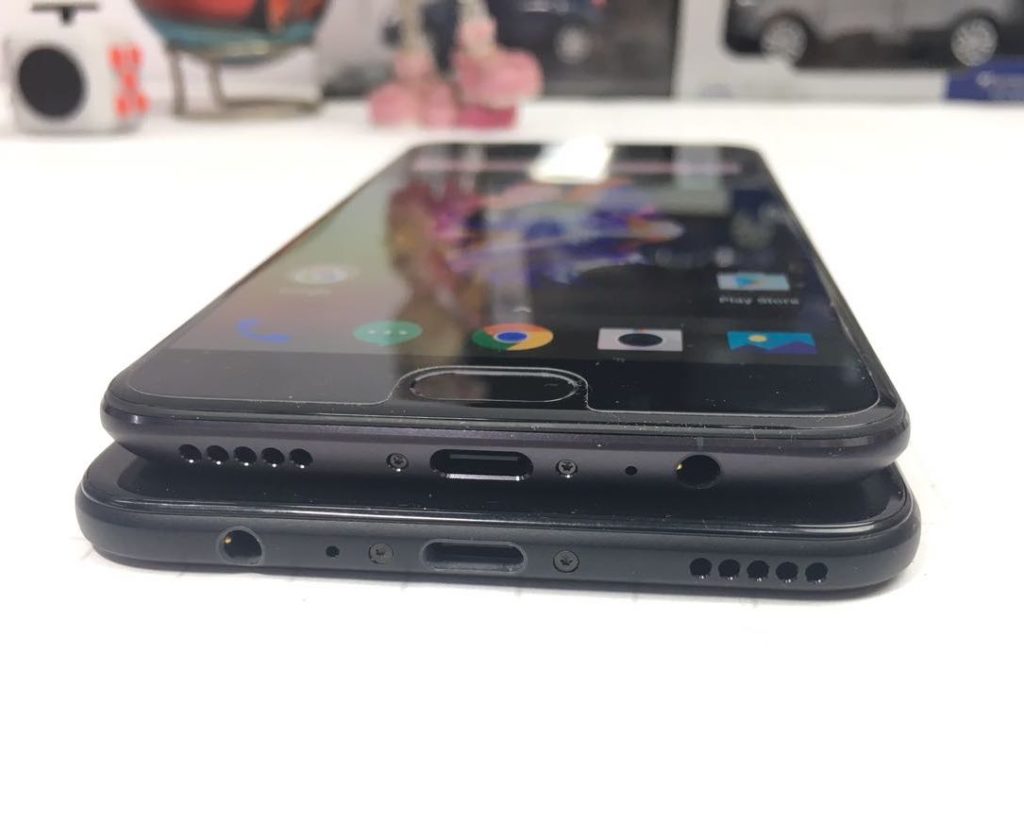 Price
This is where we find a noticeable difference between these two phones. The OnePlus 5 comes in 2 variants, one with 6 GB RAM and 64 GB internal memory is priced at Rs. 32,999, the other variant of OnePlus 5 with 8 GB RAM and 128 GB internal memory is priced at Rs. 37,999. On the other hand, Honor 8 Pro comes with just one variant with 6 GB of RAM and 128 GB of ROM.
Verdict
Both the phones compete hard with each other with one being ahead of other in one department while the other leads in another one. It won't be wrong to say that it is a close call, but considering most of the practical aspects of these phones like design, display, performance, cameras and battery life, it really is a close call. Considering that the Honor 8 Pro is priced lower compared to the OnePlus 5 and still offers 128 GB of internal memory as standard along with a larger battery and higher resolution display, my pick is the Honor 8 Pro. What would you pick? Do let me know in the comments section below.
Below are the best buy links to both these phones in case your want to pick either of these for yourself-
Buy Honor 8 Pro from Amazon India | Buy OnePlus 5 from Amazon India
More related stories below: