Ever thought if your device accidently crashes and you have format it to recover or what if it is stolen? This is where your backup counts. Taking periodic backup of your data provides an insurance against your information in case of any hazards that might happen to any one of us. This data can be anything you use docs, photographs, videos anything per se.
Taking a backup is easy and can be done in different ways. It can be done either online or offline depending upon what you are comfortable with. Offline methods include copying your data on an external hard drive or maybe another computer which you own whereas there are plenty of options available for online. Cloud storage has seen a rise in recent times and its increasing popularity makes it more useful. Various IT companies like Google, Microsoft, Dropbox, SugarSync, Copy, etc. provide their own cloud storage where we can store our data and use it whenever we want from wherever we want.
This time we are talking about just the photographs or videos that you store or click from your smartphone. Photographs are important for some people and I shall recemmend them to use one of these service in case if they aren't which is quite uncertain because most of us have heard about this by now and might have atleast tried it once. Google last year launched the auto-backup feature from their Google Plus mobile application on Android and iOS. We just need to turn on that feature and all our media content caught from the device shall remain in sync between different devices and create a backup online. Additionally it also offers enhancements especially deisgned for photographs that gives an edge to Google over other cloud services.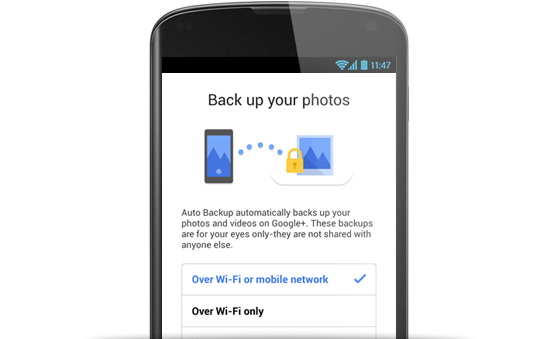 Below is the simple guide on how to configure Google plus app to enable auto-sync feature.
Launch Google Plus application
Go to Settings
Select Auto-backup
Under backup settings, select back up photos only when WiFi connection is available
Similarly do for Videos
You can additionally select options for roaming and charging
And its done.
Now as you click a photograph or shoot a video it will be automatically uploaded when WiFi connection is available. That photograph or video can be viewed on Google Plus under highlights tab.
More related stories below: