Recently, Facebook added a 'dark mode' to its Messenger app. The messaging platform introduced a fun way to enable the new feature. It includes sending an emoji in a chat. Now, the new feature is rolling out globally. It doesn't require an emoji to activate it either. Read more to find How To Activate Facebook Messenger Dark Mode On Android, iOS App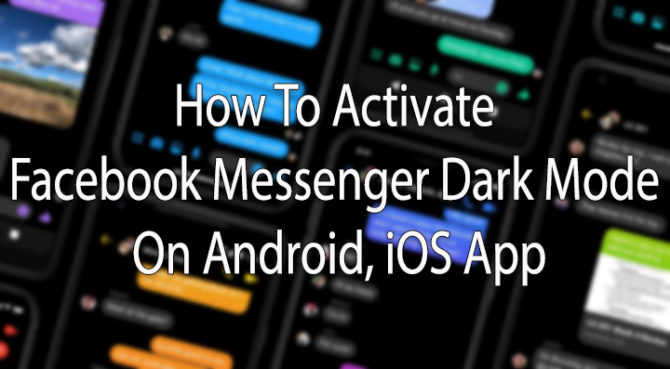 Facebook announced the new 'Dark Mode' feature for Messenger last year. The social media giant added that it would soon roll out the much-awaited feature. Now, you can finally enable it on your Android and iOS devices.
Once enabled, the dark mode lowers the brightness of the screen (while maintaining contrast and vibrancy). It also cuts down the glare for better usability in low-light situations.
Also read: How To Stop Facebook From Showing You Online For Chat
How To Activate Facebook Messenger Dark Mode Via An Emoji
Make sure you are running the latest version of Facebook Messenger.
Next, send a 'moon' emoji in a chat.
Now, a message should pop up saying – "You Found Dark Mode!".
That's it.
Note: The new feature is still being rolled out in various regions and platforms. Also, Facebook is still working on this feature, so you won't see the 'Dark Mode' everywhere in Facebook Messenger. It might also seem broken in some places.
Also read: How To Play Secret Games On Facebook Messenger
How To Activate Facebook Messenger Dark Mode Directly
Open Facebook Messenger on your smartphone.
Tap on your profile photo.
Go to 'Settings' to find a dark mode toggle below your name.
Toggle the 'dark mode' option.
That's it. Your display will turn from white to black
Also read: How To Track The Time You Spend On Facebook
Conclusion
Recently, Facebook launched a new version of a standalone messaging app. The new Facebook Messenger 4 is an essentially a simplified version of its predecessors. The redesigned version features three tabs instead of nine. Along with simple messaging and sharing options, Facebook Messenger allows users to make video calls, send money, etc.
The Messenger 4 update focuses on simplifying the messaging experience by removing some of the clutter from the past. The social media giant has also added more features to it's Messenger Lite app. This includes support for Animated GIFs and customization features. The Facebook Messenger Lite app is essentially a data-saving alternative to Messenger. Despite the new addition, the app remains under 10MB. Earlier this year, the company added a video chat feature to the lightweight messaging app.
What do you think of the new 'Dark Mode' feature? Are you excited to check it out? Share your views with us in the comments section below.
More related stories below: