Restarting an unresponsive iPad is an easy way to get it running. However, in some cases, you can reset it. Read more to find out about How to Hard Reset an Apple iPad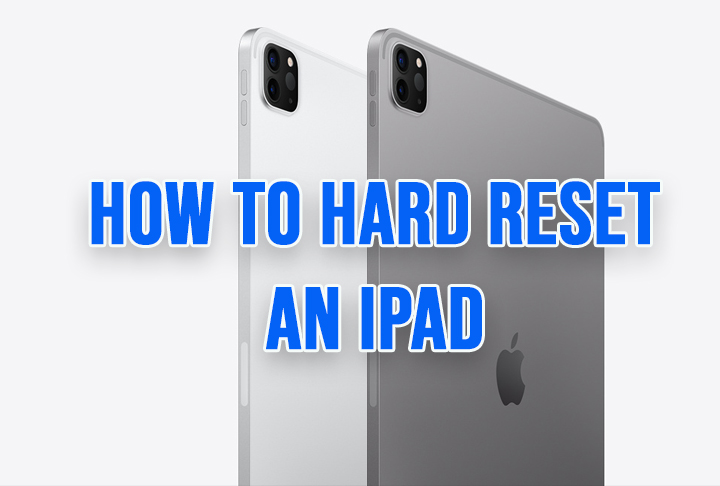 There are multiple ways to fix an unresponsive iPad. You can use hardware buttons to restart the device or use the settings option if you can access it.
The basic restart process won't delete your data or settings. All you need to do is press the Home button. It is located in the top right corner of the iPad.
If your iPad does not have a Home button, press and hold the on/off button and one volume button simultaneously until a slider appears at the top of the iPad screen.
Move this slider from left to right to turn off the iPad. To restart, hold the on/off button until the Apple icon appears. In case, the standard restart process does not work, you can try a hard reset.
Also Read: How to Create Instagram Broadcast Channel
How to Hard Reset an Apple iPad
Hold down the home and on/off buttons at the same time. If your iPad does not have a Home Button, quickly press volume down, volume up, and then press & hold the on/off button.
Now a slider should appear on the screen. Keep holding the buttons until the screen goes black. If the slider does not appear, hold down the button until the screen goes black.
Let go of the buttons, when the Apple logo appears.
Next, your iPad will start up like normal.
Note: This technique forces the iPad to restart (it doesn't clear any of your stored data like apps and photos, but if you had some unsaved work then you might lose that).
Also Read: How To Add More Than One Link To Instagram Profile Bio
How to Restore an Apple iPad to Factory Settings
To solve extreme problems, you can restore your iPad to factory settings. This option is also helpful if you are selling your device or giving it for repairs. Please note that restoring to factory settings deletes all your apps, data, preferences, and settings.
Also Read: How To Use WhatsApp Account On Second Phone
Conclusion
A hard reset is essentially a forced reboot. It clears memory and apps without losing any data. It is quite useful to make a hung iPad run again.
Also read: How To Check If Your PAN And Aadhar Are Linked? If Not Linked, How To Link It?
We hope the above-mentioned article was helpful. Let us know in the comments section below.
More related stories below: