IGTV allows Instagram users to upload long videos on their account. This allows users to essentially create their own video channel on the photo-sharing platform. However, the Facebook-owned app only allowed users to only upload vertical videos so far. Read more to find How To Upload Landscape Videos On Instagram's IGTV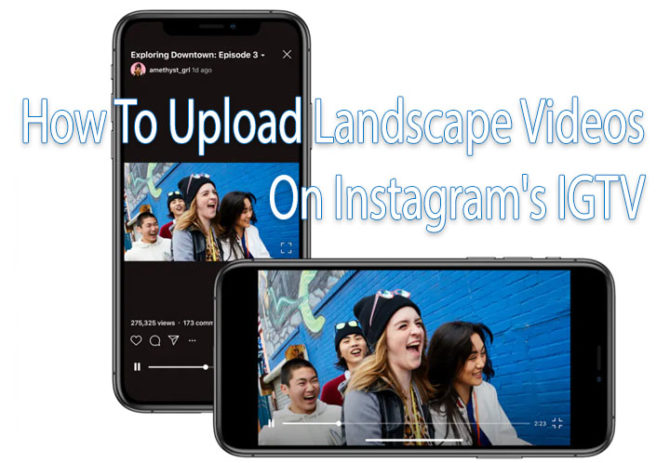 With IGTV, Instagram aimed to create a popular phone-friendly video platform. While the company's stories feature is immensely popular, the IGTV is still to take a leap. Among a range of new efforts to push the new platform, the app has given up on the vertical-only format for IGTV.
IGTV now supports landscape format alongside vertical videos. You can now upload landscape videos on IGTV. These videos will be played full-screen when the phone is turned sideways.
As most users are active on multi-platforms (YouTube, Facebook, etc), they won't have to re-edit their videos to fit the IGTV requirements. The new redesign uses algorithms to deliver a vertical grid of previews (similar to Snapchat Discover).
The landscape videos will be available on the standalone IGTV app and the IGTV hub (within the Instagram app). More changed are expected to come in the coming months.
Also read: How To Use Google Duo Group Video Calling Feature
How To Upload Landscape Videos On Instagram's IGTV
Open the Instagram app
Tap on the IGTV icon on top left corner (next to 'Direct messages' icon)
Now, tap on your profile picture to open your channel
Next, tap on the 'upload a video' text
Then, choose a landscape video from your smartphone
Fill the description and other details
That's it
Alternatively, you can open the IGTV on your laptop/ PC via the Instagram.com.
Open your Instagram profile
Click on the IGTV icon
Select 'Upload' option or simply click here – https://www.instagram.com/tv/upload
Choose a video from your PC
Fill in the required information about your video
That's it
Also read: How To Donate On Instagram Stories Via The 'Donation' sticker
Conclusion
Instagram introduced the vertical videos platform (IGTV), about a year ago. With the new redesign, Instagram hopes to attract more creators to IGTV. However, Instagram is yet to add a monetization option for creators.
Despite multiple boosting attempts by Instagram, IGTV is yet to reach significant engagement. Additionally, the Facebook-owned app is facing competition from newer apps like Tik Tok.
We will have to wait and see how the landscape videos perform on the photo-sharing app. So far, Instagram has not revealed any official numbers for IGTV.
We hope this article was helpful. Share your views with us in the comments section below.
More related stories below: