Amazon has finally launched its audiobooks subscription service in India. The Audible subscription starts at Rs 199 per month. It offers over 200,000 audiobooks that can be heard on your Android or iOS device via the Audible app. However, you can also legally listen without membership. Read more to find How To Legally Listen To Audible Audiobooks without a Membership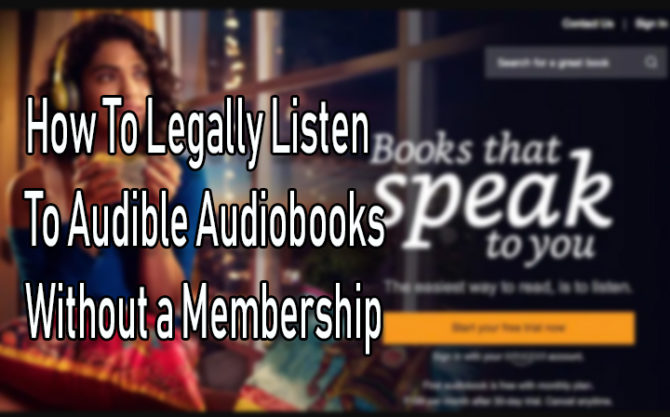 Whether you can't afford the monthly subscription or just not sure the audiobook format, there are a few ways to bypass the monthly subscription model. Lets us help you to legally listen to Audible audiobooks without a membership. You choose one of the three following methods:
Audible Free Trial
Currently, Audible is offering a 30-day free trial to all users. Additionally, 90-day free trial option extends towards three free audiobooks. Here's how to avail this offer:
Go to the Audible website.
Navigate the categories you are interested in (fiction, fantasy, romance, kids, comedy, history, business, etc).
Once you select a book, just click 'Free with 30-day trial' button.
Now, you will be prompted to log in with your Amazon account.
While the first book is free, you are required to enter your payment method to confirm your account.
Once done, you own the book forever.
If not interested in audiobooks, you can cancel the Audible subscription within 30 days to avoid charges.
Also read: How To Mute WhatsApp Notifications Without Opening The App
Daily Deals
Apart from the trial offer, Audible also offers great audiobook daily deals. You can find lower prices on the service's website. Alternatively, one can sign up to the Audible Newsletter.
Go to the Daily Audible daily deal page. It offers a book each day as part of promotion.
If interested in the book, click 'Buy' button to buy it directly.
If not interested, click 'Sign up here' to receive the emails of other deals everyday.
Once you find a book you like, simply buy it from the daily deal page.
You won't need an Audible membership.
Also read: How To Try Apps Without Downloading On Android Smartphones
Whispersync Deals
Whispersync for Kindle allows users to switch back and forth between reading a Kindle book and listening to the audiobook version without losing the last place. This works if you buy both the eBook and audiobook. You can buy the books which support Whispersync. It doesn't require a subscription to work.
Go to the Amazon Matchmaker page.
It automatically checks the audio version counterparts of the eBooks

.

You can also buy the eBook and audiobook together.

Alternatively, you can go back to your Audible library page to find and buy an eBook counterpart.

After purchasing, just download both eBook and audiobook

to your devices and start to reading/listening. 

Whispersync works automatically.
Also read: How To Use Google Smart Lock On Your Android Smartphone
Conclusion
Audible in India is still in 'beta'. However, Amazon claims that 'more new and exciting Indian & international audiobooks' are being added to the catalog every day. The India pricing is less than one-fifth of the US pricing ($14.95 per month). However, Indian subscribers are restricted to just one title a month. You can redeem one credit a month towards any title that's part of the Audible India catalog, regardless of its price. This book gets added to your Audible Library.
Additionally, Audible India is also offering 6 and 12-month subscriptions at Rs 1,345 and Rs 2,332, respectively. Previously, Amazon had launched its Prime subscription service in India at an introductory price of Rs 499. Prime subscribers in India now get access to Prime Video, Prime Reading, Amazon Music, etc.
Also read: How To Scan Old Paper Photos With Your Smartphone
More related stories below: