YouTube Music offers a tailored interface for music streaming. It lets you browse through music videos on YouTube based on genres, playlists, and recommendations. Now, a 'Smart Downloads' feature will allow you to save up to 500 songs automatically. Read more to find How To Use YouTube Music 'Smart Downloads' Feature To Save Up to 500 Songs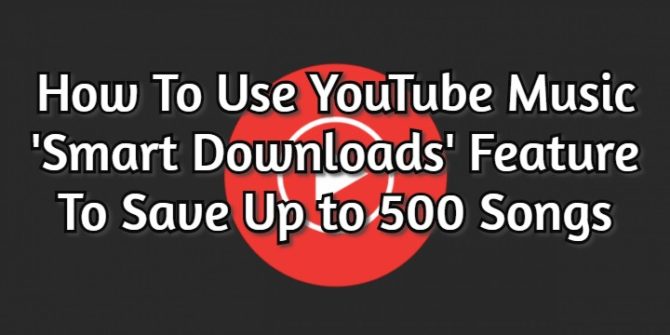 YouTube Music for Android has received a new 'Smart Downloads' feature. It replaces the existing 'Offline Mixtape' option (downloads content based on your listening patterns).
The new is designed to download as many as 500 music tracks automatically for offline playback (as opposed to up to 100 tracks via Offline Mixtape). However, it requires YouTube Music Premium or YouTube Premium subscriptions.
"Every night when you're on Wi-Fi, we'll automatically download your favorite music so that you always have something to listen to," YouTube states.
Also read: How To Identify Songs Playing Near You Via Google Sound Search
Here's How To Use YouTube Music 'Smart Downloads' Feature To Save Up to 500 Songs
Update to the latest version of Youtube Music app
Go to the Downloads section from the Library tab
You shall be able to access the 'Smart Downloads'
Now, simply hit the 'like' button on the YouTube Music app
That's it. The song you like will be added to the 'Smart Downloads'
Note: While 'Smart Downloads' replace the Offline Mixtape feature, you can still access it through the Your Mixtape shortcut on the Home and Library tabs. n the other hand, the 'Smart Downloads' feature hasn't yet appeared on iOS.
Also read: How To Use Dark Mode On YouTube for Android
Conclusion
So far, the Google streaming service is not a big competition to the likes of Apple Music and Spotify. However, the addition of new features might make it more attractive to music lovers. Google had promised a more consistent update cycle for YouTube Music in August.
YouTube Music users can already control the quality of streaming and downloads. You can also choose between downloading audio on mobile data and on Wi-Fi. Google has added new options in the Settings menu as 'Quality controls'.
The new settings will allow audiophiles to manage their data plans/ when streaming alongside maintaining the highest possible quality sound. However, the company has not specified the bitrate for each option.
The search engine giant also stated that YouTube Music is soon adding a feature to store music on the internal storage or the microSD card. It already offers offline support for mobile and desktop users. Users will also be able to filter out artists.
In May, the company was reported to be hiring music experts across the world to make the music streaming subscription more locally "authentic." YouTube Music offers advertising-free access to millions of songs and videos at EUR 9.99 (approx Rs 800).
Also read: How To Manage Daily Tasks With Google Assistant Routines Feature
What do you think of the new features on the streaming service? Are you excited to try YouTube Music? Share your thoughts with us in the comments section below.
More related stories below: