Facebook Watch has been launched to every country around the world. Along with Facebook Originals, the video platform allows videos from all Pages. Some of the popular content includes talk shows, drama series, and live sports matches. The social media giant also introduced its first interactive game show Confetti. Overall finding your personalized content (shows and videos) has become easier (directly from Facebook). You can even create a 'Watchlist'. Read more to find about How To Use Facebook Watch To Find New Shows & Videos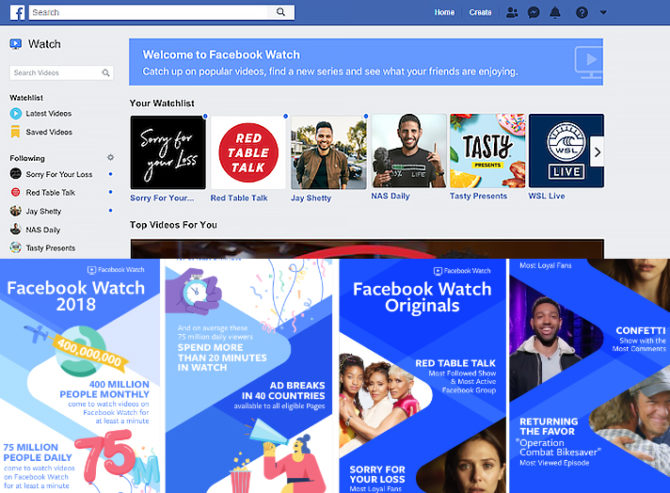 Facebook Watch is comprised of shows (live or recorded) with episodes that follow a consistent theme or storyline. This includes video series like a weekly cooking show, a daily vlog, or a fictional comedy. Facebook claims that the new video platform will allow creators to find an audience, build a community, and earn money for their work. So far, it has 400 million users who view content at least for a minute per month.
Currently, the majority of video content is provided by the likes of Vox Media, BuzzFeed, ATTN, Group Nine Media, etc. Facebook is even funding some shows (including Huda Boss, Five Points, Sacred Lies, and Sorry For Your Loss). It is focussing on several youth-focused news and entertainment creators to produce shows (both scripted and unscripted). Other options include a parenting show from Time and a safari show from National Geographic.
The free video hub is now available on both desktop site and Facebook Lite. The 'Watch' tab has been added next to the 'Messenger' tab. Here's How To Use Facebook Watch To Find New Shows & Videos
Also read: How To Stop Facebook From Showing You Online For Chat
How To Use Facebook Watch To Find New Shows & Videos
Click on the 'Watch' icon (next to 'Newsfeed' icon).
Go to the 'Discover' tab to find new shows.
Next, choose from sections like 'Most Talked About,' 'What's Making People Laugh,' 'What Friends Are Watching'
That's it.
You can comment on the videos in real time (similar to Facebook Live). Additionally, you can join dedicated Facebook Groups for the shows.
Also read: How To Watch Long YouTube Videos Without Interruptions
Conclusion
Facebook has also introduced Ad Breaks in 40 countries around the world (including India). However, this feature will only be available to a handful of eligible pages on Facebook. Earlier in this year, Ad Breaks were rolled out to pages with at least 10,000 followers and over 30,000 one-minute video views in the past two months.
The social media giant is also expected to bring its Brand Collabs Manager to more countries next year. It will also be expanding our fan subscriptions test and exploring new opportunities for advertisers.
Facebook is taking on traditional television networks along with new streaming models like Netflix and YouTube. The new platform might produce some interesting content. We will have to wait and see.
Also read: How To Play Secret Games On Facebook Messenger
What do you think of the new 'Facebook Watch' feature? Are you excited to check it out? Share your views with us in the comments section below.
More related stories below: