Update: Earlier we told you about the leaked images of iPhone 6 via TheVerge. But now Verge pointed out that the images we have seen was fake. The smartphone shown in those images was not next iPhone. Those images was rendered by Marin Hajek. Sonny Dickson uploaded those images yesterday, and that become a news of leaked images of iPhone.
A person named Sonny Dickson posted some images of iPhone on twitter, he used to leak the images of parts of iPhone previously too and that turned out true as well. In past, he leaked the images of iPhone 5S and iPad Mini too before the device announced. So we can consider that images we are seeing, may be of the next iPhone. Another user on twitter also posted complete images of iPhone. We can clearly see that new iPhone will feature slimmer design, a bigger display, no bezel on sides as well.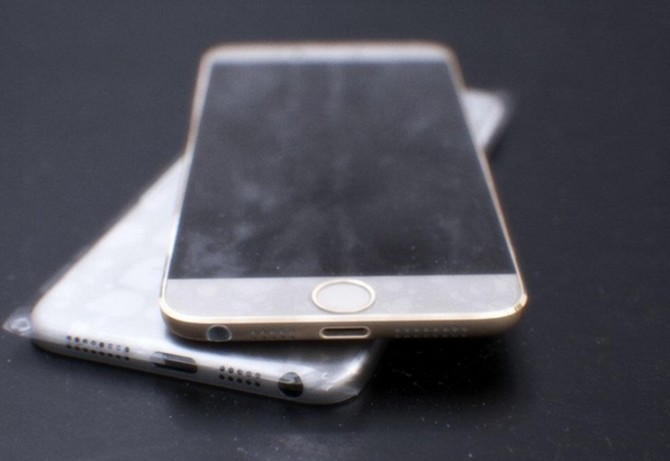 Teaser #4 pic.twitter.com/cdrdEGtqVx

— Sonny Dickson (@SonnyDickson) February 12, 2014
On front, we can see that there is a home key as we are seeing in all iPhones till now. The front camera is placed in the middle at top as usual. There is not bezels on the both sides of iPhone and a bigger display.
@appleinsider iPhone 6 pic.twitter.com/etkXtjwnco

@MacRumors iphone #6 pic.twitter.com/nr4pL76Ql5

— mornray886 (@mornray886) February 12, 2014

— mornray886 (@mornray886) February 12, 2014
At back, on top, we can see that the main camera is placed at the top left hand side with LED Flash. There is an Apple logo in the middle of iPhone as usual. From sides, we can see that the new iPhone will be more slimmer than its predecessors.
The speakers are placed at the lower bottom of iPhone with 3.5mm audio jack and charging plug.The volume rocker and camera button are placed at the left side of new iPhone.
iphone 6 #apple pic.twitter.com/GW6jKLG9FP

— mornray886 (@mornray886) February 12, 2014
Previous reports suggested that Apple is launching two iPhones this time with one big and another small display.
For More Stay tuned with   Intellect Digest India   and like us on   Facebook   or follow us on   Twitter  .
source1, source2, via TheVerge
More related stories below: