Instagram now allows you to go live with up to three additional people. It will provide creators an opportunity to make money. Read more to find about Instagram Live Rooms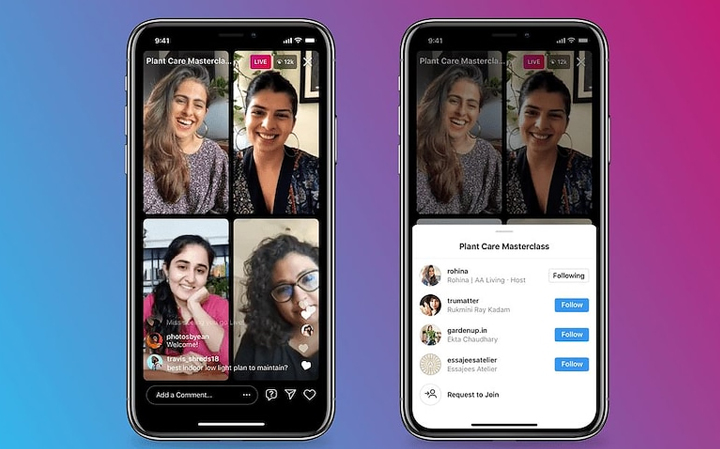 Recentkly, group-broadcast app called Clubhouse has become very popular. Now, Instagram has started allowing up to four people to live stream together in virtual "rooms."
The real-time broadcasts will allow creators to collaborate with other creators for a talk show or a podcast. Other Instagram users can tune into the chat easily.
India is one of the first countries to receive the Instagram Live Rooms feature. It comes with built-in controls to keep the community safe.
"Previously, you could go live with only one other person in a stream, but we're now letting you 'double up' on your live broadcast," Instagram said in a blog post.
Instagram claims that the new feature will allow creators to have greater audience engagement. Here's how:
Also read: How To Enable Google Docs Dark Mode On Android
How To Go LIVE On Instagram With Other Users
Go live on Instagram by tapping the plus sign at the start of the stories tray or swipe left from the Instagram home screen
Now, scroll through the options at the bottom and tap the Live camera option
Next, add a title if you want, and tap the circular shutter button to go live
Once you are live on Instagram, tap the Camera/Rooms icon to see the people who have requested to join your live
Then, search for the guest's name and tap on their name to send them a request to join the live session
You can add up to three guests at one time
That's it!
Also read: How To Make WhatsApp Video Calls From Your Laptop Or PC
Conclusion
Instgram claims that the new Live Rooms will provides creators an opportunity to make money as pandemic has significantly reduced real-world venues.
Additionally, the photo-sharing app will now allow viewers to buy "badges" to show appreciation for hosts. Broadcast hosts can add shopping or fundraising features.
"We hope that doubling up on Live will open up more creative opportunities – start a talk show, host a jam session or co-create with other artists, host more engaging Q&As or tutorials with your following, or just hang out with more of your friends," Instagram said in a blog post.
Live broadcasts have become very popular in last year, thanks to YouTube video channels, Twitch video game plays, and audio-only social media apps like Clubhouse.
Instagram has also become one of the most popular social media apps among creators to engage with their communities and expand their reach.
The Facebook-owned app claims that the Instagram Live views in India grew 60 percent on a week-on-week basis in March.
Also read: How To Use Google Assistant Voice Commands On Android Apps
We hope the above-mentioned article was helpful. Let us know in the comments section below,
More related stories below: