Instagram has added a new audio feature for Reels that makes it easier to share and save audio clips. Read more to find How To Save Audio From Instagram Reels & Use Them In Your Reels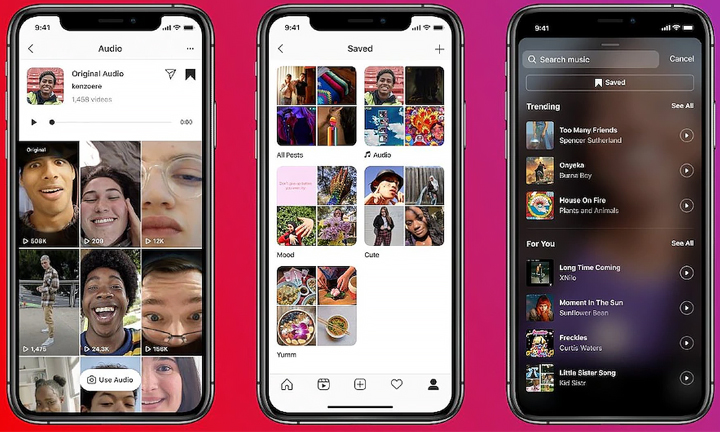 Reels on Instagram is a short video making and sharing feature. It allow users to record and edit videos with audio/ visual effects.
Now, the popular social media platform is offering several new audio features for Reels. These will make it easier for users to share and save audio clips.
You can now to save audio clips, share audio pages over Direct Messages, and browse through new sections (For You, Trending, etc). Here's how:
Also read: How To Use Guest Mode for Google Assistant For Privacy
How To Save Audio From Instagram Reels & Use Them In Your Reels
To save sounds within the app, use the 'Save Audio' feature
Similar to Instagram's save posts feature, tap the audio and click on the save icon
All the saved audio files saved will be found under the Audio folder in the saved posts section on Instagram
Now, you can use this audio in your own Reels clips
Additionally, you can bookmark songs within the app, and revisit later. You can also share all the Reels that use a specific piece of audio through Direct Messages on Instagram.
Instagram claims that the new features will help Reels creators to identify trending songs and clips more easily. The new update has already started rolling out.
Also read: Now You Can Create Up To 30 Seconds Instagram Reels
Note
India was one of the first markets to receive the new Reels feature. Thanks to the recent TikTok ban, Reels have received a lot of users in India.
The popular social media platform has been releasing regular updates for the short-form video sharing feature. Recently, it added a dedicated Reels tabs.
Instagram has also increased the duration of short videos by 15 seconds. Previoulsy, the Instagram Reels allowed users to upload short videos up to 15 seconds.
Additionally, users will get a timer up to 10 seconds (up from up to three seconds) while recording a reel. You can also trim and delete any clip.
The Facebook-owned platform hopes to make it easier for people to discover new Reels creators and their videos. The new features will the company get more users.
Also read: How To Use Google Assistant Voice Commands On Android Apps
What do you think of the new feature? Share your views with us in the comments section below.
More related stories below: