In the age of technology, when every tech device manufacturer is busy coming up with thin laptops, Intel has come up with yet another innovative device at CES 2015, the Intel Compute Stick. The highlight of this  device is that it turns any TV into a Windows Desktop. The user will just have to plug the compute stick on the HDMI port of the TV monitor and you are all set to use your TV as Windows PC. Dubbed as the tiniest PC, this device is 4 inch long and is more suitable in the field of education and emerging markets where mobile employees are employed. Read on to find detailed information about the price, specifications, features and more on Compute Stick.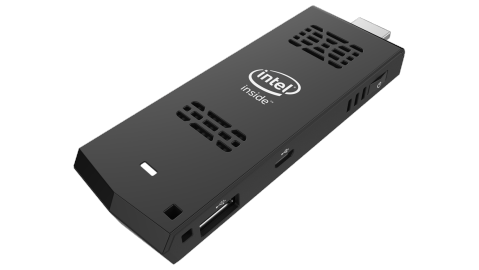 The Compute Stick is powered by Quad-Core Intel Atom Z3735F processor. Based on the operating system, it is available in two variants- one running on Windows 8.1 with Bing (coupled with 2 GB of RAM) while another running on Linux (coupled with 1 GB of RAM). It features HDMI display and again on the basis of storage, it will be available in several variants- 16 GB, 32 GB and 64 GB, all expandable via microSD card. Connectivity options on this device include Wi-Fi IEEE 802. 11 bgn, Bluetooth 4.0 and USB 2.0 while the dimensions are 110.9 mm x 38 mm x  9.8 mm.
This device being the tiniest PC, allows the users to use their TV as Windows desktop and perform various functions like browsing internet, accessing and browsing social media accounts and streaming various media like Netflix, Hulu and games. This Compute Stick from Intel makes it easier for users to access their PC while sitting anywhere, be it their home or office by just plugging the device into the TV monitors HDMI port.
Specifications and Features of Intel Compute Stick
CPU: Qaud-Core Intel Atom Processor Z3735F
PMIC: Dollar Cove AXP288
Operating System: Windows 8.1 with Bing, 32bit or Linux
Display: HDMI
RAM: 2 GB
Storage: 16 GB/32 GB/64 GB (expandable via microSD card)
Display: HDMI
Connectivity Options: Wi-Fi IEEE 802. 11 bgn, Bluetooth 4.0, USB 2.0
BIOS: 2MB
LED Indication: Power Status Indicator
Dimension: 110.9 mm x 38 mm x  9.8 mm (HDMI connector inlcuded)
Price and Availability
The availability details are not known yet. Intel Compute Stick is most likely to go on sale soon in the coming  months in 2015. The pricing details of compute stick from Intel are as follow:
Windows 8.1 Version of Intel Compute Stick will cost $149 (Rs. 9,300 approximately)
Linux version of Compute Stick will be available at $89  (Rs. 5,600 approximately)
Read More Stories About- Intel
More related stories below: