Recently launched Lenovo P780 is proving to be whole lot more than other Smartphones in mid range. While previously launched K900 and S920 from Lenovo were limited to premium range, this phone is right up the alley for mid range customers. There are some really smart features in this phone which sets it apart from the other similar range phones but the best and most famous is its enormous battery of 4000 mAh, which gives it an edge over all other phones. With a promise to last almost double of what an average Smartphone does, you can leave the worry of carrying around the charger everywhere you go. And that's not it, there are more things Lenovo p780 is capable of and let's show you them all.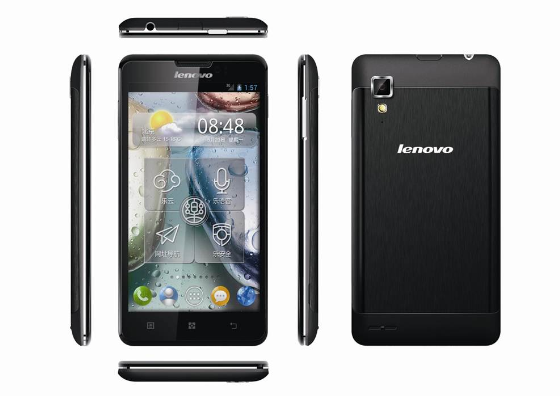 Video Review
Build Quality
In spite of the gigantic battery, this phone looks good and is not too bulky. Though the weight of this phone is about 175 gms, which is higher than other phones but it doesn't feel heavy. It is robust, sturdy and extremely solid. The material used is metal and very fine plastic, and it gives the phone a wonderful solid feel and again sets it apart from its flimsy, cheap plastic counterparts.
Design and Hardware
With the 5-inch display, the look of the Lenovo P780 is almost similar to other smartphones. There are three capacitative touch keys for navigation placed at the bottom. On top there is front facing camera, sensor array and their logo. Atop the handset there is speaker, the 3.5mm audio jack, micro USB slot and the power button. On the right side there are volume rockers and the left side is kept bland. The back of the phone looks premium with a decent 8 mega pixel cam and the speakers at the bottom. On the inside, there is USB slot, double SIM slots and the powerhouse battery which is not removable. Overall the look and feel of the phone seems great and it looks fairly good.
Display and Graphics
Lenovo P780 scores more than average in display too. It comes with a 5-inch IPS LCD with a resolution of 720X1280p and 320 pixel density which makes the viewing angles great and the images crisp and clear. It also offers ten point multi touch display which is double of the 5 point multi touch display, being offered by its competitors. It scored 44framepersecond on Nenamark2 test, which is fairly good and is better than lot of other phones in the similar range. The only thing that could've been better is the reflective glass, which makes poor sunlight legibility.
Hardware and performance
Powered by MediaTek MT6589 1.2 GHz quad core processor, this phone comes with 1GB RAM and the power VR SGX544 MP GPU. There is 4GB of built in memory and it is expandable through the micro SD card. Talking about the performance, this phone scored13696 on our AnTuTu test which is great and it better than its rivals, also with Android 4.2 Jelly Bean, we didn't experience any lag in launching apps, playing games or navigating between apps. The interface is pleasant and easy to use. So in terms of performance, it is better than most of its rivals though there can be an occasional delay in response.
Gaming Performance
We tried playing games like frontline commando and this phone did not disappoint us. The viewing angles were great, the images were vivid and we did not face any lag in pointing and shooting. Similarly subway surfers gave us good results too however with Asphalt 8 the experience was just average.
Software And User Interface
The interface of P780 is definitely better with six pre-loaded themes which bring changes to the phone's colour schemes, wallpaper, app icons and the complete look. It runs on Android 4.2.1 but still offers some 4.2.2 features like lock screen widgets. There are some gesture controls too, like it answers automatically, when placed near the ear, the pocket mode, which increases the volume in the pocket and adjusts it as soon as it is in the hands. There are a number of pre-installed apps which makes it a smart business phone. You can also use it with a normal size keyboard and monitor and manage your office on this phone. There is another cool feature, which is its USB OTG cable, this cable is great because you can connect it with other external pen drives, USB gadgets or with other phones and charge them. They will be charged off the battery of this phone and this feature is definitely very useful and sensible.
Camera
While the back shooter is 8-megapixel and the front is 1.2 VGA one but its super camera app offers a great range of stuff from customization, filters to  modes. The camera app also allows you to shoot photos in low light, night vision and HDR modes. The good part is that the colour rendering is worth noticing and the saturation is just right. Overall, a good camera and a great app.
 Audio Quality
The sound quality of Lenovo p780 is reasonably good at high volume levels and the good part is that with the speaker grille, the sound doesn't get too muffled when kept on its back. It comes with very good quality earphones with changeable cushions.
 Battery Life
The USP or the high point of this phone is its Mammoth battery, which is amazing given the always on the brink batteries of the other phones. Also with a unique feature of battery saver app, you can customise and extend the battery power even more. This app also tells you exactly how many more minutes and hours, the battery will last.
Conclusion- Our Take On Lenovo P780
This one is definitely a winner in the mid range segment. Its enormous battery, a strong built quality and a great camera makes it a real deal and it totally frees you from carrying your charger everywhere you go. Its UI is worth mentioning and its power optimization feature makes it a great companion for business people, high users and frequent travelers.
More related stories below: