Lenovo has expanded its ThinkCentre Tiny business desktop series with the launch of a compact desktop dubbed the Lenovo ThinkCentre. The desktop is targeted towards students and entrepreneurs. This one-litre desktop takes minimal space and comes with "full ecosystem of optional accessories while Google's Chrome operating system offers a wide range of easy to use applications to learn, share, and collaborate in a highly secure environment." Also, the ThinkCentre is designed to work with 23-inch Lenovo ThinkCentre Tiny-in-One monitor to offer all-in-one Chrome OS PC experience to the users.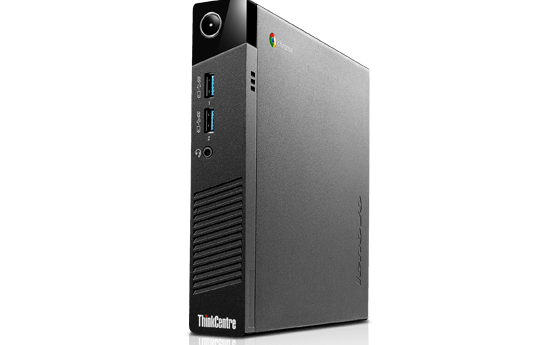 Coming to the technical specifications, the Lenovo ThinkCentre Chromebox comes with a fifth generation Intel Core processor coupled with up to 4 GB of RAM. While measuring 177.8x35x182.8 mm in dimensions, it features four USB 3.0 ports, a full-sized HDMI jack, Ethernet jack and DisplayPort. It also houses up to 16 GB of SSD storage.
Features and Specifications of Lenovo ThinkCentre Chromebox Compact Desktop
Fifth generation Intel Core
Up to 4 GB RAM
16 GB SSD storage
Dimensions: 177.8x35x182.8 mm
Four USB 3.0 ports, HDMI jack, Ethernet jack, DisplayPort
"Lenovo was the first to introduce a one-litre commercial desktop and ThinkCentre Chromebox is a testament to our commitment to the continued evolution of the desktop and our promise to push the boundaries on innovation for our education and business customers. Combined with the ThinkCentre Tiny-in-One, the new Chromebox illustrates our belief in more flexibility for teachers and IT managers to continue to offer desktop solutions in a modern day environment," said Ouyang Jun, vice president and general manager, Desktop and Visuals, Lenovo of the launch.
Price and Availability
The ThinkCentre Chromebox Tiny will go on sale beginning June 2015 at starting price of  $199 (approximately Rs. 12,600) while the ThinkCentre Tiny-in-One monitor is available at $279 (approximately Rs.17,700)
Also Read: Lenovo Yoga 2 Tablet With AnyPen Technology Launched In India At Rs. 22,099
Source: Lenovo, Via: Android Central
More related stories below: