If you still haven't heard about LG's flagship phone G2, you are missing one of the most accomplished and insanely powerful devices from the Android arena. It's bang on competition with Samsung Galaxy S4, Sony Xperia Z1 and HTC one and emerges out to be a strong competitor. With the most impressive set of features and specs, this phone can definitely make you think again before buying that Galaxy or iphone. Here is our detailed review about this droolworthy smartphone from the house of LG.
The processor is Qualcomm's Snapdragon 800 running at 2.26GHz. It's the current processor of choice for top-end handsets and, backed up by 2GB of RAM, is very zippy: screen transitions, web page renders and video playback were all fast and smooth. We've no complaints about this handset's speed.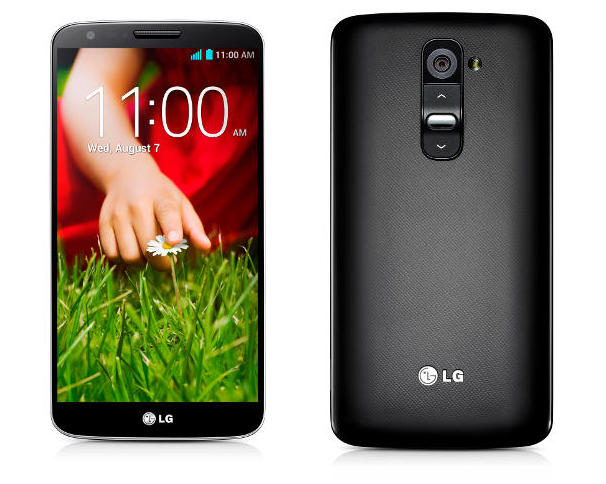 Video Review
Design
The gorgeous 5.2-inch screen with 1920X1080 resolution and a pixel density of  424PPI, this smartphone will make the best phones go blue in the face, and in spite of the size of the screen the phone is pretty manageable. The USP or the distinct feature of this phone is the placement of power and volume keys at the back to give the phone a clean look and also to make the phone more practical. Also with Gorilla Glass 3 technology, the phone should be safe from small drops and scratches. The bottom edge of the phone has a 3.5 mm headset jack, USB port, speaker and microphone.
 Specs
With great customisable options, LG G2 has 5 home screens with Android 4.2.2 widgets. This phone gets its amazing power from Qualcomm's snapdragon 800 running at 2.26GHZ with 2GB of RAM offering greater efficiency than Galazy S4.
 Features
Aware of LG's Qslide? It got better! The exclusive multitasking feature allows you to run two apps simultaneously. There are lot of shortcuts available from the lock screen like the phone, messages, camera etc. which is great and also Accessing apps is as easy as tapping the apps button on the home screen.
But the fact that there is no MicroSD card slot for storage expansion is something that G2 could've worked on. The phone is also a sealed one piece with LG's internal battery and is shaped to the contours of the casing.  With the roll over app you can change the sequence of all the front touch button to the left or right. Also the notification icons can be edited to have your choice of shortcuts. There are other sensors like proximity and light sensors and also eye tracking app that pauses video if you look away from the screen.
One of the many great features is the inbuilt remote with which you can control your T.V, A.C which is done with the infra red blasters and the inbuilt software.
The best part was that LG's G2 boots up faster than any other phone and never slows down or lags, no matter how many applications are running in the background. Moving between apps was super fast and a better experience than Galaxy and HTC One.
 Benchmarks
On the Nenamark test this phone scored 59 fps at FHS. On AnTuTu we got 35991 score which is the highest in all the phones that we got and it clearly shows the optimum utilisation LG has done with with phone.
 Gaming
We tried playing Asphalt8, which is a fairly demanding game. This phone has top of the line specification when it comes to graphics. There is no stutter in graphics. There is no delay and the graphics is really great. Similarly Modern Combat 4 gave us good vibrant display and is very responsive. The gaming performance of G2 is very impressive. Playing Dead Trigger 2 was also amazing and very smooth.the graphic rendering is worth praising.
 Camera
With a 13 mega pixel rear and the 2.1 front shooter, the camera of G2 is worth mentioning because its camera is simply great with the picture quality that can take Galaxy and iPhone head on. The 13MP shooter on the G2 will more than suffice for anything you could ever shoot with a smartphone. The performance is good with low light, optical image stabilization and removing of unwanted objects from the background and then there are modes like normal, HDR, Burst shot, panorama and more.
 Battery
The LG's G2 boasts of an impressive 3000mAh battery with filled in contours of the backcover. It's claim of 17.5 hours of 3G talk and 37 days on standby is definitely worth appreciating and is a great relief from its "always battery exhausted" counterparts.
 Specifications at a Glance
 OS Android 4.2.2, Jelly Bean

Processor name- Qualcomm Snapdragon 800

Processor speed 2.3GHz

Processor- quad core

RAM 2GB

Dimension-

Height 138.5mm

Width 70.9mm

Thickness 8.99mm

Weight 142g

Battery-

Type- 3000mAh

Stand by time- upto 30 days

Talk time up to 15 hours

Screen display-

Size 5.2"

Display type- IPS

Resolution 1920X1080(FHD)
Our Verdict
The phone is simply awesome if you look at the specifications. It is nothing like what we have seen recently. It's stunning in looks, works well in almost all spheres, has great processor, crisp pictures, one of the longest battery life, amazing Gaming experience, all of these make this phone a great buy and a real value for money. So our verdict is if you can, go for it!
More related stories below: