LG has launched its latest flagship smartphone- LG G5 at the MWC 2016 event in Barcelona. LG G5 succeeds the LG G4 and comes with numerous improvements and upgrades over the predecessor.
If you are wondering what differences and similarities do these two smartphones bear or what changes does the LG G5 brings with it over the G4, then this post is going to help you. Read on to find out how LG G5 vs LG G4 compare with each other in terms of specifications and features.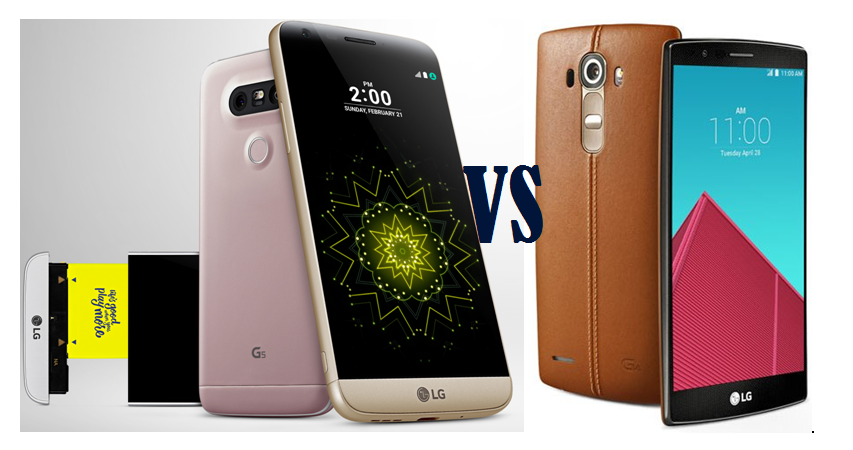 LG G5 vs LG G4 Comparison: What's Different? 
| | | |
| --- | --- | --- |
| Device/Features | LG G5 | LG G4 |
| Display | 5.3-inch Quad HD IPS | 5.5-inch Quad HD IPS Quantum |
| Resolution | 2560×1440 | 2560×1440 |
| SoC | Snapdragon 820 | Snapdragon 808 |
| CPU | Quad-core | Hexa-core |
| RAM | 4GB | 3GB |
| Memory | 32GB | 32GB |
| MicroSD | Yes – Up to 200GB | Yes – Up to 200GB |
| Battery | 2800mAh | 3000mAh |
| Camera | Dual camera setup: 16 MP and 8 MP | 16MP,  f/1.8 Aperture, optical image stabilization |
| Front Camera | 8 MP | 8 MP |
| Connectivity | 4G LTE, Wi-Fi, Bluetooth, NFC, USB Type C | 4G LTE, Wi-Fi, Bluetooth, NFC |
| OS | Android 6.0 Marshmallow | Android 5.1 with LG UX 4.0 |
| Dimensions & Weight | 149.4×73.9×7.7 mm, 159 grams | 148.9×76.1×6.3 mm, 155 grams |
| Fingerprint Sensor | Yes | No |
Design
The LG G5 comes with a refreshed design language and takes a huge departure from the design of the LG G4. Unlike the plastic and leather design of LG G4, the G5 boasts of full metal body with a fingerprint sensor on the rear. The power button is located on the rear with fingerpint sensor but the volume rockers have been moved to the side. It measures 149.4×73.9×7.7 mm and weighs 159 grams. The LG G5 flaunts its modular design and allows users to remove the battery.
Processor & RAM
The LG G4 packs a hexa-core Qualcomm Snapdragon 808 processor paired with 3GB of RAM while the LG G5 is powered by a quad-core Snapdragon 820 processor coupled with 4GB of RAM.
Display
The LG G4 features a 5.5-inch Quad HD IPS Quantum display while LG's latest flagship smartphone- G5 packs a slightly smaller, 5.3-inch Quad HD IPS screen. The G5 comes with an always-on screen which shows time, date and important notifications without waking up the device. LG G5's always-on display is said to use only 0.8 percent of the battery's full capacity per hour to operate. Screen resolution of both smartphones is 2560×1440 pixels.
Storage
This round is a tie. Both devices house 32GB of internal memory which can be expanded further up to 200GB via microSD card.
Camera
The LG G4 sports a 16 mega pixel primary camera with f/1.8 aperture and optical image stabilization. The LG G5 on the other hand, comes with a dual camera set up on the rear. It sports a 16 mega pixel as well as an 8 mega pixel on the rear. Both phones sport an 8 mega pixel secondary camera on the front.
Battery
While the LG G4 packs a 3000mAh battery, the G5 comes with a slightly lower battery capacity of 2800mAh.
Software
The G4 runs Android 5.1 operating system wrapped under LG UX 4.0 while LG G5 runs Android 6.0 Marshmallow operating system.
Additional Features
Besides a slide-out or removable battery, the G5 comes with a feature called LG Friends. It includes a wide range of companion devices that can be attached to the bottom of the phone to deliver a whole new experience beyond the 'traditional smartphone boundaries'. The various Friends modules include LG G Cam Plus, LG Roller Bot, LG 360 and LG Hi-Fi Plus among others. The LG G5 also comes with a USB Type C port.
Verdict
The LG G5 and G4 pack in more differences than similarities. The LG G5 comes with a much refreshed design, taking a huge departure from the design of LG's last year's flagship smartphone LG G4. Besides featuring powerful processor and great camera combination, the LG G5 flaunts its metal unibody design. The slide-out battery and modular design of the phone make it even more exciting. The LG G5 is designed to take your smartphone experience to the next level. It is expected to be priced between Rs. 40,000 to Rs. 50,000.
Also Read: Samsung Galaxy S7 vs LG G5 Comparison
More related stories below: