The LG nexus 4 (read as raw power) has been making waves world over due to the sheer processing power it offers at half the price of its competition. It was only correct that the device sold out in minutes wherever it was launched on the Google Play Store. Now there are a very few countries where it was available from Google and the rest have had to deal with the higher pricing at which LG is offering it.
India is one such country but the device even though has not been launched officially in India, is being sold by some online retailers. It first got listed on ebay and it was priced pretty well. The 8GB variant costed around Rs.25,000 and the 16GB variant costed around Rs.28000 on Indian websites when it launched in USA, but later on the prices were increased gradually by the sellers seeing the demand. It still managed to get a sold out notice. And now if you were looking to buy it from elsewhere, it is available but at a higher price.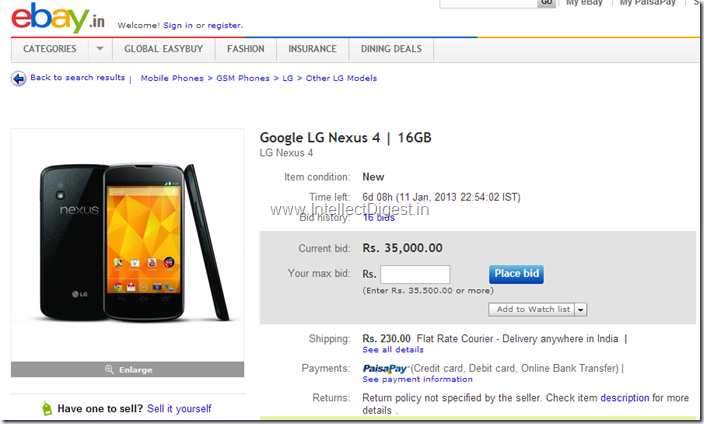 It has been listed on more than one e-commerce websites albeit at a higher price. It is available again on ebay but comes with a price tag of Rs.35,999 for the 16GB variant. It is also listed on Tradus.in with a price tag of Rs 31,999 and Rs.37,999 for the the 8GB and 16GB variants respectively. These prices are quite steep and are almost the double of what Google is offering them at. And even at these prices, the latest update is that they are sold out.
It's January folks and LG is expected to officially launch the device in India this month. It will be launched at a price somewhere in the range of Rs.30,000-Rs.35,000 to prevent cannibalization of sales of their current flagship, the LG Optimus 4X HD and also to compete with the likes of the Samsung Galaxy S3 and HTC One X. Google considers India as their one of the most important markets. We fail to realize the reason behind Google not launching the device by themselves in a country like India where smartphones sell like hot cakes.
More related stories below: