Logitech India has launched a range of wireless keyboard, mouse and touchpads to improve the Windows 8 Experience with special features and touch interface on these devices. The new launched devices include:
Logitech Wireless Rechargeable Touchpad T650
Logitech Touch mouse T620
Logitech Zone Touch Mouse T400
Logitech Bluetooth illuminated Keyboard K810
Logitech Touch Keyboard K400R
All these 5 products have been optimized to use touch inputs which makes these devices suitable and more desirable for use with Windows 8 OS which has a very touch friendly interface.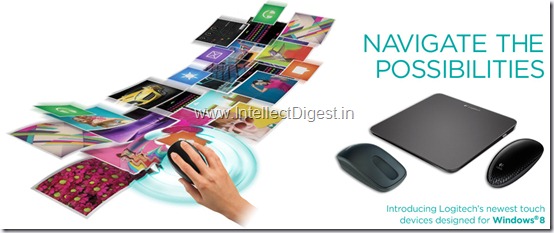 Lets talk a little more about all of these products individually.
Wireless Rechargeable Touchpad T650
The touchpad T650 comes with a smooth glass surface and it supports Windows 8 gestures like the two finger and 3 finger gestures which allow you to perform pan, pinch to zoom, swipe screen etc. and makes it quite easy to use the Windows 8 features. The price of Wireless Rechargeable Touchpad T650 in India is Rs. 4995.
Video review:
Touch mouse T620
The Touch mouse T620 comes with a full touch surface and which allows to use gestures on the surface of the mouse along with using the mouse in a conventional way which makes it more friendly to use with touch based applications. The price of Touch mouse T620 in India is Rs. 4295.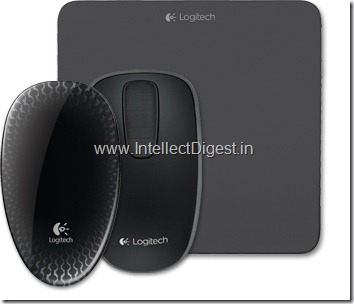 Video review below:
Zone Touch Mouse T400
The Logitech T400 touch mouse comes with a small glass touch area compared to full touch on the T620, it has a rubber grip for precise control and the touch area makes it easy to use the touch based actions. The price of Wireless Rechargeable Touchpad T400 in India is Rs. 2895.
Bluetooth illuminated Keyboard K810
The most important feature of the Bluetooth illuminated Keyboard K810 is that it can connect to 3 different Bluetooth devices which can be a smartphone, a tablet or a Computer. You can switch between these devices very easily by the click of a button. It has special Windows 8 button and Quick Switch between Apps. The price of Bluetooth illuminated Keyboard K810 in India is Rs. 8295.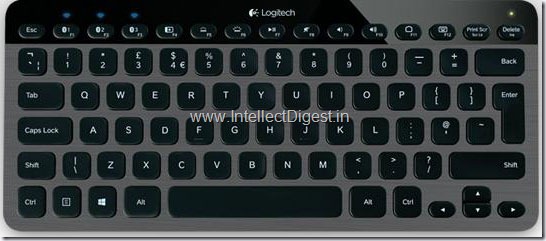 Video review:
Touch Keyboard K400R
This is a two in one product as it has a keyboard with a touchpad which makes it compact to use these products with large screen computers and computers connected with TV display as because its compactness the device is living-room friendly. The price of Wireless Rechargeable Touchpad T650 in India is Rs. 2995.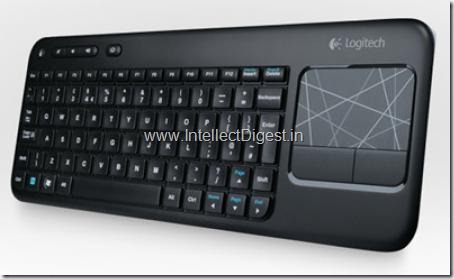 Review video:
Stay tuned to Intellect Digest India for latest technology updates from India.
More related stories below: