Sony India has launches its first hybrid ultrabook Sony VAIO Dual 11 in India at a premium pricing of Rs. 89,990 which is available across Sony centers (Sony exclusive stores), VAIO stores and other major IT retail stores like Chroma and Reliance digital in India starting December 2012. The Hybrid-Ultrabook can be folded to use as a tabled with a full HD 11.6 inch capacitive touch screen with special high contrast Sony panel which can be viewed even in bright outdoor light.
It has a hinge slider mechanism with which the screen covers the keyboard completely when the Ultrabook is folded and it becomes a full features Windows 8 tablet PC while when you open it, it becomes a Windows 8 Ultrabook.
Talking about some of the vital statistics of the Sony Vaio Duo 11, it weighs merely 1.3 Kg and is less than 1 inch thick (17.85 mm to be precise). It comes with a digital noise cancellation headphone as standard while other accessories like screen protection cover and carry case come as additional accessories which can be bought separately.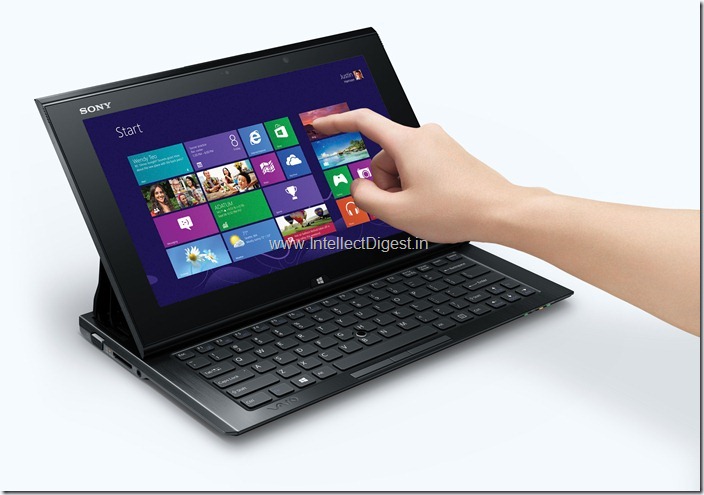 Hybrid Ultrabooks are designed to take advantage of the Windows 8 OS which offers a great flexibility to be used with touch friendly metro interface along with full functionality of a Windows PC. Sony has put in a lot of attention to useful user experience factors like the display quality, sound quality enhanced with Sony's xLoud technology, integrating DLNA features to stream music and video wirelessly to large screen DLNA TVs etc.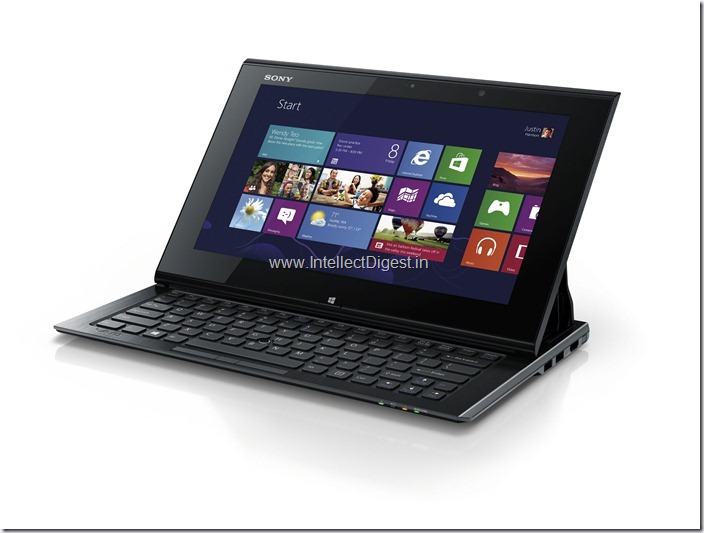 Also to improve the user experience, the VAIO Duo 11 comes with rapid wake up technology which helps it resume from sleep almost instantly. It comes loaded with 3rd Generation Intel Core processor, 4 GB of RAM and has a SSD Drive of 128 GB in capacity. It also has full size USB 3.0 port, VGA, Ethernet and HDMI ports which makes it very convenient to use it like a normal laptop or Ultrabook and connect it with other devices, displays, projectors, network cables etc.
Viao Duo 11 Official Video:
However one thing we feel that is missing from making it a real mobile device is the absence of a 3G SIM card support. You can however use any 3G or 2G data-card Dongle or even use your phone's tethering function to use it with the Vaio Duo 11, but we feel a 3G SIM card slot with 3G data support can give it the required completeness. Besides this small shortcoming, the Vaio Duo 11 does impress us. Stay tuned to Intellect Digest India for latest technology updates.
More related stories below: