Mobile multiplayer gaming is one of the most relaxing and engaging things we love to do in our free time. With the ongoing global situation, where most of us cannot catch up with our friends in the real world, these multiplayer mobile games have come as our savior. While Ludo is one of the oldest classic games we have grown up playing, it still is a lot of fun to play this game with friends and family. Whether you play it online or offline, it is full of fun and a competitive spirit. But don't you think that after playing only a few rounds of it, it starts to feel very boring and repetitive? Well, to me, it does. In this post, I will share with you a unique treasure, which is, our favorite old Ludo with a lot of added twists and added excitement, the Ludo Zenith.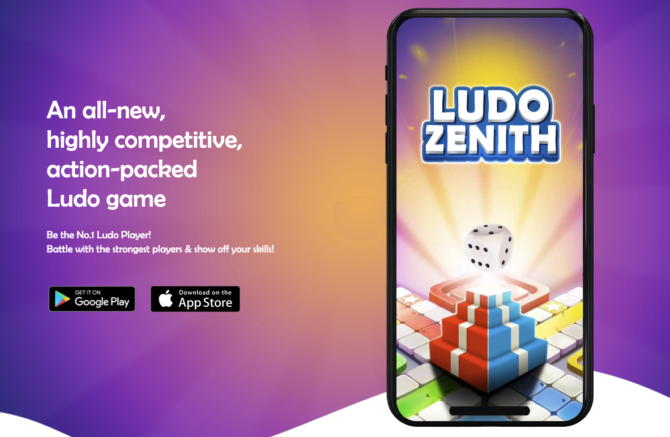 Before I dive deeper, let me tell you in short what Ludo Zenith is. It is an all-new, highly competitive, and action-packed version of Ludo. It is an online multiplayer game that is free to play. It is available for both Android devices and iPhones. In this post, I will share with you some information about the makers of this game. I am also going to talk about the gameplay experience and features of this game in depth. Let's get started.
Makers of Ludo Zenith- Square Enix And JetSynthesys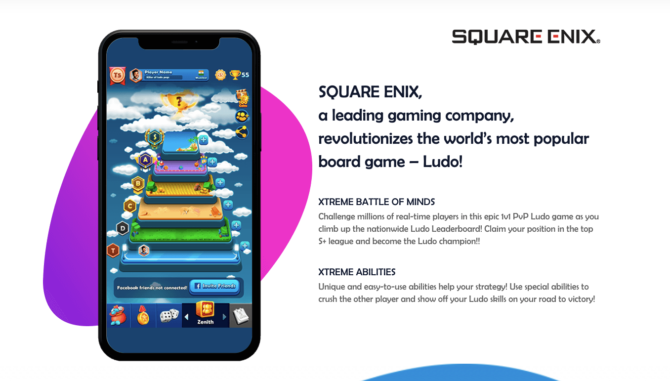 Square Enix, a leading Japanese gaming company in collaboration with JetSynthesys, a leading Indian gaming company, has jointly developed Ludo Zenith. Square Enix is a world-renowned name in the game development industry and is the publisher of multiple popular gaming titles including Marvel's Avengers, Just Cause, Final Fantasy, Dragon Quest, and Tomb Raider to name a few.
JetSynthesys is another renowned name in the gaming industry. This Indian company has developed and launched the popular cricket games called Sachin Saga Cricket and Sachin Saga VR. They have also recently acquired the company named Nautilus Mobile which has developed Real Cricket series of games that are hugely popular in India.
How To Download And Setup Ludo Zenith To Your Smartphone?
To install Ludo Zenith on your Android device or iPhone, you need to go to the Google Play Store (on Android) or App Store (on iPhone) and search for "Ludo Zenith". Click on the Install/GET button to download and install this game. It takes around 68 MB of storage space on your phone when you download and install this game on your phone.
When you launch the game for the first time, it asks you "Which is your favorite city?" Based on which city you choose, it will associate your profile with this city for city rankings. It invokes competitiveness among players to perform better at this game online. Thereafter it proceeds further to tell you that you can claim daily login reward coins in the game. After this, you reach the home screen wherein you can see your city, profile, coins, global ranking, current rank, and level. There are options to play online as well as to play with friends. There is also a yellow tab called "Match Analysis" which shows you "My Data" or "Friends' Data", which shows you in detail how your gaming performance has been or how your friends' performances have been, which is a very cool feature.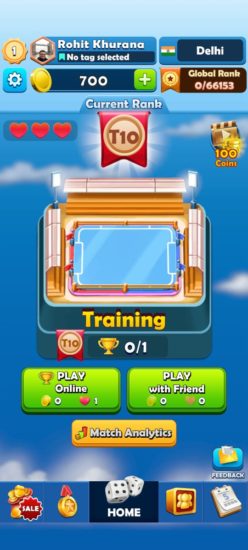 On the home screen, you will find multiple tabs, the first one is a Store tab, wherein you can avail of special offers like dice and coin bundles. Herein you can also buy coin packs. These are used for in-app purchases. These in-app purchase bundles start from as low as Rs. 10 and go up to Rs. 3,999. You are not forced to make any of these purchases and you can purchase these coins and special offers only if you wish to use them to enter higher-rank arenas and Special Dice. You also earn free coins by logging into the game every day, watching ads, or as a reward for winning a match.
The second tab on the home screen is the Player Tag selection, wherein you can choose a Player Tag to wear out of all the Tags you have gained through achieving certain goals. Next is the Zenith tab wherein you can see your rank and your friends' rank. Here you also have a tab to invite your friends from Facebook to join you and check each other's progress on the Ludo Zenith app. The last tab on the home screen is the Calendar tab which shows you daily login stats etc.
When you click on your profile link on the home page on the top left of the screen, it shows you your data, city rank, your summary, and matches played. You can also connect your game with your Facebook ID which allows you to save your progress and even check your Facebook friends' progress in the game. To log in with your Facebook ID, you have to click on the "Facebook Connect" button which is on the bottom right of your Player Profile screen, or from Settings. This will also add your Facebook profile picture to your profile on the Ludo Zenith app.
Ludo Zenith Gameplay & Special Features
To start a match, you can click on either one of the two options "Play Online" or "Play With Friend" on the home screen.
Gaming Characters
When you click Play Online, you get to choose your gaming character. This is much different from any other Ludo game wherein you only choose the colour of your token. The characters which you get to choose from, initially, are as below:
Rabbit- This character has a special power to move double the dice outcome when its superpower is activated.
Turtle- It has a special power to shield itself from enemy attack when the special power is activated.
Rhino- It has a rage mode that captures all the enemies in its way when making a move.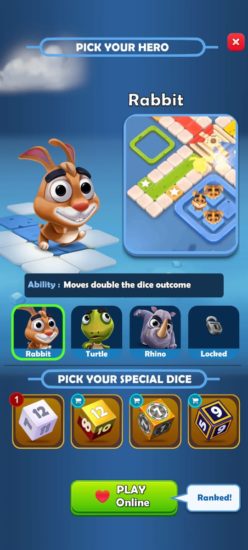 There seems to be another character but it's locked when you begin the game.
Special Dice
In this game, you play with two dice. A regular dice that has 1 to 6 dots. There is another Special Dice which you can pick before a match. This can be used to your advantage only 3 times to make large moves or tactical moves during the game. It can change a losing game into a winning game when used smartly. You get to choose among the Special Dice available to you before you start the game.
After you choose the character and Special Dice, you click on Play Online button which starts the multiplayer game. It selects a player as an opponent online and the match starts. There are some very special features you can notice in the match. These are as mentioned  below:
3D Gaming Arena
3D capability means that the entire Ludo arena is in 3 dimensions, and you can watch it from any angle, making it almost as realistic as playing it in real life. This colourful 3D arena makes the gameplay very immersive and engaging. It lets you zoom in and out of the sections and watch it from multiple angles. 3D arena with characters loaded with superpowers makes it an unparalleled online Ludo experience.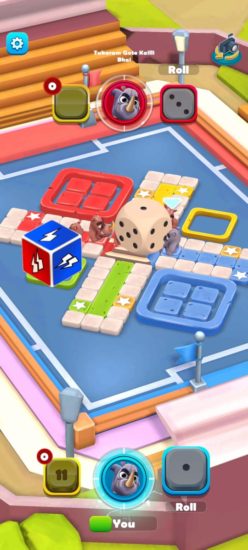 There is an energy bar that fills up with Energy Dice every time a player takes a turn. This energy bar, when filled up, activates the superpowers of these gaming characters. Also, during the gameplay, a player can use Special Dice 3 times, which can have numbers higher than 6. Some of these special dice can be purchased via in-app purchase in the store option which is there on the bottom of the game's home screen. Users can also claim a Special Dice by watching an ad before starting a match.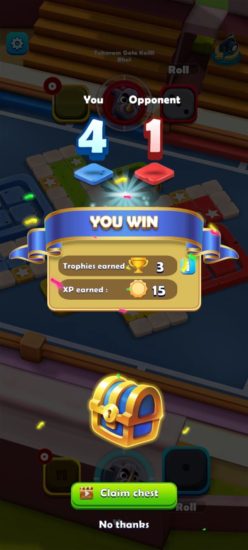 Xtreme Battle Of Minds
As you go on playing, Ludo Zenith also offers rank progressions. You keep progressing to higher arenas and compete with other players from the entire country to claim higher ranks. Herein you challenge millions of other players in real-time with epic 1v1, PvP online strategy matches. The highest level you can get in this game is the S+ rank wherein you become the Ludo Champion. You can play with your friends and also check their progression on the leaderboard under the Zenith tab accessible from the home screen.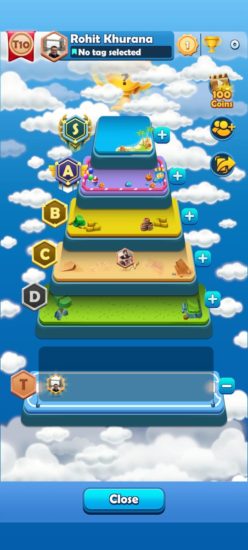 It supports real-time online multiplayer mode and you can play with random people online matched to your gaming skill levels. To make it more exciting, you can play with your friends online as well. To play with your friends, you generate a code, share the same with them, and they join you for an online game which is a very easy process.
To summarize, I would say that this Ludo game is like no other game. I must confess that I am just a beginner, so it may take some time to reach higher ranks on the game, but I am looking forward to it. I highly recommend you check out Ludo Zenith. You can find more details and download the game here.