India's leading smartphone vendor Micromax is on an aggressive spree of launching quad-core phablets in the country. Earlier, when Galaxy Note 2 was the only quad-core phablet in the market, not many could get their hands on one as the handset was priced too high.
At this point of time, Micromax came up with the dual-core Canvas 2 A110 and gained some traction in the consumer market. Later, Samsung also came up with Galaxy Grand Duos, to swipe away the fame from Micromax and establish itself even in the budget and mid-range phablet segment as a leading vendor.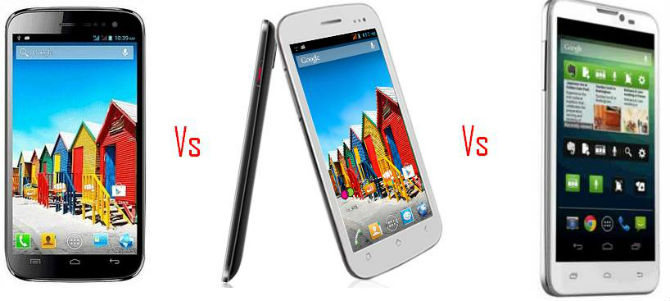 But, being a native vendor to outshine global market dominators including Apple and Samsung, Micromax did not take much time to come up with a quad-core phablet – A116 Canvas HD, which was launched just on the eve of the Indian entry of Galaxy Grand Duos. And, since then, Micromax is a king in making quad-core phablets in the country.
Well, of course, Canvas HD priced at Rs 14,499 faced much issues and controversies as far as its retail availability was concerned, but, these have only boasted the company's efforts in making more competitive devices. As evidence, the homegrown manufacturer came up with another quad-core phablet A111 Canvas Doodle.
Priced at Rs 12,999, the Canvas Doodle comes with a large 5.3-inch display, dual SIM support, stylus and many other impressive features. Lately, the company has also come up with another phablet, which is the successor of Canvas 2 A110 launched in November. The handset dubbed A110Q Canvas 2 Plus also comes with a quad-core processor and incorporates some decent specifications at a reasonable price tag of Rs 12,100.
Seeing the success of Micromax phablets, especially the quad-core ones, many of you might be wondering to buy one. But the big question is which phablet of the trio mentioned here is a better one for your needs. Of course, each of them has their own pros and cons and hence, they will be suitable for different genres of consumers with various set of requirements. Here is a comparison between the Canvas A111 Doodle, Canvas A110Q Canvas 2 Plus and A116 Canvas HD, to make it clear on what is the difference between them.
Display
A110Q Canvas 2 Plus packs a 5-inch IPS LCD capacitive touchscreen display with a resolution of 480×854 pixels and 196ppi pixel density approximately. At the same time, A111 Canvas Doodle houses a 5.3-inch capacitive touchscreen with a similar resolution of 480×854 pixels and hence, it has a pixel density of 185ppi approximately. In comparison, Canvas HD boasts a better 5-inch IPS capacitive touchscreen display with 1280×720 pixel resolution and 294 ppi pixel density.
Hardware
In this segment, A110Q Canvas 2 Plus is equipped with a 1.2GHz quad-core MediaTek MT6589M processor and A116 Canvas HD is powered by a 1.2GHz quad-core MediaTek MT6589 chipset. On the other hand, Canvas Doodle is fitted with a 1.2GHz quad-core Qualcomm Snapdragon processor.
Software
Both Canvas Doodle and Canvas HD run on Android 4.1.2 Jelly Bean OS, but the A110Q Canvas 2 Plus is based on Android 4.2 Jelly Bean OS.
Camera
All the three phablets come with 8-megapixel rear camera with autofocus and LED flash and 2-megapixel front camera for video calling.
Memory
In terms of memory storage, all the three Canvas phablets pack 4GB inbuilt storage, which can be expanded to up to 32GB via a micro SD card. The difference is that A110Q Canvas 2 Plus and A116 Canvas HD have 1GB RAM, while A111 Canvas Doodle comes with only 512MB RAM.
Internet
When it comes to internet connectivity, all the three phablets come with features including Wi-Fi, 3G, Bluetooth, GPS and micro USB.
Battery
A110Q Canvas 2 Plus is powered by a 2,000 mAh battery delivering 6 hours talk time and 280 hours standby, whereas, A116 Canvas HD is also equipped with a 2,000 mAh battery offering only 5 hours talk time and 174 hours standby. In comparison, A111 Canvas Doodle is marginally better with a 2,100 mAh battery capable of offering up to 6.5 hours talk time and 220 hours standby.
The End…
Of course, A116 Canvas HD comes with a better display with HD resolution, but Canvas Doodle and Canvas 2 Plus are relatively lesser in terms of price. On the software side, the A110Q Canvas 2 Plus comes with Android 4.2, hence it will have features including Photo Sphere, Gesture Typing, Miracast, improved Google Now and more. So, which quad-core phablet have you decided to buy? A111 Canvas Doodle? A110Q Canvas 2 Plus? A116 Canvas HD?
More related stories below: