Rumors are rife regarding the Galaxy S4 Mini and Active – two devices that are believed to be announced soon. Now, there seems to be more information on the Galaxy S4 Mini, which is speculated to be a miniature of the current flagship smartphone of the South Korean tech firm.
According to the information from a AllAboutSamsung, a German website has come up with some interesting information on the specifications of the smartphone.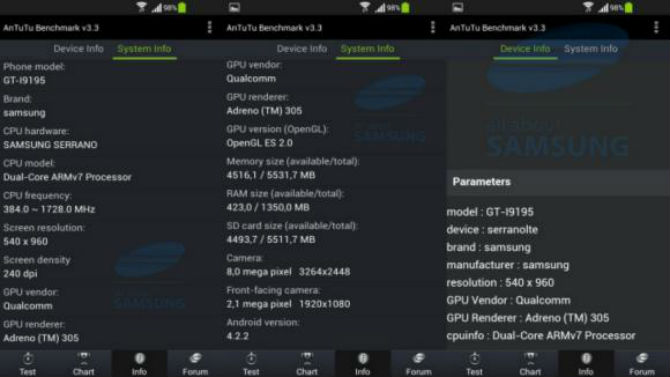 Rumored to run on Android 4.2.2 Jelly Bean OS, the Galaxy S4 Mini with a model number GT-I9195 is suggested to come powered by a dual-core 1.7GHz Qualcomm Snapdragon 400 processor, while earlier rumors suggest the incorporation of Snapdragon S4 processor. Further, the smartphone is speculated to equip 1.5GB RAM, Adreno 305 GPU, 8-megapixel rear camera, 2.1-megapixel front camera and a qHD display with a resolution of 960×540 pixels and 240ppi pixel density, which is presumably 4.3-inch diagonally. Interestingly, it appears that the Galaxy S4 Mini might have a removable back panel and also a micro SD card slot for expandable memory support.
Earlier reports claim that there could be four variants of Galaxy S4 Mini including I9195 with LTE, I9150 with Exynos 5 chipset incorporating a 1.6GHz dual-core Cortex A15 processor, I9192 with dual SIM support and I9198 for the Chinese market.
Moreover, since the debut of this week, the tech world has been claiming that the Galaxy S4 Mini along with new Ativ devices will be unveiled on June 20.
Though these are only rumors and they ought to be taken as a dose of skepticism, it has to be borne in mind that the Galaxy S4 Mini exists as it surfaced on the UK Content & Services website a few days back. However, there is no sign on when the handset will be revealed and on the official specifications.
While the appearance of the device on the company website puts an end to the lingering doubts, it is evident that it will come with all the software features as the Galaxy S4 though the design aesthetics will be small as the Galaxy S3 Mini.
For more information on the Galaxy S4 Mini, keep in touch with Intellect Digest.
More related stories below: