Of course, Samsung is a well established name in the smartphone industry. The South Korean tech giant has banged the first position in terms of volume of sales with its popular Galaxy lineup of handsets. Even now, Samsung Galaxy smartphones have reached a milestone in terms of the Q1 sales outshining the iPhone.
Speaking of the phablet craze amongst the consumers, it was Samsung to start the trend with the launch of Galaxy Note in 2011 and later, every vendor jumped to the bandwagon. Moreover, the budget tech manufacturers in India started selling dual SIM phablets with impressive aspects at very low price points. Hence, Samsung also took a plunge into that segment with the launch of Galaxy Grand Duos at Rs 21,500 making it sell like hot cake in the nation.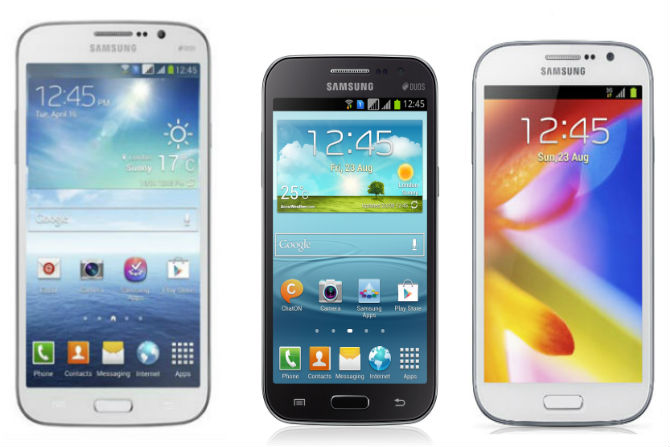 But, the fight got fiercer as the India based vendors started coming up with quad-core phablets at such low price points and hence, even Samsung recently announced a device called Galaxy Grand Quattro at Rs 16,900. While these phablets were making rounds in India with great success, early this week, Samsung unveiled the Galaxy Mega 5.8 and 6.3 phablets in India at Rs 25,100 and Rs 31,490 respectively, of which the 5.8-inch handset is a dual SIM phablet like the Galaxy Grand lineup.
Apparently, it can be said that the Samsung Galaxy phablets mentioned above are going to create a twist and turn in the Indian market, especially when it comes to the dual SIM phablet segment. For those who are planning to buy one of them, Intellect Digest has come up with the difference between the trio. Have a look at it.
Display
Galaxy Mega 5.8 flaunts a 5.8-inch capacitive touchscreen display with a resolution of 960×540 pixels, whereas, Galaxy Grand Duos comes with a 5-inch capacitive touchscreen display with 480×800 pixel resolution. On the other hand, the Galaxy Grand Quattro boasts a 4.7-inch capacitive touchscreen display with 480×800 pixel resolution, hence, the Grand Quattro is claimed to have a better display with increased pixel density as compared to the rest.
Processor
In terms of hardware, Galaxy Grand Duos is equipped with a 1.2GHz dual-core processor and the Galaxy Mega 5.8 is powered by a 1.4GHz dual-core processor. Again, the Galaxy Grand Quattro scores more as it is fitted with a 1.2GHz quad-core Cortex A5 processor under its hood. Hence, the Galaxy Grand Quattro will perform better in terms of multi-tasking, application handling, power management and more.
Software
On the software front, Galaxy Grand Quattro and Galaxy Grand Duos run on Android 4.1. Jelly Bean OS, but the Galaxy Mega 5.8 is based on Android 4.2.2 Jelly Bean, which comes with features such as Photo Sphere, Gesture Typing, Miracast, DayDream and more.
Camera
Galaxy Grand Quattro packs a 5-megapixel rear camera and VGA front camera, whereas, Galaxy Grand Duos houses an 8-megapixel main shooter and 2-megapixel secondary camera. When it comes to Galaxy Mega 5.8, the phablet has an 8-megapixel rear camera and 1.9-megapixel front camera.
Storage
In this segment, Galaxy Grand Duos and Galaxy Grand Quattro come with 8GB internal storage and 1GB RAM. However, Galaxy Grand Quattro supports only up to 32GB additional storage, while the Grand Duos supports micro SD card up to 64GB. In comparison, Galaxy Mega 5.8 fares well with 1.5GB RAM, up to 64GB expandable storage and 8GB internal storage.
Internet
All the three phablets pack connectivity features including Wi-Fi, Bluetooth, GPS and 3G.
Battery
In terms of power management, all are mediocre performers as Galaxy Mega 5.8 is fitted with a 2,600 mAh batter, Galaxy Grand Duos and Galaxy Grand Quattro are loaded with 2,000 mAh and 2,100 mAh batteries respectively.
The End…
On the whole, all the Galaxy phablets mentioned here are mid-range offerings with dual SIM support. These are meant mainly for those consumers who cannot spend too much on the purchase of phablets, but still prefer to have a decent offering. So, which one is your choice? Do let us know through the comments section below.
More related stories below: