The recent times have seen a lot of budget phablets reach the Indian shores at the speed of lightning. Be it the offerings from the Indian manufacturers, or be it the offerings from one of the renowned Chinese elecetronics manufacturers. Mogu, a Chinese electronics brand is all set to venture into Indian market with a phablet that would come at a price point at which you can only get feature phones from even the Indian manufacturers.
Mogu will be launching a 5 inch Adroid based phablet in the Indian market at a price of meagre Rs.2,500 plus taxes but even after that, it would cost south of Rs.3,000. The phablet will get its processing power from a 1 GHz processor and the blokes back at Mogu have stated this by dropping in a mail with our friends back at TheMobileIndian.com The company will initially launch its phablets in the cities of Delhi and Mumbai first up with other cities to follow suite.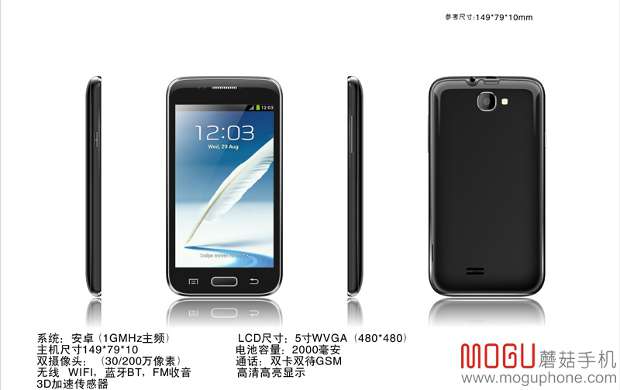 Mogu S1 will be cheapest offering in the Indian market which would be powered by Android. The screen will be WVGA unit with a display resolution of 800 x 480 pixels and the rear would see a 2 MP camera. There will be a VGA front camera as well and the connectivity bases would be covered by Bluetooth, GPS and WiFi. It will be powered by a 2000 mAh battery unit and that is quite mammoth a battery.
They will also launch products higher up in the price and product range with better displays and dual-core as well as quad-core processors. The flagship handset will be priced around Rs.10,000 which will house a quad-core processor and a 13 MP class leading snapper. The company is the process of getting its products cleared by customs. They have already been the suppliers of smartphones of many Indian electronics brands and now they intend on selling the smartphones under their own name. Chinese smartphones do not realy spell premium-ness but then, what else can you expect at such a budget price tag.
More related stories below: