Motorola launched Moto G budget smartphone officially at an event in Sao Paulo, Brazil. Motorola says that the average price of a smartphone is $200 in the world, and not everyone can afford a phone at a price $500. So one who cannot afford a good phone, so they made Moto G that truly deliver performance at average price. Moto G is a smartphone that delivers a premium experience with today technology and less than one third of the price of a high end phone like the iPhone 5S and Samsung Galaxy S4.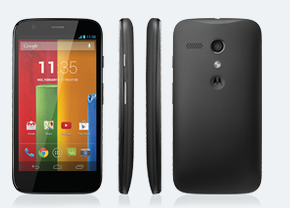 "when people are looking to get their next smartphone we think they deserve a better option that doesn't compromise on quality, on performance or on style." said Charlie Tritschler, Product Management, Motorola Mobility.
Hero Features of Moto G
The design of Moto G is almost identical as we have seen on Moto X before, it  includes things like an edge to edge display, so you can easily use it with one hand, curved back that fit in your hand and make it comfortable. And for durability it comes with latest Gorilla Glass with Waterproof Nano coating. It comes with removable back cover, but you cannot remove battery. So you can customize it with different colours back panels or Motorola Shells.
4.5 inch wide display with 720p pixel resolution and 329ppi its sharpest display in this class and price range.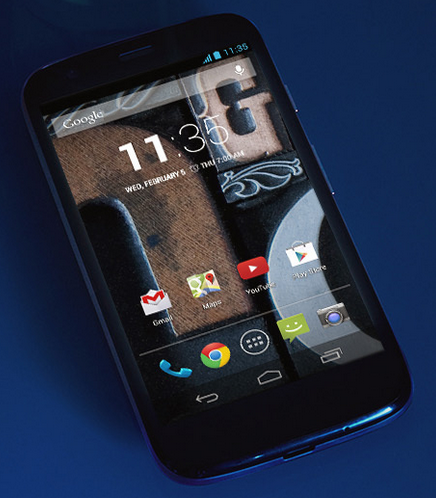 Outstanding Performance and longer battery life
Moto G features the latest 1.2GHz Qualcomm Snapdragon 400 processor that is the best processor on a phone in its class. It is paired with 1GB of RAM, it can run any Android application seamlessly. It comes with Android Jelly Bean 4.3 with guaranteed update to KitKate 4.4 in earlier next week. There is 2070 mAh battery on board. Motorola says that with this battery it can run whole day with a single charge.
It comes in with two internal storage option of 8 GB and 16GB. There is not any external SD card support so you cannot upgrade its memory.  There is 5MP shooter at back that can record up to 720p videos at 30 frames per second. There is also 1.3MP front facing camera for video calls.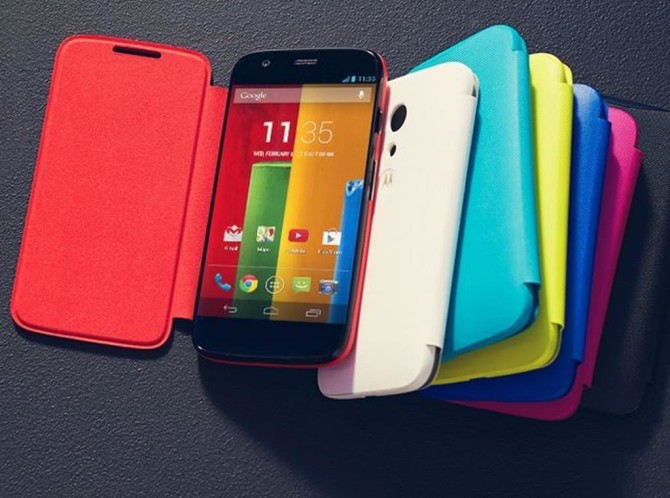 Availability and Price of Moto G
Starting from Brazil Moto G will be available this week and followed by Latin America, Europe, Canada, and some parts of Asia in next few weeks. And also Motorola is re-entering in India with Moto G, it will be launch in India in early January 2014. Moto G will be available in dual-SIM variants for selective markets.
This phone will come in 8GB and 16 GB memory option. The price of 8 GB model is $179 and 16 GB model is $199 without contract and without SIM lock from Motorola's website and from its partner. And the Motorola says that its partner plan to sell it for even less price.
Motorola is also offering blue, teal, red, yellow, purple, white and black covers as well as rugged versions and flip-style portfolio covers for Moto G.
 Specifications of Moto G
4.5" 1280 X 720 HD display with 329 ppi

Android 4.3 Jelly Bean

1.2GHz Qualcomm 400 processor

Adreno 305 GPU

1GB RAM

8/16 GB internal storage

5 MP rear camera

1.3 MP front Camera

2070 mAh battery

65 GB Google Drive storage
 For More Stay tuned with   Intellect Digest India   and like us on   Facebook   or follow us on   Twitter  .
More related stories below: