Lenovo India has launched 4 new Thinkpad models in India with latest generation Intel 4th Gen "Haswell" processors in India. The new models include Thinkpad S1 Yoga, T440, T440S and X240S. These ThinkPads offer high reliability and performance which is legacy of ThinkPads. These new laptops have been priced starting Rs. 78,000 for the Lenovo Thinkpad T440. Read on for more details in the following section.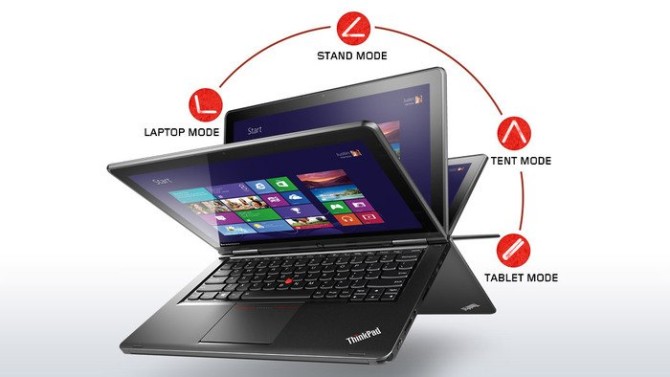 Lenovo ThinkPad S1 Yoga Features, Specs And Price
Lenovo ThinkPad S1 Yoga is a multi-mode device which is designed to function optimally in different scenarios, eliminating the need of separate devices like an Ultrabook and Tablet. The ThinkPad S1 Yoga flips a complete 360 degrees, from laptop mode to stand mode and tent mode to tablet mode. Since the flexibility of the device calls for a unique keyboard design, Lenovo designed a Lift and Lock system that disables the keyboard in the tablet or stand mode facilitating uninterrupted usage. With a pre-loaded Intel® SBA platform, it allows you to manage security better and ensure business continuity. All in all, it's a convertible Ultrabook™ primed for business. The Lenovo ThinkPad S1 Yoga is Priced at Rs. 80,000 onwards.
Lenovo ThinkPad T440 Features, Specs And Price
Lenovo ThinkPad T440 is an Ultrabook whose every feature has been designed for ease-of-use. Taking full advantage of Windows 8 with the 14″ HD or HD+ screen, it comes with optional multitouch capability, and a TrackPad that supports Windows 8 gestures. This machine from Lenovo aims to please users by providing flexibility in terms of operating system and multi-touch options. With usability comes superior performance with features like 4th Generation Intel Core Processors, 1TB storage and 10 hours + battery life.  With military-specific durability and glass fiber design for a tough yet light laptop, the T440 is designed to meet the needs of your business. The Lenovo ThinkPad T440 is Priced at Rs. 78,000 onwards.
Lenovo ThinkPad T440s Features, Specs And Price
Lenovo ThinkPad T440s has been designed to simplify and modernize a business user's computing experience.  The carbon fiber top cover makes the Ultrabook light, but durable. A wider range of connection options—mini-DisplayPort, VGA, USB and SD card reader—make viewing, sharing and transferring data easier. Rounding off the experience are the latest Intel® Core™ i5 processors and touch capability with Windows 8 Pro. The Lenovo ThinkPad T440s priced at Rs. 90,000 onward.
Lenovo ThinkPad X240s Ultrabook Features, Specs And Price
Lenovo ThinkPad X240s Ultrabook is the thinnest and lightest full featured ThinkPad yet. Despite being 17.65 mm thin and weighing 2.84 lbs, it offers VGA, Mini-DisplayPort and two USB 3.0 ports for unparalleled connectivity. Adding to comfort and convenience are Full-HD IPS touch screen display, rock-solid carbon fiber construction and a glass TrackPad. Combined with the latest Intel® processors and longer battery life, the X240s is truly the ultimate Ultrabook. The Lenovo ThinkPad X240s Ultrabook is Priced: Rs. 95,000 onwards.
Hands On Video reviews coming soon. Stay tuned.
More related stories below: