Nokia India is yet to launch latest Lumia phone, the Lumia 920 which runs on latest version of Windows Phone, the Windows Phone 8 which was launch by Microsoft last month. As most phone nowadays comes with LTE or Long Term Evolution or just simply 4G support so Nokia has too made LTE available in Lumia 920 and if your carrier offer 4G then you can take advantage of it on it.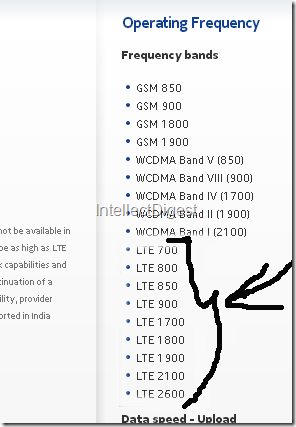 But according to Nokia India website they claim that Lumia 920 will support 9 major LTE bands in India, if this become true then Lumia 920 will become worlds first smartphone to have such feature means to supports all FD-LTE bands, According to us this is most likely to a mistake or typo from Nokia's side.
If we look into global version of Lumia 920 then you will find out that Lumia 920 in Europe supports 5 LTE bands and they are  LTE 800 Mhz, LTE 900 Mhz, LTE 1800 Mhz, LTE 2100 Mhz,  LTE 2600 Mhz, IN US it supports 3 LTE bands and they are LTE 700 Mhz, LTE 1700 Mhz and LTE 2100 Mhz. If you are from India then don't get excited as none of the LTE band or FD-LTE bands works in India. Currently India's operators are using TD-LTE.
As Nokia claims Lumia 920 will have support for LTE 700 Mhz, LTE 800 Mhz, LTE 850 Mhz, LTE 900 Mhz, LTE 1700 Mhz, LTE 1800 Mhz, LTE 1900 Mhz, LTE 2100 Mhz, LTE 2600 Mhz and if this become true then also you wont be able to use currently offered LTE or 4G service in India, as in India operators are working and giving LTE on 2300 MHz band which is still missing from Nokia India page.
If you look back then you will find out that products launched by other manufacturers which support LTE wont work here in India on LTE network. Apple has launched iPhone 4S, iPhone 5, iPad 4th Generation, iPad Mini and so on but all users who had bought them using them on 3G not on LTE.
We are getting news that TRAI is developing norms for 4G and will have auction for 4G network in first half of 2013 for both 700 MHz and 2300 MHz bands, on the other hand few operators had approached TRAI to seek permission to test voice over 4G network. Let me tell you that its only Reliance which has won pan India license for 4G in BWA auction.
via- BGR
More related stories below: