The last smart phone running Windows Phone 7.5 in the Lumia line-up – the Nokia Lumia 510 was launched near Diwali in India in November 2012. Lumia 510 was launched for Rs. 9999 INR being the cheapest windows phone smart phone available in the market. It was launched to take on the budget androids growing exponentially from different manufacturers but has it been able to do so? Lets find out in the review below.
Box contents:
The retail package consisted of the micro USB cable, battery, handset, user manuals and the headset, all in a small carry box.
Lumia 510 Detailed Video Review:
Video Comparison of Lumia 510 VS Lumia 610:
Lumia 510 Multitasking Demo:
Build:
The Lumia 510 measures 120.7 x 64.9 x 11.5 mm in dimensions and 129g in weight. The first thing to be noticed as we unboxed the package was the matte finish back which was pretty impressive. The matte finish provides a good grip to the phone comparing to those glossy ones which slide in hand. The back has a 5MP camera on the top with Nokia branding in middle along with speaker grill at the bottom.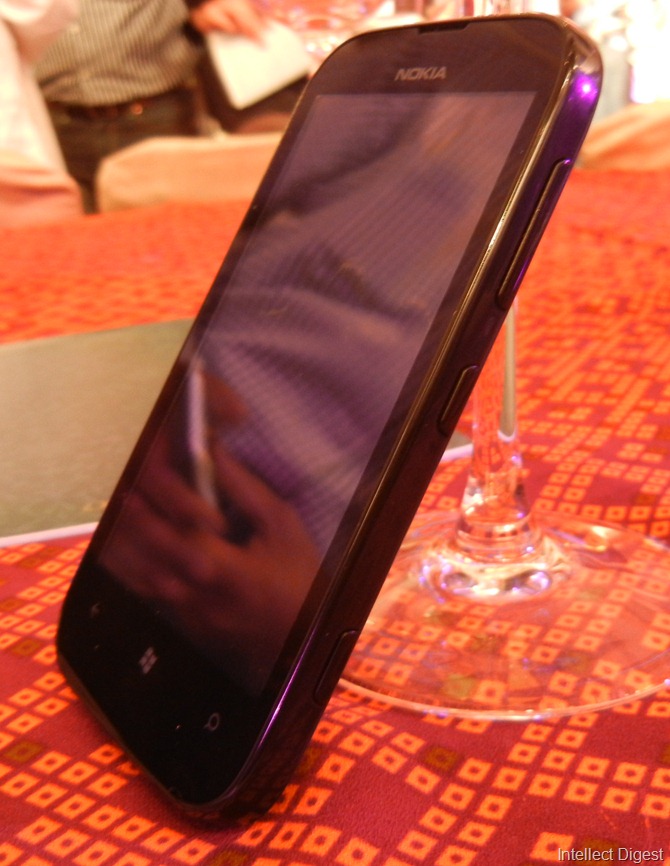 With the nothing special on the front panel it has earpiece on the top followed by the Nokia branding with a display in the center with the three usual capacitive buttons at the bottom. The screen is fingerprint catchy so its better to opt for a matte screen guard for this else you might get tired cleaning it periodically.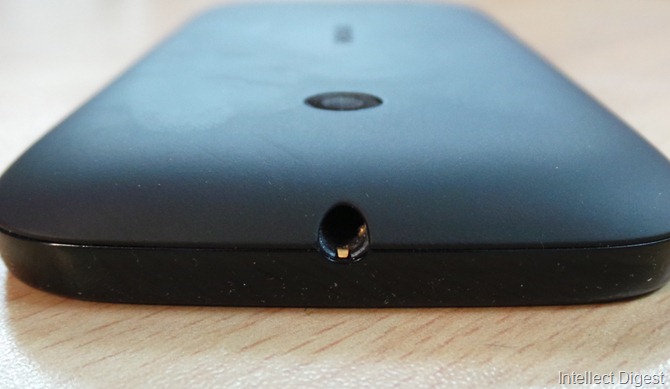 Left and the right sides follow the windows phone trend, with volume rocker, power key and camera key on the right side in respective order and the left being empty.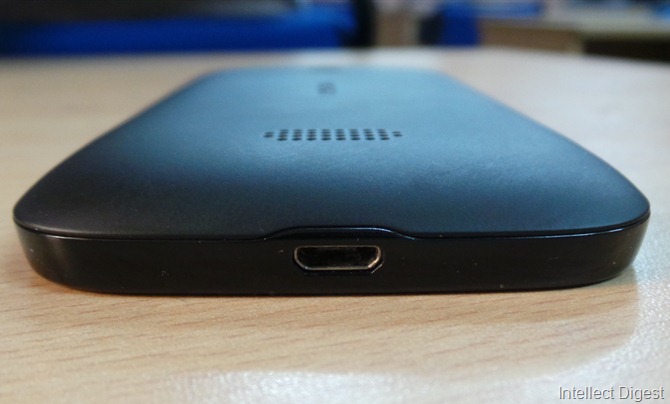 The 3.5mm audio jack can be seen on the top with micro USB dock at the bottom edge.
Hardware:
The Lumia 510 features a Qualcomm MSM7227A Snapdragon chipset which has 800 MHz Cortex-A5 CPU and Adreno 200 GPU. It runs by 256 MB of RAM and 4GB internal memory with no other opportunity for any kind of memory upgrade.
It sports a 4.0-inch WVGA that is 480×800 pixels resolution TFT capacitive touch screen 65K color display with 233 ppi pixel density.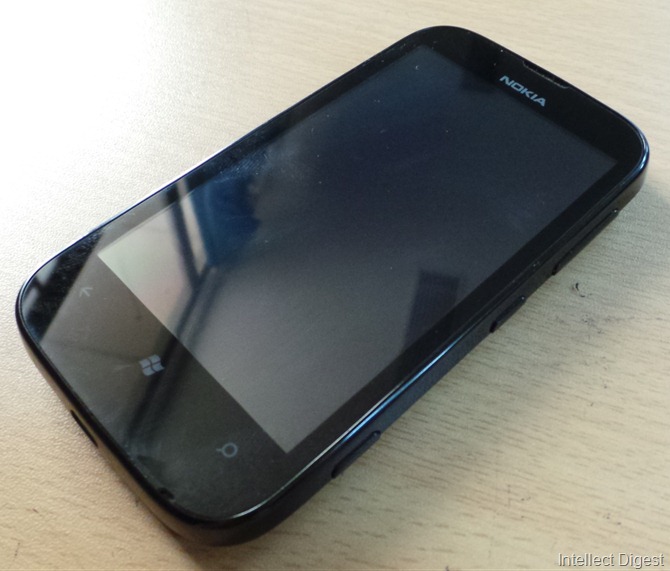 Apart from this, it has the usual Accelerometer and proximity sensor along with 3G, Wi-Fi and Bluetooth support.
This Windows Phone device is powered by a 1300 mAh Li-Ion battery. In our testing period, the battery lasted for a day with occasional 3G usage in about 4-5 hours of screen time and 2 hours of calling.
Software:
Talking about mobile operating system, Nokia Lumia 510 runs on Windows Phone 7.5 with an option for upgrade to Windows Phone 7.8 whenever available.
Windows Phone 7.5 as a mobile operating system when comparing with the other competitors in the league like iOS and Android is far behind. Considering how clean the operating system looks and even works that smoothly it lacks the developer support and hence the app ecosystem.It works good but when it comes to the using this as a replacement for any android or iOS device, meh you better ask this yourself.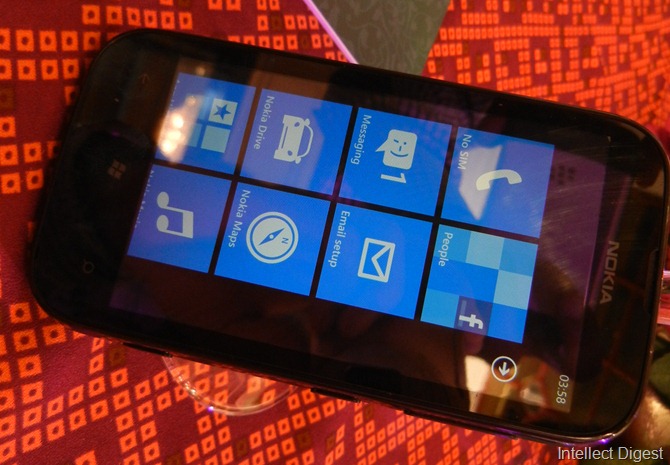 The application quality varies a lot. We have observed that the apps developed by Nokia works darn good but the experience can get a new level down or high depending upon the developer. For instance the Whatsapp experience on this Lumia 510 was very bad, Hike was a little better but not so good. So it is the responsibility of developers not to ruin the experience but in turn it comes back to the operating system for providing proper resources to be developer friendly.
Camera:
Lumia 510 packs a 5MP rear camera without any LED flash. No secondary camera because Windows Phone 7.5 don't support.
The 5MP just works fine. It has got nothing special except for a few camera add-on applications developed by Nokia.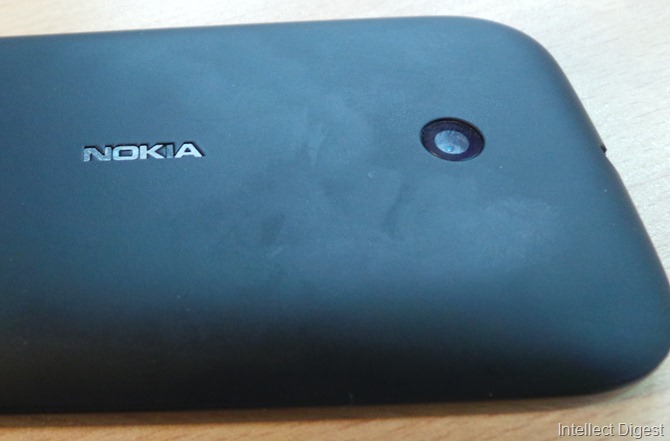 Here are some sample shots from the Lumia 510:
After running few tests we concluded that the camera on Lumia 610 was better than this and it better be after all that's the only thing in which we found the Lumia 610 to be ahead of Lumia 510.
Conclusion:
Windows Phone 7.5 to be honest is ages behind of the current smart phone . Though it provides a neat clean user interface with absolutely no lag when it comes for normal usage but as soon as we shift to any application, the true identity reveals. This Lumia 510 with 800 MHz processor and 256 MB of RAM may suffice the bare minimum requirement to run the OS but not enough to run windows phone applications smoothly.
Lumia 610 which is quite similar, just has a better camera than this else everything is the same at about 2k higher price which may excite some of the people who can't or would not like to spend much.
In the future, we may see something good with Windows Phone 8 which has a lot of technical advancements and support features over Windows Phone 7.5. We suggest you to wait for sometime and go for Lumia 620 the budget Windows Phone 8 device which will not be at the same price but not so expensive.
Also check our our latest gadget reviews here.
More related stories below: