Samsung launched the 2016 variant of Galaxy J5, called the Samsung Galaxy J5 2016, in India, last month. The 2016 variant comes with several design and hardware upgrades over the predecessor. If you are confused whether you should buy this phone or not, then we are here to help you. In this post, we have listed all the pros and cons of the device. Read on to find out Samsung Galaxy J5 2016 review with reasons to buy and reasons to not buy (with video).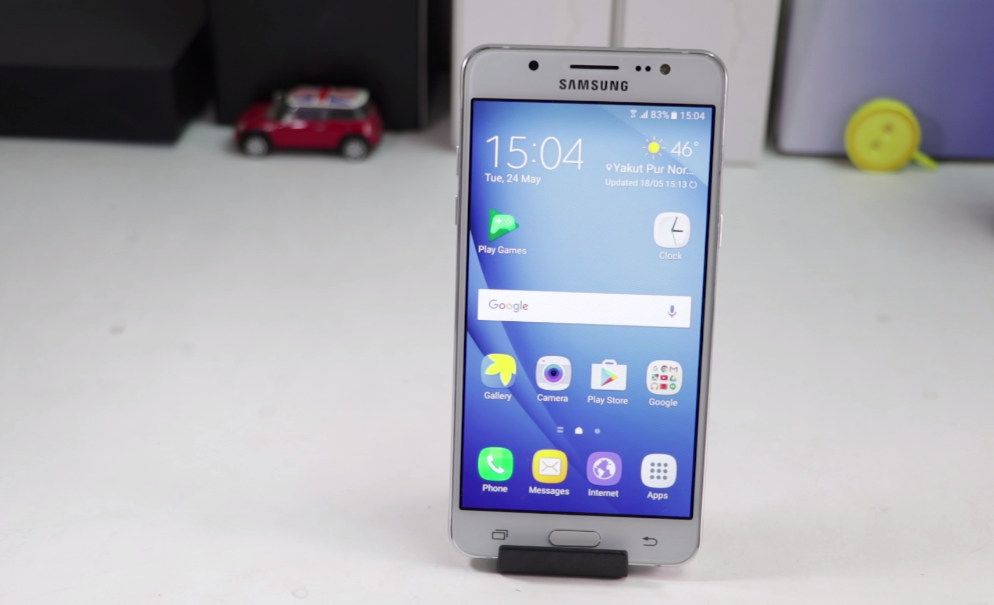 Samsung Galaxy J5 2016 Review: Reasons To Buy
Here are 8 reasons why you should buy the Samsung Galaxy J5 2016 smartphone:
1. Design
It takes its design cues from other smartphones in the Galaxy series and  looks very nice in hand. It comes with a plastic back with matte finish and features metal frame along the edges. Overall build quality of the phone is impressive and it looks very stylish while holding in hand.
2. Display
It packs a 5.2-inch Super AMOLED HD display with 720p resolution. The Super AMOLED displays is one of the highlights of the phone and it makes the panel more vibrant and bright. The display is sharp and has crisp colors. Viewing angles and sunlight legibility are also decent.
3. Camera
Next reason is its 13 mega pixel rear camera with auto focus, LED flash and  f/1.9 aperture that takes good quality images. The camera app comes with several modes like Auto mode, pro mode, continuous shot, beauty face, sports and more. It is capable of taking great shots with good detailing and clarity.
4. Front LED Flash
It comes with front LED flash which helps the 5 mega pixel front facing camera in taking decent selfies. It takes good quality selfies even in low lighting conditions.
5. Battery
It is backed up by a massive 3100mAh battery which lasts for a day on moderate usage. Moreover the battery is removable which allows users to replace it when required.
6. NFC & S Bike Mode
It supports NFC and also comes with an S Bike mode that turns the phone into a bikers phone to avoid distraction. It avoids distraction of the bikers due to incoming calls and helps them to concentrate on the road.
7. Software
It runs Android Marshmallow wrapped under TouchWiz UI. The software is clean and responsive and it also supports USB OTG.
8. 4G Dual SIM
It is a 4G smartphone that supports two SIM cards as well as a microSD card for expandable storage up to 128GB.
Video: Samsung Galaxy J5 2016 Reasons To Buy
Samsung Galaxy J5 2016 Review: Reasons To Not Buy
Here are the 7 downsides of of Samsung Galaxy J5 2016:
1. No Auto Brightness
It lacks auto brightness feature that adjusts the brightness of the screen automatically, On this phnone users will have to adjust the brightness manually. The outdoor mode feature of the device however makes up for it. This feature can be used to increase the brightness of the screen when you are outside.
2. Average Speaker
The audio from speaker is just average and not as good as offered by other phones in the same price range.
3. No Full HD
It lacks full HD display. Its Super AMOLED display is very vibrant and sharp but the screen resolution is just 720p. Samsung could have at least offered full HD 1080p resolution like some other smartphones in this price range.
4. No Fast Charging
It doesn't support fast charging or quick charging which is again a downside for a smartphone in this price range.
5. No Fingerprint Sensor
It lacks fingerprint sensor which is disappointing considering that there are some other smartphones in the same price range that come with fingerprint scanner for additional security.
6. Average Hardware Specs
Although performance of the Galaxy J5 2016 is decent, yet it is not at par with its rivals. When almost every smartphone in the sub-Rs. 15,000 price range is loaded with fast chipset, Samsung has still chosen rather dated Snapdragon 410 chipset for the Galaxy J5 2016. The device shows some lags and stutters during multitasking and heavy gaming and is not as fast as its competitors like Redmi Note 3 and Moto G4 Plus which lie in the same price range.
7. Overpriced
It is priced at Rs. 13,990 which seems a bit overpriced. There are many other options available n the same range that offer better specs.
Verdict
The Galaxy J5 2016 is a very nice package of stylish design and decent features. If you are looking for a mid-range smartphone from a well known brand, then you will certainly love this one.
Video: Samsung Galaxy J5 2016 Reasons To Not Buy
Also Read: Samsung Galaxy J7 2016 Reasons To Buy / Not Buy
More related stories below: