Samsung is of the opinion if it's big, it's better. And it plans on staying ahead of the competition. In recent times, the size of the smartphones have been increasing and Samsung has just launched their Mega series of mid range phablets. The junior member, the Galaxy Mega 5.8 will be the cheaper one and the Galaxy Mega 6.3 will be the dearer one. And today we are going to tell you about the Galaxy Mega 5.8.
The smartphone as the name suggests has a 5.8 inch screen of qHD resolution which translates into a pixel density of 199ppi which is nothing great but it does so to keep the costs in check. It has a dual core processor of Cortex A15 architecture ticking at 1.4 GHz. It will run on the latest version of Android, 4.2 Jelly Bean and it might the 5.0 Key Lime Pie update as well seeing the fact that Samsung believes in keeping customers happy in the upgrade department.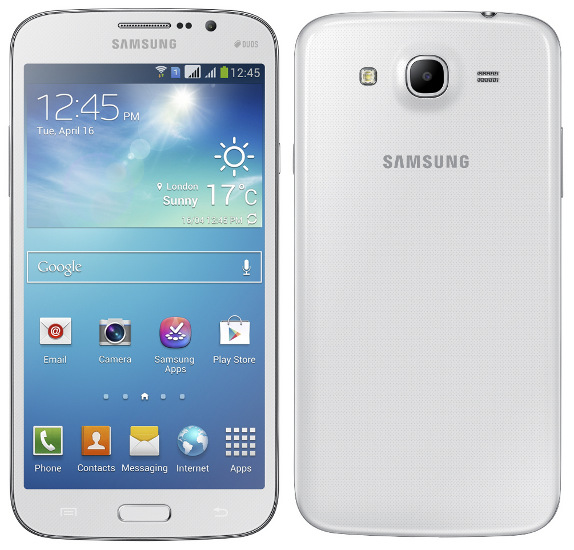 There's a 1.5GB RAM on offer and the internal memory will stand at 8GB which will come with an option to expand it by another 64GB. It will feature the Note 2 functionalists like the Multi-Window feature and Pop Up play. Also it will be available in a dual SIM option too. At the back of the smartphone will be a 8 MP snapper which will be coupled with a 1.9 MP front camera. It will feature Bluetooth Version 4.0, Wi-Fi, 3G and NFC for connectivity as well.
The smartphone will be powered by a 2,600 mAh battery unit which seems a bit feeble considering the fact that it has to power such a mammoth screen. The size of the smartphones is increasing with each passing day and 5.8 inch is something nobody would have thought about a couple of years ago. We wonder if these smartphones can fit in the tight pockets of your jeans or will you have to get a pair of jeans or trousers that fits these big screen smartphones.
The smartphone will go on sale in May 2013 globally but the pricing has not been announced by Samsung as of now. Russia will be the first country to get it and seeing that India is an important market for Samsung, India will get it too in the first wave. So how about a bigger pocket jeans?
More related stories below: