Updated On 25th December 2014
Merry Christmas to all the participants. We have selected the top 10 entries as below:
| | |
| --- | --- |
| shyam2989 | I Love Optical Image Stabilization of #GalaxyNote4 as I can Easily get Crisp & Blur free Images even while in a Moving Vehicle |
| koteshtweets | my best feature in #GalaxyNote4 is multitasking windows because I use lot of apps running in background & is very easy 2 shift |
| aviator365 | #GALAXYNote4 Heart rate monitor with S health app 2 monitor your diet, exercises and overall health! |
| _manukaushal | Two-paned Multi Window adds another speciality in #GalaxyNote4. Bcs ease of using multiple apps embrace real multitasking. |
| iSachinsingh | Hello @iDigestIndia , i liked the MultiTasking functions a lot in #GalaxyNote4 ,although i liked the looks too, but MultiTasking is Jst Fab. |
| Vatsalvn | #GalaxyNote4 Use The S=Pen and the S-pen feature and save wastage of papers. this will make a difference in environment |
| vkrnitd | Never been so tempted by any other smartphone than #GalaxyNote4! Absolute Beast! Look at that display. Gorgeous. <3 @iDigestIndia |
| venkat2132 | #GalaxyNote4  Its f2.2 aperture enables the camera to take fantastic images even in low light. |
| ankitlunia2011 | #GalaxyNote4 PHOTONOTE, coz i can just capture a image and it will copy the text and save it as PDF |
| machinist31 | I love #GALAXYNote4 large display to watch movies at home because don't wanna go theatres in this so cold winter. ☺ |
And we Randomized the list of 10 finalists using random.org to arrive at one winner among the 10 entries above. And the winner is : @vkrnitd, Many congratulations to the winner and thanks a lot for all of you who participated. We will soon come up with more giveaways, so stay tuned. Have a happy new year 2015 ahead. Below is a video snapshot of winner selection.
Updated On 15th December 2014
The end of 2014 is almost here and the mood is getting more cheerful with festivities and new year celebrations. We are back with another exciting giveaway contest and we are giving away the most versatile and sought after Galaxy device, the Samsung Galaxy Note 4 to one lucky winner. The contest is very simple and easy to participate, it is open till 24th of December 2014 and the winner will be announced on 25th December 2014, which is Christmas! So if you want to brighten up your Christmas and win a Note 4, do participate.
All you need to do it follow these three simple steps and participate. Don't wait, participate now!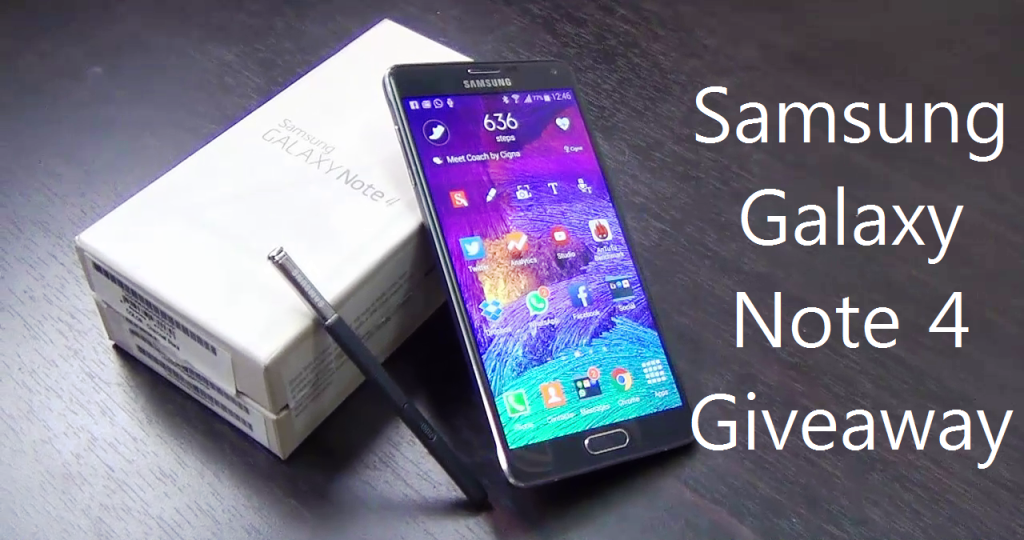 How To Participate?
Watch our contest announcement video here. Make sure you subscribe to our channel on YouTube (its free, there is no fee). Please like the video and share it with your friends on Facebook and twitter and move to step 2.
Tell us what you love the most among the Note 4 features and why? Tweet your answers tagging us at @iDigestIndia and use #GalaxyNote4 hashtags so that we can track your participation.
Share this message with your friends on Facebook and twitter- " Samsung Galaxy Note 4 Giveaway Contest By Intellect Digest here- http://goo.gl/DV3mZq "
We will pick top 10 answers after the end of contest term and select one random winner among them using random.org. You can submit more than one answer but maximum number of answers will not ensure selection in top 10, your answer needs to be appealing, unique and creative to be in the top 10.
Terms and Conditions
This contest is applicable to the participants who are resident of India and above 18 years in age. Entries by person below age of 18 years shall be disqualified.
For participation, Participant must hold a valid twitter account.
To be eligible to be picked as one of the top 10 answers the participants have to follow all three steps above.Only valid entries will be considered for selection of winners among the Participants.
Participation in the Contest implies that Participants agree to all Terms & Conditions of the Contest. Anybody found using any unfair means will be immediately disqualified.
The contest is open between 15th December 2014 to 24th December 2014 India time.
One winners will be selected at the end of the contest term. We will contact the winner via twitter direct message and get your email id and shipping address.
The selection of the winner will be made by Intellect Digest team and can not be challenged legally or otherwise.
We will contact the winner after the end of the contest, if we do not get a reply within 10 days then we will select another winner.
The winners cannot claim cash or money in exchange of the prize and it is not transferable.
Winner will bear all applicable taxes including but not limited to income (withholding) tax, Gift tax and any other statutory levy as may be applicable from time to time in relation to the Prize.
The terms and conditions can be updated or modified without prior notice.
More related stories below: