As the launch of the Galaxy S4 is nearing, Samsung is finding it pretty hard to keep the details of the next flagship under the wraps. Now the screenshots of the upcoming Samsung flagship have emerged and they suggest that the SmartScroll and SmartPause features that Samsung has been getting patented in Europe and America will make their way on to the Galaxy S4 and the features are then going to trickle down to the Galaxy S3 as well.
SmartScroll feature will track the movement of your eyes and the what you can see on the screen will scroll automatically in accordance with your eyes. The SmartPause feature is something that will be active at the time of you watching a video and the smartphone will pause the video when you look away from it. These features will join the Smart Stay feature that made its debut on the Galaxy S3.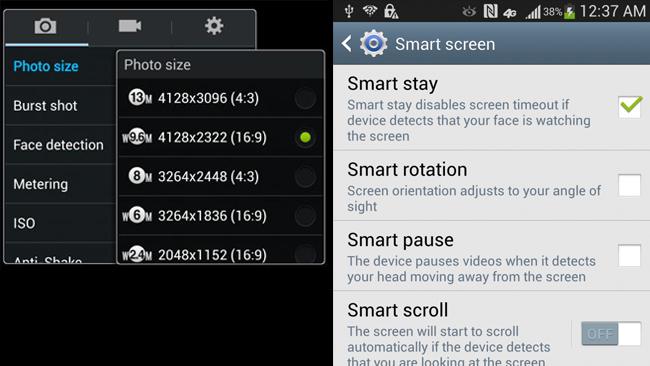 The SmartScroll feature will make use of the front camera and will not only track your eyes and do the scrolling, but will also track your head's movements. If you tilt your head vertically, the feature will scroll vertically and you will also have an option for adjusting the scroll speed of the device. Android smartphones are basically the same but it the addition of such small and useful features that makes Samsung devices all the more special and gives them an edge.
Also the screenshots have suggested that the smartphone will have the Nature UX 2.0 which is an iteration of Samsung's propreitary user interface, Nature. Also the smartphone will have a screen of 1080p resolution and that would ensure you getting the best of the displays. March 14 is not for away from now and that is precisely when Samsung will show off its flagship and then you can use all these features on your Galaxy S4.
More related stories below: