Updated on 25th Feb 2014:
Samsung has officially announced its new flagship phone the Samsung Galaxy S5 at a press event on the sidelines of MWC 2014 in Barcelona Spain on 24th Feb 2014. The phone will go on sale on 11 April 2014 worldwide in multiple markets at once. In this article, we share with you a hands on video review from the event along with our first impressions, features, specifications and benchmark scores of the Samsung Galaxy S5.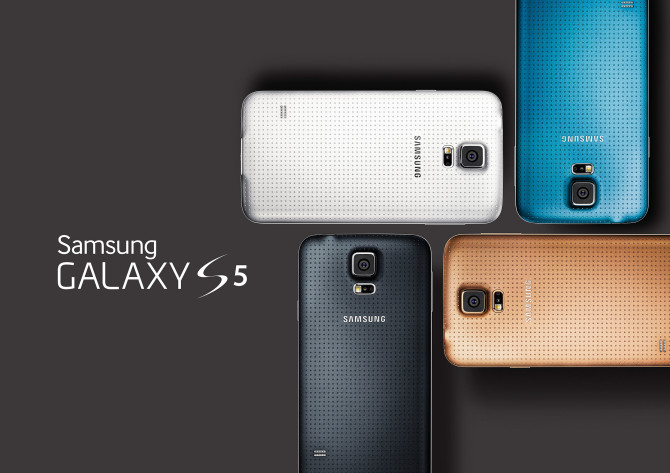 Hands On Video Review
The new Samsung Galaxy S5 looks like an evolved version of the previous flagship Galaxy S4 and improved on many features and adds some new features too. It gets a slightly larger display of 5.1 inch compared to the 5 inch display of the S4.
This super AMOLED display comes with a capability to dim to as low as 2cdm/m2 and go as bright as 500 cdm. This is a wide range of brightness settings. Apart from this, the camera at the rear is a 16 MP sensor with a fast focus technology which can take high quality pictures with low or no blur as it focuses very fast.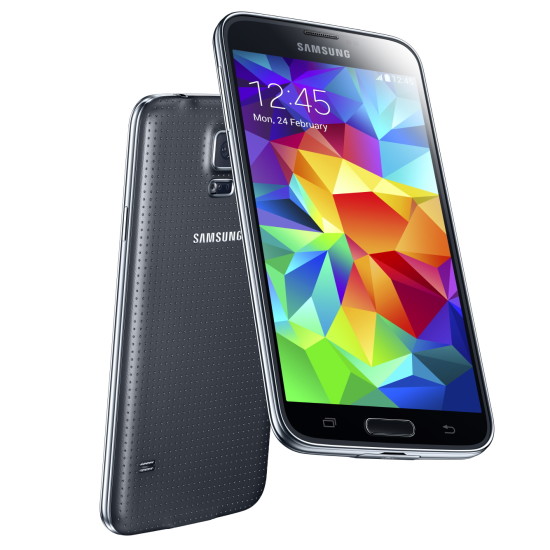 In terms of design, the front is very similar to the S4, but the key settings is now different. Also the home  button is now a touch ID sensor with a fingerprint scanner.
There are standard sensors at the front next to the ear piece. On the top of the phone, there is standard 3.5mm audio port and an IR Blaster to control your remote controlled devices using the watch on app.
The rear is something which is very distinct. Not everyone may like the kind of finish that Samsung has provided on the Galaxy S5, its a fake perforated leather finish with some shimmer effect. It does look well finished and rich, but I am not sure whether it will be received well by mature users equally.
The camera of the phone is very fast and does support 4K video recording. Below the camera is an LED flash and a hear-rate monitor sensor. Yes, Samsung has included this sensor to increase the heath and fitness usability of the phone by adding capability to monitor your heartbeat.
Another interesting fact about the S5 is that it is now dust and water resistant.You can take it out in rain and it will not be damaged, however, its not water proof, so it is not meant to be used under water.
Vital Statistics of Samsung Galaxy S5 (Specifications)
Some of the key specs of the phone include:
145 gm weight, 8.1 mm thickness
5.1 inch FHD display
2.5 GHz quad core snapdragon 800 processor
2 GB RAM
16/32 GB internal memory with expandable memory card slot
Antutu Score of 31000 (tested on pre-launch device)
16 MP rear camera and 2.1 MP front facing camera
Battery capacity of 2800 mAh
More Pictures: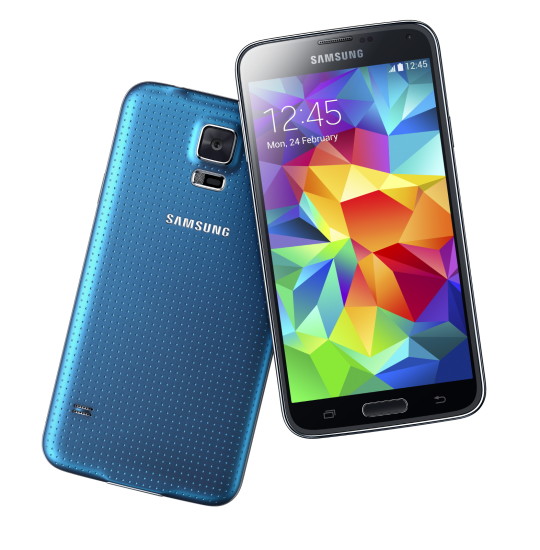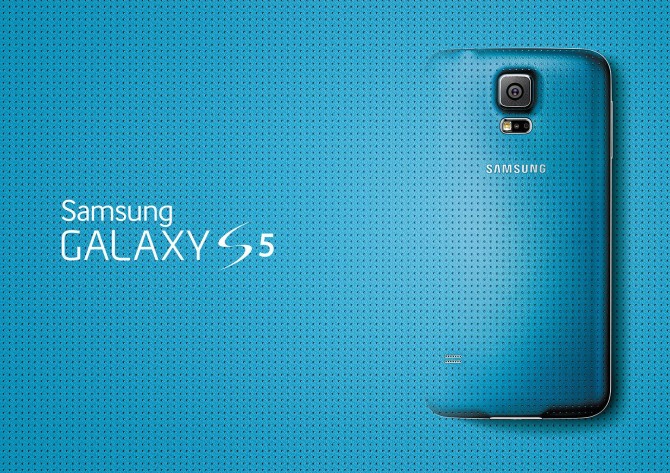 Earlier:
There have been a lot of specifications leaks out there for the upcoming Samsung Galaxy S5 which is the fifth flagship smartphone for the Samsung S premium series handsets running Android operating system. Samsung started this journey with Galaxy S running Android 2.1 Eclair and now it is time for Galaxy S5 with Android Kitkat, at least this is confirmed. The smartphone is all set to be released tomorrow at the Samsung Unpacked event in Barcelona. We have compiled the list of leaks which were released gradually with time over the last few months.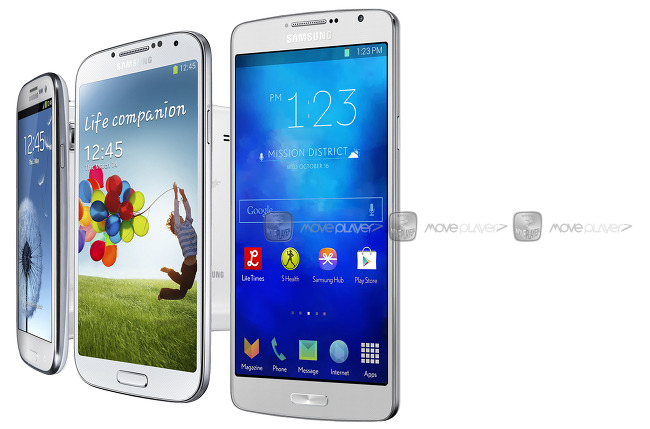 Image credits : Moveplayer

Rumors:
Samsung announced the event Unpacked where they said that Galaxy S5 will be unveiled which too counts as a news. isn't it?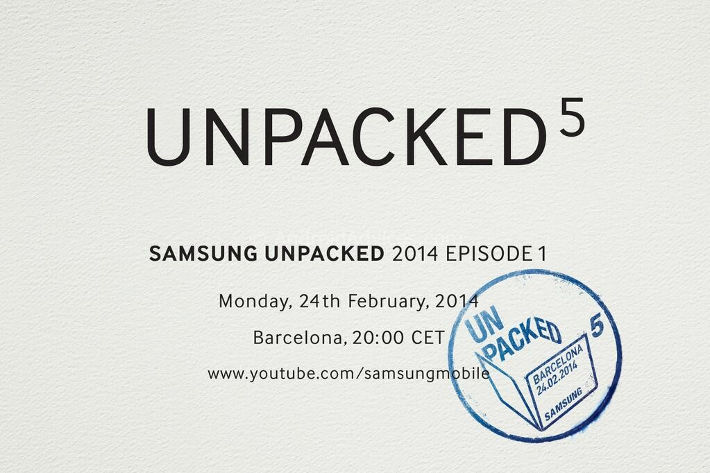 There was a leak by Sammobile where they pushed out the information that the model no. for the Samsung Galaxy S5 could be SM-G900 which is totally different from the naming convention Samsung has been following naming it's smartphones that too varying with regions depicting regional dependency.
Just like the Samsung Galaxy Note 3, KGI research found that Samsung might be releasing two different variants depending on the connectivity, probably with LTE and without LTE having Snapdragon and Exynos chipset difference along with 3GB and 2GB RAM.
Samsung Galaxy S5 will have improved hardware specifications that's something we all know but what is still unknown. There have been some news reported that the next Galaxy S5 will feature a 2900 mAh battery which according to us is not a big jump looking at 2600 mAh battery on the Galaxy S4.
Earlier there was some rumor about Samsung Galaxy S5 to have an iris scanner that could scan the eye ball and respond according to that but later it turned out to be that the scanner which people are talking about will be present on Galaxy S5 but it would be a fingerprint scanner not an iris scanner contradicting the earlier rumor from the Mobile Business VP, Samsung.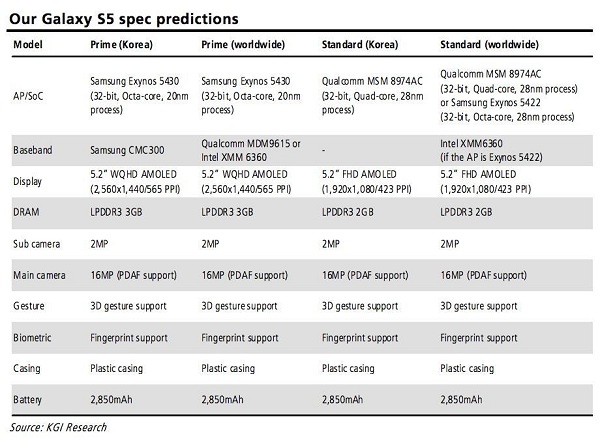 There have been much talks about Samsung coming out with a 64-bit processor after Apple and crown themselves with the tag of first Android smartphone with 64-bit processor if it happens.
If we go by the concept videos, the smartphone is expected to come with a 16MP camera with LED flash, autofocus and advanced imaging solution. It is rumored to come with 6-inch display full HD AMOLED ofcourse with aluminum body instead of the much criticized plastic. Critics have also fortuned a 2.4GHz quad-core processor with wireless charging in different color and memory options.
Anyways we don't have to wait long to find out how much of these leaks stand true. The event is tomorrow at the first day of MWC 2014 in Barcelona and we will be reporting live from the venue. We promise to keep you posted about the news and shall update you accordingly from the event.
More related stories below: