Samsung has unveiled the the Samsung Galaxy Tab S in two different sized and they come powered with high speed processors and super AMOLED 2K displays which is higher than Full HD. In this post, we talk about all you need to know about the Samsung Galaxy Tab S 8.4 inch and 10.5 inch variants including the specifications, price, features, availability, model and accessories which have been launched for the Samsung Galaxy Tab S at its New York launch event on 12th of June 2014. We have also included an introduction video which gives you a closer look of these tabs.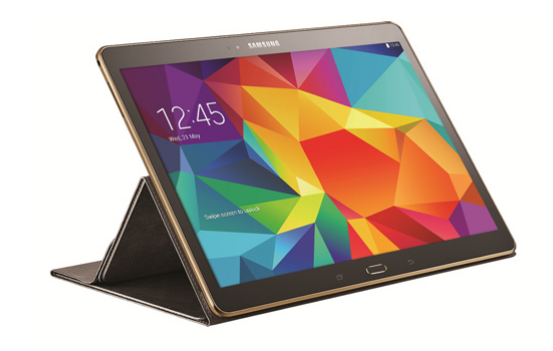 Samsung Galaxy Tab S Official Video
Samsung Galaxy Tab S Hands On Review
Pricing And Availability
Samsung Galaxy Tab 8.4 WiFi Only 16 GB model is priced at $399 USD (Approx. Rs. 24,000) and the Galaxy Tab S 10.5 inch 16 GB WiFi Only variant is priced at USD $499 (approx. Rs. 30,000) and will be available in July 2014 across USA. There will also be LTE/4G variants which will be launched later and we expect that the prices will be around USD $100 to $150 higher compared to the WiFi only models which is approx USD $550 for Tab S 8.4 inch LTE and USD $650 for Tab S 10.5 inch LTE models.
Buy Now From Amazon USA: Samsung Galaxy Tab S 10.5 ($499) | Samsung Galaxy Tab S 8.4 ($299)
Price In India
The Samsung Galaxy Tab S has been launched at Rs. 37,800 for the 8.4 inch model and Rs. 44,800 for the 10.5 inch model.
Expert Analysis
With the Galaxy Tab S series, Samsung has taken yet another step to challenge the iPads and their dominance. With the kind of display, features, hardware and software performance the Tab S offers, bundles with some useful accessories, the Tab S makes a really useful and powerful computing device. It can easily replace a laptop for most usual and light weight tasks. However its still far from being able to replace the laptops or ultrabooks because of the software limitations which are posed by Android. Microsoft Surface tabs are ahead of the Android tabs in this department as they give more or less a full blown PC like features on a light weight tab form factor. But still, the Galaxy Tab S with its superb display and features will find many homes as soon as it hits the store.
Specifications & Features
The Samsung Galaxy Tab S come with top end specifications when it comes to hardware specs of these tabs. Lets at a look at these details below:
Display
The Galaxy Tab S comes in two models one with an 8.5 inch display and other with a 10.5 inch display. Both comes with rich color Super AMOLED display technology which produces highly saturated colors and offer high display resolution of 2560×1600 which is higher than Full HD, technically called the WQXGA. Both the tabs come with same display resolution which makes the smaller tab have more pixels per inch area of the display.
CPU and RAM
The Samsung Galaxy Tab S CPU is an Exynos 5 series octacore with 1.9 GHz quad core + 1.3 GHz quad core for the WiFi only models. For the LTE models, there will be a Snapdragon 800 2.3 GHz quad core chipset in use. There is 3GB RAM with 16 or 32 GB internal memory and memory card slot with up to 128 GB expandable storage.
Software & Android Version
The Galaxy Tab S runs Android 4.4 Kit Kat with new Touch Wiz UI with latest features like syncing your Galaxy phones with the Tab and using the phone from the tab only also called SideSync.
Camera
Both the Samsung Galaxy Tab S models come with an 8 MP rear camera with LED Flash and there is also a full HD capable front camera which has a 2.1 MP sensor.
Connectivity & Sensors
There is high speed WiFi with a/b/g/n/ac standards supported. There is low energy Bluetooth 4.0 with an IR blaster which can be used as TV remote. There is WiFi direct connectivity as well. There are LTE supported models too which comes with 4G data connectivity.
Battery Life
The larger Samsung Galaxy Tab S 10.5 uses a large 7900 mAh battery while the smaller 8.5 inch model has 4900 mAh battery inside for long battery life support.
Size and Form Factor
The Galaxy Tab S are fairly sleek at just 6.6 mm thickness and are pretty lightweight too at 294 gm and 465 gm respectively for the 8.5 inch and 10.5 inch WiFi only models.
Fingerprint Scanner
Just like we saw on Samsung Galaxy S5, there is a fingerprint scanner on the Galaxy Tab S as well. Also with the tab, you can set multiple user profiles on the tab and it can work as a multi-user device as well.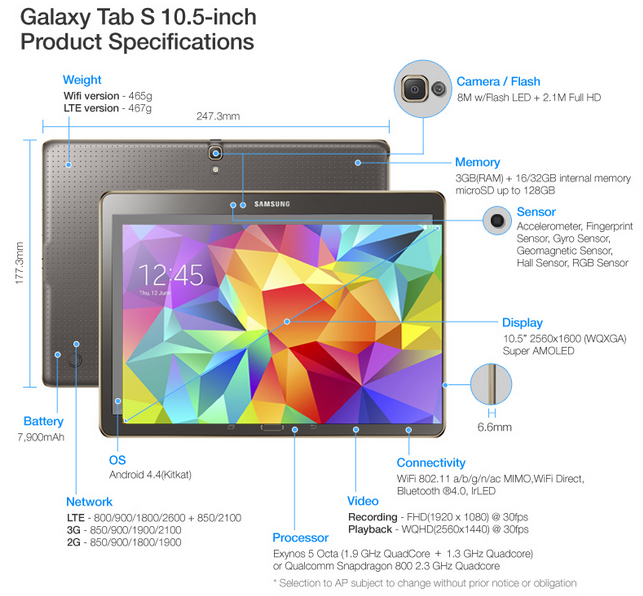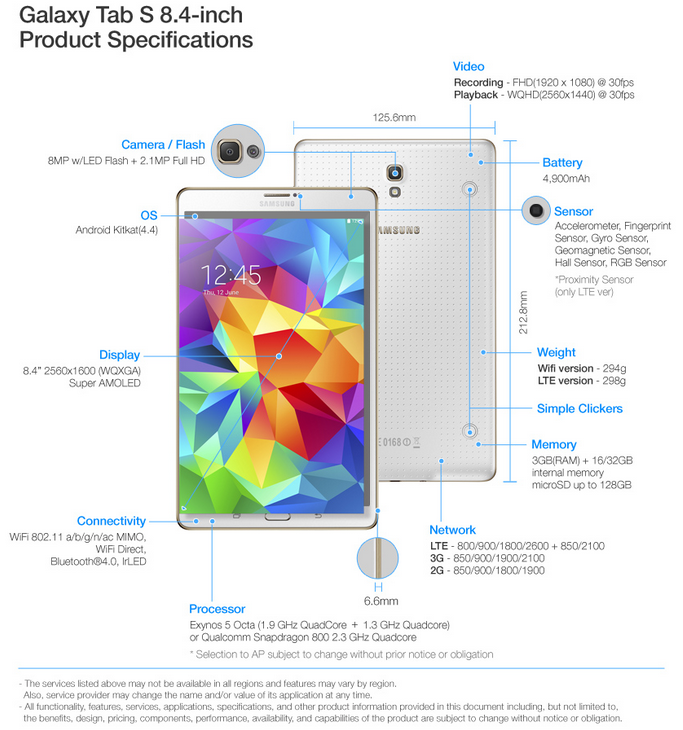 Accessories and Gallery
Samsung has also announced some very useful accessories along with the launch of the Samsung Galaxy Tab S. These accessories make the usability of these tabs even better. There is a Bluetooth keyboard accessory which makes it very easy to type on the Tab S like a notebook PC for typing really fast and easy.
There is also a notebook cover which is a simple flip case. Along with that, Samsung has also launched a series of earphones and headphones for the Galaxy Tab S to enjoy music better on the Galaxy Tab S devices.
Gallery: Samsung Galaxy Tab S 10.5 Inch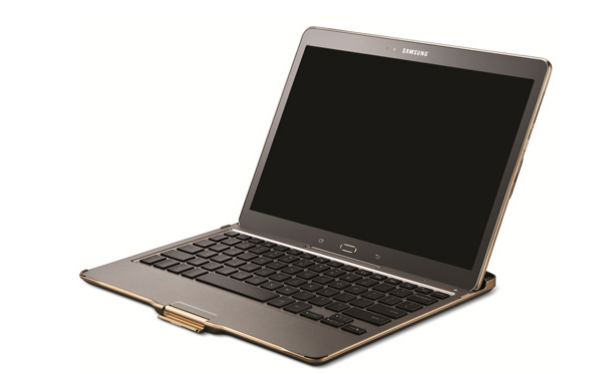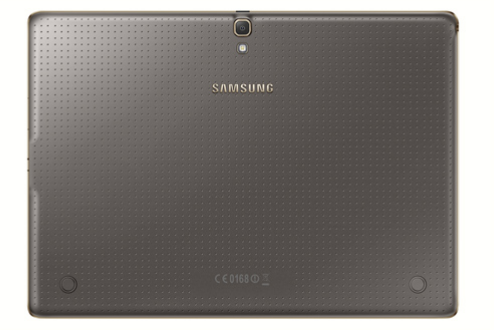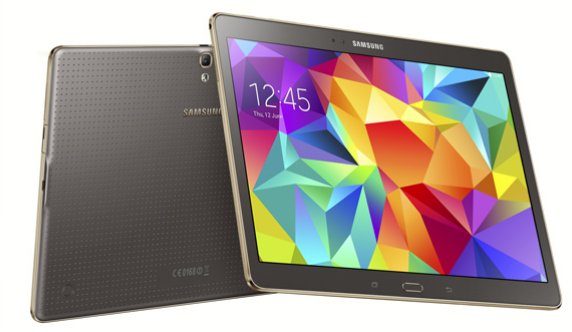 Gallery: Samsung Galaxy Tab S 8.4 Inch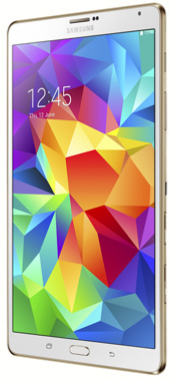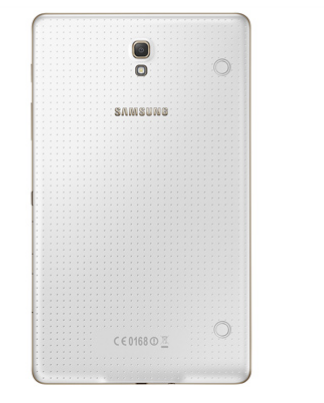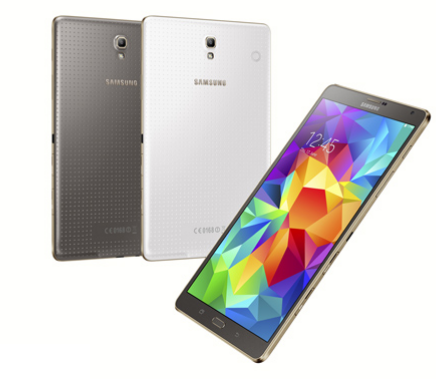 Do let us know your views and thoughts on the new Samsung Galaxy Tab S, we will give you our hands on video reviews soon, so stay tuned to our official gadget reviews channel on YouTube.
More related stories below: