To buy a mobile phone on EMI, one needs a Credit Card of a bank. There are many offers running on mobiles in Indian market that offers EMI option to buy an expensive smartphone. In India, telecom operators do not offer smartphones on contracts due to some security problems like telecom operators of America and other countries do. So many smartphone vendors came with alternative schemes like EMI in Indian market to make high-end smartphones affordable for every user. Unfortunately, many of Indian customers still do not have a credit card too. So that they cannot buy smartphones on EMI schemes too.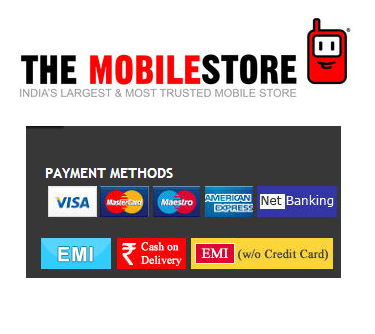 To solve this problem, The Mobile Store has come up with a new scheme called "Aeon easy EMI". In this customer can buy a smartphone or tablet from their website on EMI without having a credit card. Now how this works, when you purchase something from their website as usual and when you proceed to payment just select the payment option of "EMI without credit card". Now take a deep breath, because you have to go through a long process of submitting documents and then verifying them too. It's a lengthy process like you have applied for opening a bank account online. When you select "EMI without Credit card" , they will ask you to submit some documents like address proof, Identity proof and lots of other things.
First, they will ask you to submit every document's scan copy online and then after 24 hours of receiving the documents they will send personnel within 48 hours to your resident and will collect the documents from you. They will verify the documents then they will connect with one of your existing bank account by ECS (Electronic Clearance System). This whole procedure looks like you are applying for loan to buy a smartphone or tablet.
For all this procedure they will also charge you a small amount initially. And then interest rates are also applied on your smartphone or tablet.
The Rates for EMI without Credit Card are as follows:
| | |
| --- | --- |
| TENURE | Interest |
| 5 Months | 7.5% |
| 8 Months | 10.4% |
| 10 Months | 12% |
| 12 Months | 13.2% |
| 15 Months | 15% |
The Aeon Easy EMI is only available in Mumbai including Navi Mumbai too. But The Mobile Store said that they are rolling out this scheme in other cities of country too. You can read more about this here.
More related stories below: