Smartphone addiction has become a serious problem now. Spending less time on devices is recommended for better mental health. Read more to find How To Manage Time Spent On Android Phone with Digital Wellbeing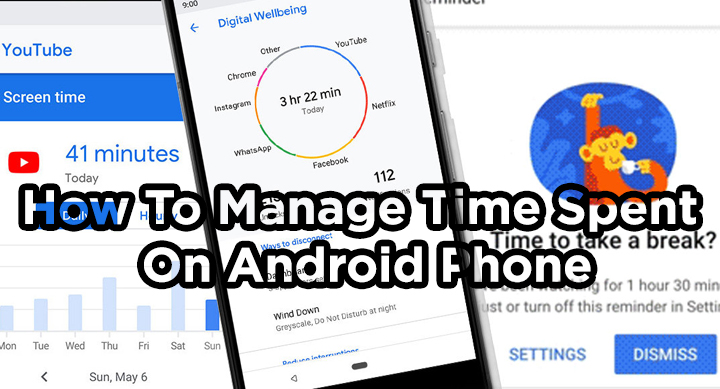 Nowadays, almost everyone is spending more and more time on their smartphone. This is not surprising since most apps are designed to keep the users hooked.
While technology has made our lives much easier, the overuse of smartphones and social media has led to many social and mental problems among users.
Also read: How To Restore Recently Deleted Photos, Videos On Instagram
Luckily, many tools are now available to help you control your smartphone use. Google's Digital Wellbeing is a great way to manage time spent on your Android phone.
The useful feature offers information about how you spend time on your smartphone, like how often you unlock it and how long you use each app.
Further, you can use this information to improve your digital well-being. It allows you to set app timers and schedule display changes.
You can easily open Digital Wellbeing as an app in your Settings app and then turn on Show icon in the app list. You will need to set up your profile.
Also read: How To Use Background Blur Feature On Skype For Android
How To Set up Digital Wellbeing On Android Phone
Open your phone's Settings app
Tap Digital Wellbeing & parental controls
Under "Your Digital Wellbeing tools," tap Show your data
That's it!
How To Manage your time in apps
Open your phone's Settings app
Tap Digital Wellbeing & parental controls
The chart shows your phone use today. For more info, tap the chart :
Screen time: What apps you've had on screen and for how long
Unlocks: How often you've unlocked your phone and opened certain apps
Notifications: How many notifications you've gotten and from which apps
To get more info or change app settings, tap a listed app
That's it!
Also read: How To Make WhatsApp Video Calls From Your Laptop Or PC
How To Limit How Much Time You Spend In An App Each Day
Open your phone's Settings app
Tap Digital Wellbeing & parental controls
Now, tap the chart
Next to the app you want to limit, tap Set timer
Choose how much time you can spend in that app. Then, tap Set
That's it!
When you run out of time, the app closes and its icon dims
Note: App timers reset at midnight. To use the app again before midnight, follow steps 1–4 above and delete the app timer.
Some of the above-mentioned steps work only on Android 10 and above. Also, some work and school accounts might not work with app timers.
Also read: How To Add Cool Effects To Instagram DMs
We hope the above-mentioned article was helpful. Let us know in the comments section below,
More related stories below: